The Society of Motor Manufacturers and Traders (SMMT) has appealed to the UK government to come up with a dedicated charging and hydrogen infrastructure for electric heavy goods vehicles (HGVs).
There is currently a complete absence of HGV-dedicated electric charging or hydrogen filling points on the road network in UK, according to the SMMT. That is dissuading transport companies from investing in new technology to decarbonise their fleets. Using the government's own national statistics, the SMMT pointed out that CO2 emissions from the UK HGVs in 2021 was equal to 21.1m tonnes.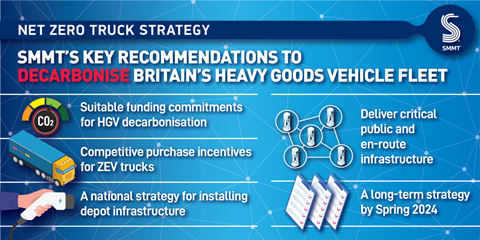 The need to decarbonise UK road freight transport is given impetus by the fact that all new HGVs weighing under 26 tonnes that are sold in the UK from 2035 must be zero emission. Heavier vehicles need to be decarbonised five years after that. The SMMT pointed out that the initial deadline leaves many operators with just one full eight-year cycle of fleet renewal to make the transition.
"With just over a decade until the UK begins to phase out new diesel trucks, we cannot afford to delay a strategy that will deliver the world's first decarbonised HGV sector," said Mike Hawes, chief executive of the SMMT.
The SMMT added that transport companies operating on tight budgets needed stronger incentives to invest in electric and hydrogen trucks. It said only eight out of the 20 zero-emission truck models on the market are eligible for the UK government's plug-in truck grant, which discounts 20% of the cost of a low-emission truck. To be eligible for the grant the HGVs must have CO2 emissions of at least 50% less than the equivalent conventional Euro VI vehicle that can carry the same capacity.
The SMMT said that other countries, including France and Finland, provide up to triple the sum available to UK operators.
"A successful transition requires a long-term plan to drive the rollout of a dedicated UK-wide HGV charging and fuelling network, combined with world-leading incentives to encourage uptake and attract model allocation – a plan that will keep a greener Britain on the move and globally competitive," said Hawes.
By 2030 the European Automobile Manufacturers' Association (Acea) states that 60,000 hydrogen fuel cell trucks are expected to be in operation across Europe. By 2025 there should be 300 hydrogen refuelling stations suitable for trucks, and 1,000 by 2030. These should be positioned every 200 kilometres along the TEN-T core network by 2030. However, under the Fit for 55 package, the recommendation is for hydrogen refuelling stations at 150km intervals along the TEN-T core network.
By the end of 2020 there were 200 hydrogen refuelling stations across Europe, of which the majority are in Germany.