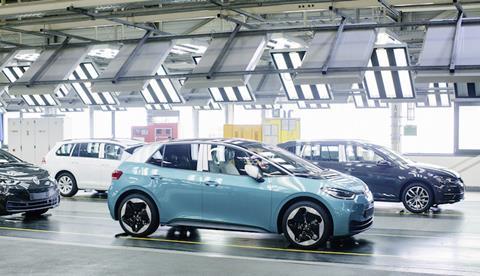 Volkswagen has begun production of the ID.3 electric vehicle (EV) at its Zwickau plant in Germany following a €1.2 billion ($1.3 billion) investment. That figure is part of a bigger investment by VW of €9 billion in electronic mobility to 2023.
The ID.3 is currently being made alongside the Golf Variant estate but by the middle of next year Zwickau will be the first exclusively EV production plant in the VW network.
The carmaker said it intends to produce 100,000 EVs there next year and more than three times that by the 2021, which would then make it the biggest EV factory in Europe. Furthermore, by 2028 VW intends to have launched 70 EVs based on its modular electric drive toolkit (MEB), the modular car platform devised by VW for its EV products.
The lithium-ion batteries supplied to Zwickau to power the ID.3 are being made by Volkswagen Group Components at the Brunswick plant in Germany. The battery cells are being made in Poland by battery maker LG Chem and shipped to the Brunswick plant. However, VW is also building a battery gigafactory in Salzgitter with Swedish battery maker Northvolt, which will start production in 2023/24.
Bringing lithium battery production closer to the point of assembly is a priority for carmakers given the multitude of logistics challenges associated with moving what is designated a Class 9 dangerous good. As such, they are strictly regulated by transport mode, with limited opportunities to combine or use standard freight options, and they are limited in the volumes that can be shipped.
On top of this, the average weight for an electric passenger vehicle battery is around 400kg, which means transport reaches its weight restriction before its ideal cube density, adding to transport costs. There is also the high sensitivity to external factors such as temperature, humidity and shock.
Lineside delivery
As part of the investment in the Zwickau plant VW has updated its lineside delivery transport. The delivery of parts to the assembly lines is being made completely autonomous with the introduction of more than 500 driverless transport systems.
Volkswagen also said the cockpit would eventually be installed fully automatically as a complete module using an industrial robot. That and increases in automation elsewhere would help boost production capacity it said.
The ID.3 will be launched almost simultaneously on markets throughout Europe in summer 2020, according to VW, with a starting price of €30,000. The carmaker said it had already secured 35,000 pre-bookings.
From 2021 the plant will make six electric models for three VW Group brands – Volkswagen, Audi and Seat – with maximum capacity rising to 1,500 vehicles per day. At that time Zwickau will make all the key body parts for the MEB drive on site.
Looking ahead the company said it would make EVs at eight plants on three continents – in Europe, Asia and North America – and together, it said these plants would form the world's largest electric car production network (see graphic).
Read more about VW's electric vehicle developments in our forthcoming Electric Vehicle Logistics supplement