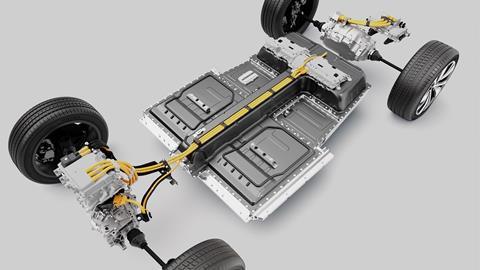 Volvo Cars is investing an undisclosed sum in blockchain technology provider Circulor to provide visibility into its battery supply chain.
Over the past few years the Swedish carmaker has been working with Circulor and its battery suppliers CATL and LG Chem on the implementation of the distributed digital ledger technology to accurately trace the origins of the cobalt it sources for use in its electric vehicle batteries.
Carmakers looking to an electrified future are currently focused on ensuring an ethical and sustainable supply chain for their new products, given the different raw materials involved in the lithium-ion batteries needed to power them. Traceability of those raw materials, such as cobalt, is one of the main sustainability challenges faced by carmakers.
Currently Circulor's blockchain application is used throughout Volvo's battery supply chain and the carmaker said it will achieve 100% traceability on the cobalt used in the battery for its XC40 Recharge P8 – Volvo's first fully electric vehicle, which goes into production later this year at the Ghent assembly plant in Belgium.
The two companies are also working together on the expansion of the technology in other areas such as the traceability of mica, which is also used in battery pack production, as well as in tracking and reducing CO2.
"We are committed to an ethical supply chain for our raw materials and our partnership with Circulor has been instrumental in that regard," said Martina Buchhauser, chief procurement officer at Volvo Cars. "By supporting Circulor's ongoing development we can expand the use of blockchain technology in our operations and contribute to a more sustainable business."
Volvo Cars, which is owned by China's Geely, is investing in Circulor through its venture capital division, Volvo Cars Tech Fund, which was set up in 2018 and invests in high-potential technology start-ups around the globe. The investment by the Volvo Cars Tech Fund is part of a funding round by Circulor, which also involves three other investors: Systemiq, Total Carbon Neutrality Ventures and Plug & Play.
In other recent EV news, Volvo started importing its five-door Polestar 2 EV through the port of Zeebrugge for onward distribution to customers in Europe.