Audi is exporting European best practices to support growing production ventures as far afield as China and Mexico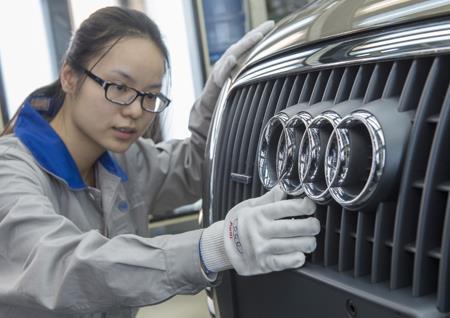 Though Europe is still the centre of Audi's supply chain, its overseas operations are increasingly important. China is clearly the volume leader: in 2013, FAW-VW built nearly 420,000 A4 and A6 long-wheel-base models, as well as the Q3 and Q5 in the northeast city of Changchun, volume that will have risen in 2014. The joint venture's new plant in Foshan, Guangdong province, in the south, was expected to build 150,000-200,000 A3 models in 2014.
Sales for China in 2014 have grown strongly as Audi remains the top luxury brand in the market. In the first 11 months of the year, new deliveries to China, including Hong Kong, were more than 516,400 units, up more than 16% compared to the same period in 2013.
Audi is working to bring its best logistics practices from Germany and Europe to China. Logistics in Foshan follows the VW production system – itself influenced by Audi – and NLK principles within the plant. "This means, for example, that logistics processes in the assembly shop and the bodyshop work in synchronicity with production," says Michael Hauf.
This integration is aided by specific training programmes, as well as by new IT systems – specifically, the latest version of the Volkswagen production control system and a new steering system for internal material flow.
"Each member of the logistics staff receives theoretical training about the logistics concepts and processes. In addition, a training centre has been established to teach basic logistics practices," says Michael Hauf.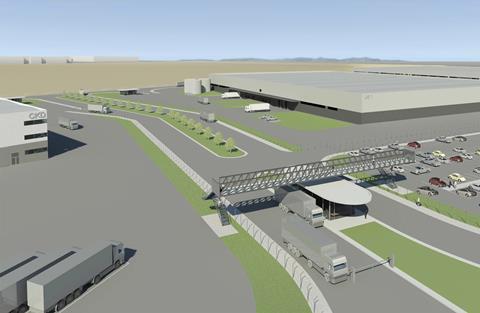 Joining the Mexican wave
The North American market is another critical pillar of growth for Audi. Sales across the US, Canada and Mexico grew more than 15% in the first 11 months of 2014 compared to the year before, surpassing 195,700 units; sales in the US were up 15.4% at more than 162,700 vehicles.
In part to better target this market, Audi is building a new plant in San José Chiapa, Mexico, which is its most significant new project globally. The plant, expected to be complete by 2016, will have an initial capacity of 150,000 units. San José Chiapa will be the mother plant for the new Q5, feeding supplies to other production locations in China and India. It will also be a major export centre, not only to the US, but also to Europe, as Q5 production in Ingolstadt is phased out.
Ingolstadt is acting as a 'mentor' plant to Mexico, but San José Chiapa will also draw on group standards such as the NLK and shared IT system. "All our know-how from the lead plants in Ingolstadt and Neckarsulm, as well as lessons learned from setting up the plant in Gyr, are incorporated into every single logistics process," says Hauf.
Audi's logistics team has laid the groundwork for Mexico's supply chain. European material, including engines from Hungary and parts from Q5 suppliers in Europe, will arrive at the port of Veracruz on the east coast. Hauf would like to see around 50% of containers move by rail to the plant's container yard. "Containers from the Pacific region will be delivered by truck," he says.
Audi's use of logistics centres is also being applied to Mexico; a just-in-sequence supplier park is already attracting tier ones, which are so far set to supply 16 JIS items. "The items range from pure sequencing activities to the production of complete wheels and other vehicle components," says Hauf.
The supplier park is part of a localisation strategy for the Mexican supply chain. The NAFTA region requires content value of at least 60% to qualify for zero-duty exchanges across Mexico, the US and Canada. However, Hauf says that while logistics and purchasing teams try to influence supplier locations, there can be no compromise in parts quality. As with its plant in Hungary, Audi will accept longer supply chains for certain parts and components where necessary.
San José Chiapa will be in proximity to other group plants in Mexico, especially the Volkswagen factory in Puebla. Hauf says Audi is working with Volkswagen de México to share infrastructure and processes. However, since Audi will eventually build the new Q5 in India and China, he says the carmaker is planning to install its own packaging and CKD operations in Mexico.
"We need to expand this network in terms of new packaging facilities. Our next challenge is to set up a packaging plant in Mexico in order to manage material flows from Mexico to China and India," says Hauf.
The rush to Mexico, which included recent announcements for new plants for Mercedes-Benz, Infiniti, BMW and Kia, has prompted concern about whether the country's infrastructure can cope, particularly for vehicle exports by rail to the US. However, Hauf is relatively sanguine about Mexico's logistics capability. "When assessing the location we considered in great detail the existing infrastructure and we are convinced that the conditions are suitable for successful automobile production," he says.