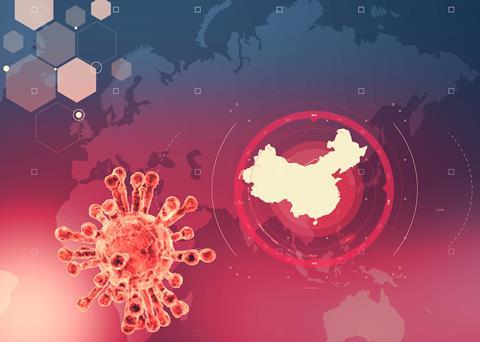 Severely limited air cargo capacity for automotive parts shipments into and out of China is likely to get worse before it gets better as automotive production gradually restarts after weeks of shutdown caused by the coronavirus epidemic.
The backlog in automotive freight at the airports is going to take some time to clear according to air courier providers on the ground in China.
Carmakers and tier suppliers that are able to start production lines this week are trying to get parts in and out of the country. Sea ports remain congested and automotive suppliers are looking for air capacity in the face of a spike in demand brought about by the cancellation of flights and increasing shortages of stocks both at home and overseas.
According to one global logistics provider, total international widebody passenger aircraft utilisation of Chinese carriers is down nearly 50%, while intra-Asia widebody belly capacity has reduced by 54% (widebody aircraft are those with a fuselage diameter up to 6 metres).
Air cargo capacity into China is 40% of what it was last year, equal to a 75,000-tonne decrease, while capacity out of mainland China is down around 70%, according to the source.
Priority for any available air shipments is going to medicine and other critical shipments, meaning that very little automotive freight is moving and rates are being pushed up extravagantly. Certain logistics providers are also rumoured to be pushing payment terms for freight contractors to 60 days, while freight forwarders are trying to charge customers as much as possible to survive.
Distressed supply chain
According to one leading courier, supply stocks of tier one parts at carmakers in China are less than 50% of where they would normally be and, in the short term at least, there are problems getting urgent stocks out, with delays caused by checks and infrastructure issues.
"In the longer term you can see lots of distressed supply chains as production tries to catch up, assuming the coronavirus goes away at some point," said the expeditor.
Another rival courier based in Hong Kong told Automotive Logistics that while it was able to move automotive parts out of Asia, there were delays because of limited capacity and some routes had been "hit hard by tranches of flight cancellations", especially its daily courier business, thanks to British Airways cancellation of flights from Hong Kong to London.
"We have been making use of Hong Kong as a hub to get goods out of China to the rest of the world," said the source. "We are able to utilise our domestic courier network in China, cross-border trucking service and international courier base to ensure clients get their component parts as soon as possible. This is working well, and we hope it will continue and get busier."
Production outside Hubei
As reported last week, carmakers are restarting production gradually. VW has started assembly lines again at its FAW-Volkswagen joint venture plants in Changchun, Chengdu and Dalian, and from Monday this week at its SAIC joint venture plants around Shanghai.
Toyota has also restarted production at plants in Changchun, Guangzhou and Chengdu.
Not all manufacturers are restarting production this week, however. Carmakers around Wuhan, in the badly affected Hubei province, remain closed because of governmental restrictions on the opening of supply routes and the movement of people. That includes Groupe PSA's joint venture with Dongfeng Motor.
A spokesperson for Groupe PSA said: Resumption of activity will depend on the Chinese authorities' decisions. The impact of this suspension on DPCA activity is not significant on group results at this stage. DPCA and PSA teams are preparing themselves to resume work and recover a normal level of activity as soon as possible and will do their best to catch up negative impacts on local market."
In terms of the impact on production in Europe because of parts shortages out of China, PSA's spokesperson said that up to now its modular manufacturing sites and "multi-energy platforms" gave it the flexibility to allocate production between internal combustion and light electric vehicle versions.
China's Federation of Logistics and Purchasing (CFLP) had a more positive outlook on developments since last week's recommencement of production outside the Hubei province.
A spokesperson for the CFLP said that parts makers had resumed supply to the carmakers with the support of logistics companies and there was no obvious long-term impact on the automotive supply chain in the country.
"We think that the coronavirus has been well controlled by our government's efforts [and] we believe it will disappear soon," added the spokesperson.
Restart of assembly in China will compound air freight capacity crisis
1

Currently reading

Restart of assembly in China will compound air freight capacity crisis

2

3

4

5

6

7

8

9