South African truckers will hold a 'Black Friday' protest on July 12 to highlight a series of attacks across the country that has destroyed hundreds of vehicles and left dozens dead and injured.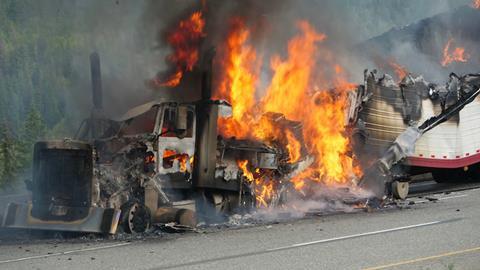 More than 1,400 trucks have been destroyed or damaged in the past year, according to the Road Freight Association of South Africa (RFA). More than 20 drivers were killed in the same time period, said the RFA.
"It is a big concern for our company as the lives of our drivers are at stake, as well as innocent bystanders," said Marius Mey, marketing manager at Motorvia, one of the country's largest car transporting firms. Motorvia moves in excess of 40,000 motor vehicles per month and employs over 800 people.
These attacks stand apart from routine criminal events, such as truck-jacking or theft of contents while parked at a layby. Instead, recurring protests around the country have of late targeted major roads, blocking them off with rocks and other impediments. Trucks forced to stop are vulnerable to rioters attacking the vehicle.
"The damage that it can cause to our trucks, equipment and, most importantly, the valuable cargo that we transport is a major concern," said Mey.
Economic terrorism
In one incident in early March, protestors blocked the N3 highway at the Mooi River toll plaza, the main route between the port of Durban and the industrial heartland of Gauteng province. The protest quickly turned violent and eight trucks were destroyed, including at least two fully-loaded car transporters.
With almost 90% of South African freight moving by road, and almost half along the N3 alone, the phenomenon has the potential to disrupt business across the country.
"This is economic terrorism against the people of South Africa," said Mike Schussler, a transport and freight economist. He noted at least 120 billion-rand (£6.7bn) worth of goods was transported by freight companies last year. This excluded the value of companies transporting their own goods and products.
Finding answers to the problem is not clear cut. At least some of the attacks were xenophobic – targeting companies accused of hiring illegal migrants, mostly from Zimbabwe. In June protestors forced trucks carrying manganese in the Northern Cape to dump their loads on the road, reportedly in protest against the recruiting of foreign drivers.
Meanwhile, the National Association of Automobile Manufacturers of South Africa (Naamsa), which represents 41 companies, including the OEMS, said the attacks threaten the entire industry.
"All our manufacturers use both the rail and the road network to move vehicles from their manufacturing plants to the coast for export markets," said Michael Mabasa, CEO of Naamsa. He went on to say that attacks on trucks in general are an assault on the economy and on the automotive industry.
"The industry moves not only complete sets of vehicles from the plants to customers, but we also move a considerable amount of vehicle components into our plants, which are essential for the manufacturing process of all our vehicles."
Thus far, the motoring sector has been relatively lucky because it is not that easy for looters to make off with cars off the back of a transporter, said a spokesman for the South African Long Distance Transporters association (Salt), speaking on condition of anonymity.
"Mostly they are after stuff they can carry off, like TVs, canned food and even washing powder," he said. However, there have been instances of cars on carriers being stripped of their wheels and batteries. For this reason, Salt is arranging a "Black Friday for Truckers" throughout the country on July 12, which a spokesperson said was "in memory of all those truckers who lost their lives while in the line of duty".