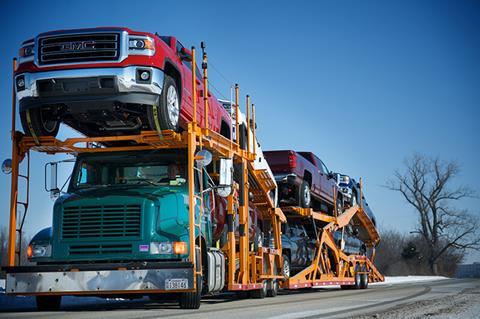 US finished vehicle haulier Jack Cooper Ventures plans to run its business as usual while reorganising under Chapter 11 bankruptcy protection, and then buy new vehicle transporters.
The company, based in Kennesaw, Georgia, and 18 subsidiaries filed for bankruptcy at the US Bankruptcy Court in Atlanta on 6 August after months of negotiations with creditors and unions to find a way of saving the 91-year-old company and preserving almost 3,000 jobs.
If all parties agree to a proposed restructuring, new owner Solus Alternative Asset Management has pledged to invest at least $20m a year in a new fleet of 100 vehicles per year through to 2023. Jack Cooper transported more than 2.5m finished vehicles last year.
In an update to members, the Teamsters union said all stakeholders agree on the need for "a lot of new equipment to go into service to better match the competition's service and provide a safer and more reliable loading and unloading experience. The new owners have committed in writing to an aggressive business plan that will deploy hundreds of new rigs [vehicle transporters]."
Though the union officials described themselves as sceptical at first to Solus' investment plan, the new owners said very high maintenance costs and declining service issues can only be addressed that way.
"Through an unprecedented lease-to-own programme, new rigs can be quickly deployed especially since many orders have been cancelled by other carriers due to the slowing economy this year.
"In addition, part of the business plan includes determined refurbishment. In total there will be hundreds of new rigs and refurbs on the road by the end of 2020.
"All of these actions, which are planned on an 'as soon as possible' basis, will save money on fuel, improve load factor, use of fewer spares, and improve productivity – all allowing for a better working experience for our members and better service to the customers."
Regarding the decision to file for bankruptcy, the unionised company has been undercut by cheaper, non-unionised rivals in recent years. Jack Cooper operates at a 10% to 30% cost disadvantage to non-union competitors, Greg May, the company's chief financial officer (CFO), was reported as saying by the Wall Street Journal.
"[Jack Cooper has] faced declining revenues and loss of market share amidst a changing landscape for the carhaul industry nationwide," the company said in its bankruptcy filing, the Atlanta Business Chronicle newspaper reported.
"Moreover, as one of only two unionised carhaul providers in the United States, the debtors [Jack Cooper Ventures and subsidiaries] are burdened with substantial labour costs, including pension obligations and work rules that limit the debtors' ability to respond to customer requirements, making it difficult for them to compete with non-unionised competitors. These challenges have caused the debtors to face rapidly declining liquidity."
In the court papers, the company went on to say its revenue has "sharply declined" because of its cost structure and overall industry dynamics. From 2016 to 2018 turnover of its main carhaul business, Jack Cooper Transport Company, fell by 12.3%, to $537.3m and vehicles shipped decreased by 16.9%, primarily due to business lost to non-union competitors.
"The company expects further revenue and unit volume declines in 2019," it said.
Jack Cooper has closed 17 of its terminals, at a cost of around 250 driver and mechanic jobs. The company and its subsidiaries are reported to operate a fleet of more than 1,600 vehicle transporters with a network of 39 terminals across the US and Canada. It mainly transports cars, light trucks, sport utility vehicles (SUVs) and transit vans.
Customers include General Motors (GM), dating from 1928, Ford, Toyota, Fiat Chrysler (FCA), Hyundai and Kia.
Jack Cooper says it filed for Chapter 11 "only after months of intense and hard-fought negotiations that culminated into an agreement for a pre-negotiated restructuring" to pursue a value-maximising sale of the company, CFO May stated in the court filing.
Planning ahead
Kevin Moore, director of the Teamsters carhaul division, said: "No one wants to be in this position, but given the challenging circumstances we strongly believe this is the best plan possible to save the livelihoods of more than 2,200 Teamsters and their families.
"This plan protects Teamster jobs, protects the unionised carhaul industry and gives Jack Cooper the chance to turn around from the dire financial situation it now faces."
He also said: "This is the last, best and final offer [LBFO] – there will be no further offers. The rejection of the LBFO will lead to the company being sold piecemeal or liquidated resulting in the destruction of Teamster jobs. This plan offers the best hope to protect the livelihoods of our carhaul members."
All parties must agree to the proposed restructuring and then the court must approve the sale/reorganisation plan before Jack Cooper emerges as a new company with Solus, which specialises in restructuring distressed companies, as the new owner. The company hopes the process can be completed by early October.
Proposed terms include writing off $300m of the company's $575m debt with all key stakeholders making sacrifices, including wiping out existing equity holders, reducing pension benefits for employees and restrictions placed on the company from using labour cost savings to underbid existing unionised work.