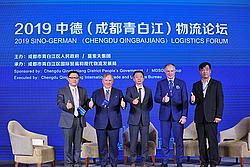 Car manufacturers and suppliers should cooperate more closely so a rail service between Chengdu (China) and Łódź (Poland) can achieve the economic scale required to make it viable, says Joerg Mosolf, CEO of German car-transporting company Mosolf.
Greater use of the link would also speed up the route becoming an ecological alternative to sea and air transport to and from China, he added.
The group's chief sales officer Wolfgang Goebel, who is also president of the Association of European Vehicle Logistics (ECG), highlighted the rail link is faster than the ocean-going alternative and forecast more fully loaded trains will use the China-Europe line in future.
The pair were speaking at the inaugural Sino-German Logistics Forum in Chengdu, Sichuan province, southwestern China, which the German company co-organised with Qingbaijiang district government, a local authority within Chengdu's conurbation.
The event was used specifically to promote transport of finished vehicles on the Chengdu-Łódź rail service.
Around 200 representatives from the Asian and European automobile and logistics sectors, plus German and Chinese governments, attended the event, held after an agreement Mosolf and the Qingbaijiang government signed last May to establish sustainable rail traffic for finished vehicles between China and Europe.
In his opening speech, director of Qingbaijiang district Chi Yong referred to the new route's importance in strengthening economic cooperation between China and Europe, adding he is optimistic Mosolf will achieve its goal of transporting 60,000 vehicles by rail from Europe to China within five years.
The Chengdu-Łódź service started in 2013 as part of the New Silk Road between China and Europe which the Chinese government is promoting through its infrastructure-dominated Belt and Road Initiative.
Trains depart from Qingbaijiang station, exit China at the Alataw pass in Xinjiang province and then pass through Kazakhstan, Russia and Belarus before entering Poland.
The Sino-German Logistics Forum was accompanied by the China Chengdu International Supply Chain and Smart Logistics Expo 2019, staged to exchange ideas on future developments and promote best practice in logistics between China and Germany.