A federal judge in California has issued a temporary restraining order on the application to independent truck drivers of a new employment law due for enforcement in the state this week.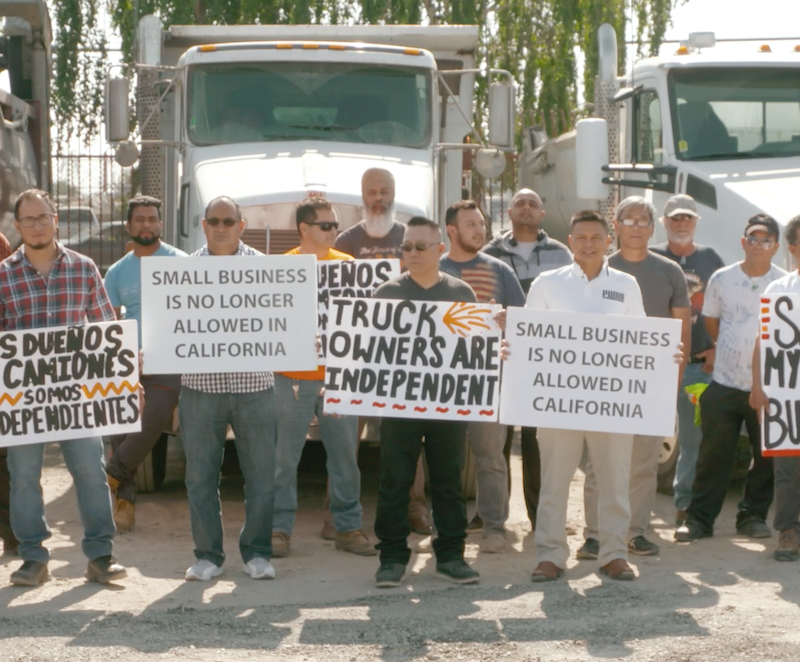 California Assembly Bill 5 (AB5), otherwise known as the 'gig economy law', entitles temporary workers to greater labour protection, including minimum wages, paid sick leave, unemployment compensation and health insurance, benefits that do not usually apply to the gig economy. The law would make it harder for gig economy companies to qualify their workers as independent contractors rather than employees. However, it also makes it harder for trucking companies to sub-contract independent operators for spot haulage jobs during spikes in demand.
The California Trucking Association (CTA) challenged AB5 in the federal court, claiming the law would forbid carriers from contracting with owner-operator truck drivers, which represent more than a quarter of the state's truck drivers (equal to around 70,000).
"Given the realities of trucking, it would be impracticable, if not impossible for CTA's motor-carrier members to provide interstate trucking services by contracting with independent owner-operators and to simultaneously comply with California's onerous requirements for employees," according to the CTA's amended complaint filed in the U.S. District Court for the Southern District of California.
Judge Roger Benitez of the US Southern District Court ordered the state not to enforce AB5 against any motor carrier in California, pending a final resolution of the lawsuit brought by the CTA.
Speaking to Automotive Logistics, Dennis Manns, industry consultant and North Motors Group executive vice-president, referred to the legislation as a game changer for OEMs.
"This legislation has been gaining traction with several eastern US states and is a major issue for OEMs and car haulers," he said. "Many carriers sub-contract excess capacity from time to time and OEMs rely on the sub-contract business to fill their surge demand needs. The [AB5] law would have major implications for every OEM since all of their suppliers utilise independent owner/operations."
Manns suggested the law would have a significant impact on new product launches as well as a sales push for month-end or financial close for OEMs. The 'what if', he warns, is will the implications spread to other supplier employers?
California's gig worker law was introduced by California State Assembly member Lorena Gonzalez and signed by governor Gavin Newsom in September last year. It has gained national attention, owing to the size of California's workforce and the state's role in establishing policies that are frequently adopted by other states.
The law would arguably make it harder for gig economy companies to qualify their workers as independent contractors rather than employees.
Backers of the bill, including labour groups, have suggested the law protects workers' rights. A hearing on the motion for preliminary injunction is set for January 13, 2020.
The future of the finished vehicle sector in the US will be discussed in detail at this year's Finished Vehicle Logistics North America conference which takes place May 19-21 in California