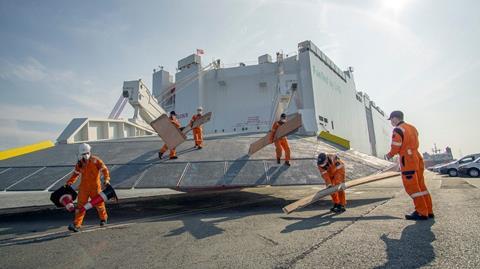 Volkswagen is sending 4,800 vehicles from Germany to North America on board a ro-ro vessel powered by liquified natural gas (LNG).
The Siem Confucius, which was delivered to Siem Car Carriers in March this year, is headed for Mexico but will be making stops in Canada and the US. It left the German port of Emden last week and VW said it is the first time that LNG will be used to fuel a car carrier on a deep ocean journey. Previously the fuel has only been used for short-sea routes.
On its three-week journey the Siem Confucius will first call at the port of Halifax (Canada) before moving onto Davisville (USA) and finally Veracruz (Mexico), North America's busiest vehicle handling port. The vessel has less draft than the other deep-sea carriers when fully loaded, which gives it more flexibility to berth at the ports of call. The vessel is 200 metres long, with 13 decks and a capacity of 7,500 car-equivalent units.
Siem will be adding a second such vessel, the Siem Aristotle, later this year. Together the LNG vessels will replace two of nine conventional heavy oil-powered ships on VW's trans-Atlantic route and form part of the German OEM's efforts to achieve climate-neutral logistics in long-distance shipment of vehicles.
VW was keen to highlight the environmental benefits of a vessel powered by LNG. Compared to the traditional heavy oil used by ocean-going vessels, sulphur oxide emissions are completely removed. Carbon dioxide emissions are reduced by up to 25% and nitrogen oxide by up to 30%. Particulate matter emissions are also cut by up to 60%.
"We are proud to put the world's first LNG vehicle transporters of this size into service," said Thomas Zernechel, head of Volkswagen Group Logistics. "This is an important part of our decarbonization strategy."
By 2025 the company wants to reduce total carbon emissions by 30% as part of its 'goTOzero' strategy, with carbon emissions being totally neutral across all modes by 2050.
"Thanks to their dual-fuel propulsion, the ships are also future-proof for further developments in renewable fuels. In the medium term they could run on biogas or e-gas and thus be almost CO2-neutral," said Astrid Mecke, head of Vehicle Logistics at VW.
Volkswagen Group Logistics organises 7,700 ship departures worldwide each year moving 2.8m new cars.