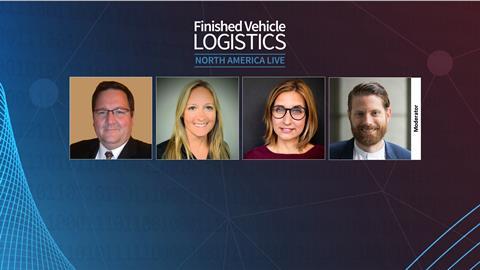 Automotive companies have set out their stalls, with ambitious roadmaps for sustainable products, operations and supply chains. Vehicle logistics will play an integral role in helping them achieve their goals. That is why sustainability credentials and green KPIs are playing an increasingly important role in provider agreements and selection processes for logistics partners in performance assessments and purchasing contracts.
That is why the vehicle logistics teams at OEMs like Volkswagen Group, together with partners like ICL, are putting more focus on ensuring that standardised and accurate emission data are available, as they will play a critical role in the outbound sector meeting its environmental targets.
In this session, Volkswagen Group's Scott Mabry outlines the carmaker's objectives for carbon emissions in the supply chain, and its framework for reduction in vehicle logistics. Karen Burmann from IT and software provider describes how the industry should establish common standards to measure and track emissions. Eszter Tóth-Weedon from the Smart Freight Centre gives examples of best practice across industries and details a global framework for collaboration on reducing logistics emissions globally.
Featuring:
Scott Mabry, Manager Cross Border Logistics at Volkswagen Group of America

Karen Burmann, Project Development Manager & Product Owner at ICL Systems
Eszter Tóth-Weedon, Senior Partnership Manager at Smart Freight Centre
Moderated by Christopher Ludwig, Editor-in-Chief, Automotive Logistics and Ultima Media
This session was held on June 22 during the Finished Vehicle Logistics North America 2021 Live virtual conference.
Watch more on-demand videos and content from the Automotive Logistics Spotlight series.