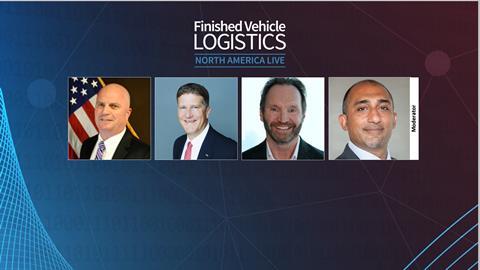 Vehicle trade continues to recover across North American port gateways, but the sector faces severe disruption from supply chain shortages and challenges in container shipping. However, experts see great potential in more efficient vehicle logistics, reducing emissions and stronger automotive trade through investment and digitalisation in North American vehicle ports.
Travis Black, from the Maritime Administration of the US Department of Transportation, outlines funding opportunities and initiatives for multiodal vehicle logistics, and Chris Connor from the American Association of Port Authorities (AAPA) discusses where investment would best directed at both public and private levels. Bill Kascel, from Kuehne + Nagel, outlines the role that freight forwarders and logistics providers will play in ensuring more sustainable shipping and vehicle trade.
Featuring:
Travis Black, Team Lead, Port Development ad Intermodal Planning at US Department of Transportation, Maritime Administration

Christopher Connor, President and CEO at American Association of Port Authorities (AAPA)
Bill Kascel, Senior Vice President, Sustainability Solutions – North America at Kuehne + Nagel
Moderated by Neemish Ladwa, Head of Product and Marketing, Automotive Logistics and Ultima Media
This session was held on June 22 during the Finished Vehicle Logistics North America 2021 Live virtual conference.
Watch more on-demand videos and content from the Automotive Logistics Spotlight series.