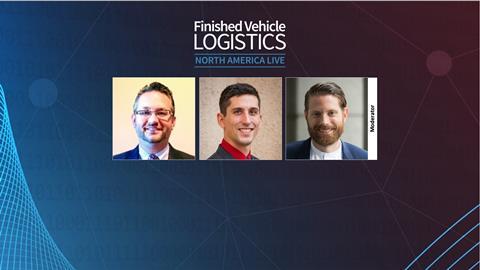 A fast-recovering market, semiconductor and material shortages, logistics bottlenecks and truck diver shortages are making continuous disruption the new normal for north American vehicle logistics. But OEMs such as Nissan are seizing the chance to make improvements: and often from some of the very tools that have been at the fingertips of logistics managers for years.
In this session, Ryan Purman discusses visibility and optimisation tools that are helping Nissan better track performance, cost and lead time across its vehicle logistics supply chain, including innovative pilot programmes aimed at helping to improve work-life balance for truck drivers. Dan Gosson at software specialist Inform also discusses how smart technology, vehicle telematics and hybrid-AI tools are enabling greater network management despite the disruptions.
Featuring:
Ryan Purman, Senior Manager, Finished Vehicle Logistics – Operations and Exports at Nissan North America
Daniel Gosson, Manager, Finished Vehicle Logistics North America at INFORM
Moderated by Christopher Ludwig, Editor-in-Chief, Automotive Logistics and Ultima Media
This session was held on June 23 during the Finished Vehicle Logistics North America 2021 Live virtual conference.
Watch more on-demand videos and content from the Automotive Logistics Spotlight series.