The concept of Liefertreue, or delivery reliability, is central to Audi's customer promise and consequently crucial in every aspect of the supply chain right up to the point of receipt at dealers, says Dr Michael Hauf, head of brand logistics (pictured)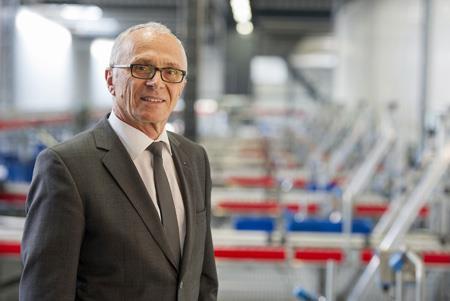 Consumers who order an Audi and customise it to their exact specification – selecting from an almost endless array of options and derivatives – are not necessarily the type of people who want their car immediately. In such cases, waiting for the right vehicle could even be a point of pride. The span between ordering a customised, mid-range Audi and its eventual delivery to a dealership could easily be around four months in Europe. Ordering standard vehicles out of importer stock in certain countries would be faster, while a low-volume, quattro R8 sports car could take much longer.
The waiting does not appear to stop many customers, wherever they are in the world, as in the first 11 months of 2014 Audi sales were up more than 10% to nearly 1.59m, including sales growth of 4.3% across Europe, 16.4% in China, 15.4% in the US, and 11.9% in the UK.
However, a long order-to-delivery period does not give the OEM breathing space in its outbound distribution, particularly for meeting promised delivery dates. A customer may be willing to wait, but he or she will want to be able to see clear progress being made on the vehicle and there is likely to be disappointment, and possible consequences, if delivery forecasts turn out to be inaccurate. With demand strong and competition increasingly fierce among premium brands, achieving such order accuracy can be seen as a competitive advantage and one in which vehicle logistics can play an important role.
Among the important features of Audi's order and production system is that the carmaker gives customers a week-specific estimated time of arrival (ETA) at dealers when vehicle orders are submitted. This ETA is the pivot point on which the carmaker's order-to-delivery process turns: it defines parts ordering and inbound logistics control; it dictates production order and assembly call-offs in the plant; and it is the key yardstick once the vehicle reaches 'checkpoint 8', when it is released for outbound transport to dealers.
Audi measures this process, called Liefertreue, or 'delivery reliability'. "The Liefertreue is written into my yearly commitment to my boss, with the goal being 100% accuracy," says Dr Michael Hauf, head of brand logistics, whose responsibilities include outbound distribution to dealers. "Liefertreue is one of our toughest goals because it is a real commitment to our customers. Everything else that we do must have it as the starting point."
Audi's ETA accuracy is currently a healthy 97%, but Hauf states that the company is not satisfied with this number. At the carmaker's current output, even this low inaccuracy rate could mean 1,000 customers won't get their cars on time each week. These customers and dealers (who expect premium service at each stage) can make a lot of noise. Sales executives at importers or national sales companies are liable to complain to board members that they could have sold more vehicles if only they had more inventory available or a faster delivery of vehicles. And when, in turn, upper management looks to put a face to the blame, it's likely to resemble logistics managers.
Targeting delivery dates
Audi's ETA target cuts across the supply chain and management departments. According to Hauf, it is divided into three periods. First is the planning that immediately follows a vehicle order, in which specifications are secured and material is ordered from suppliers. Audi's sales and brand logistics teams are responsible for these areas.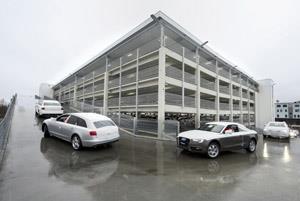 In the second stage, customer orders are given to plants about four weeks before the car is set to be built and plant logistics provides a committed date for when the finished vehicle will be cleared off the assembly line.
The third stage is at 'checkpoint 8', when the vehicle comes back under the responsibility of brand logistics for onward delivery. From that point, this department tracks the transport of vehicles through to dealer arrival.
Hauf says that it is difficult to pinpoint any one area that Audi needs to address to improve overall Liefertreue accuracy. Parts ordering is tightly controlled, with Audi monitoring supplier capacity and delivery performance at plant and brand levels (Volkswagen Group's central logistics team also tracks supply availability for parts shared across brands). There are currently industry-wide shortages for door and bumper sensors, for example, and several other suppliers on the 'critical' list, but generally the supply chain is balanced.
Within the plants, Audi's logistics teams have worked with production to reduce complexity and increase responsiveness, even with plants such as Ingolstadt and Neckarsulm in Germany running on three shifts. "A 'corridor' of flexibility has been implemented in which things like special items or the colour of the car can be changed in different time horizons," says Hauf.
Plant logistics teams are also focused on rearranging schedules to catch up production where vehicles may have fallen behind. "We are fighting for every car," maintains Dieter Braun, head of production control and plant logistics at Neckarsulm. "If there is a damaged bumper on a Friday morning, but the cars are due this week, then the disposition teams must organise a new bumper so that the car passes checkpoint 8 this week."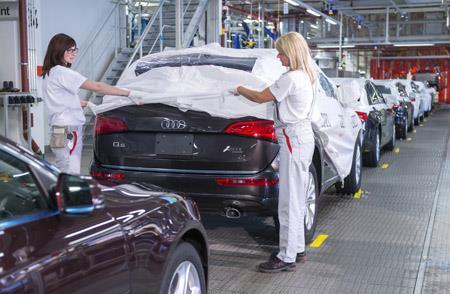 Outbound speed
For outbound logistics, Audi has also increased its flexibility despite its custom-order system and low vehicle stocks, partly following increased local production in major markets. In China, where customers demand both custom features and quick delivery, Audi has included local output of the A3 at a new FAW-VW plant in Foshan. In 2015 and 2016, the A3 sedan and the Q3, respectively, will be built in São José dos Pinhais, Brazil. Production of the new Q5, set for Mexico in 2016, will reduce time to market for SUVs in North America and it will also be a global export hub for other markets, including Europe.
The logistics network also supports delivery speed. In Europe, Audi has a fairly decentralised network that allows it to respond quickly to demand. According to Hauf, Audi uses between one and five importer transhipment sites per country in Europe, depending on market size. "In Germany, we use 13 compounds for the distribution of vehicles to dealerships," says Hauf.
Hauf also praises the performance of its finished vehicle logistics carriers, for which Audi monitors delivery and does regular equipment audits. "We currently have no serious problems with any of our outbound carriers," says Hauf.
Audi has also invested in vehicle handling and parking facilities at plants to help organise distribution and increase dispatch times. In 2013 at Ingolstadt, Audi opened the 'Processing Building' for vehicles, a multi-storey facility that prepares cars for dispatch, including the application of protective covers. Vehicles are also loaded onto trains or trucks in a semi-automated, two-storey platform that pre-sorts vehicles by destination several hours before loading, helping to speed up releasing. The Processing Building can accommodate up to 3,100 cars, including rail loading.
At Neckarsulm, Audi's other main plant in Germany, the company recently built a distribution centre with space for 1,440 parking positions over six floors.
The overall outbound network, especially from central Europe, is geared towards rail, both for longer distance distribution and for sending exports to the port of Emden. Across Europe, 65% of vehicles leave plants by rail, with the remainder by truck. There are a number of innovative rail legs across the company's network, including components and material that move from Ingolstadt to Hungary before returning to Ingolstadt with engines and finished vehicles.
At Ingolstadt and Neckarsulm, the proportion for rail is 70% or higher. While there have been strikes recently on the German rail network, in general performance has been reliable, says Hauf. He adds that the proportion of vehicles moving by rail in Europe has increased by around 4% in recent years, reaching a high level that he wants to maintain.
---
The use of rail for environmental purposes has also been an important feature of Audi's finished vehicle supply chain. For several years, the carmaker has used trains whose energy is from renewable sources for a large share of its flows, including about 150,000 vehicles per year to the port of Emden, from which most of its exports beyond Europe are shipped.
"We continue to reduce carbon emissions wherever possible and one of the options is, of course, the increased use of green trains," says Hauf. "We can promote a shift toward rail transport wherever this is reasonable, as well as improve the utilisation of our rail and road transportation facilities, but I must stress that we already have a very efficient network."
Remember your real customer
To really improve ETA accuracy, Hauf says many of the most necessary changes are cultural, in particular around customer focus. "A lot of people see the real customer as the 'next' customer in the chain, so for example 'production' is the customer of 'logistics'," he says. "We have to cancel this idea, and remember that the only real customer is the one paying for the car."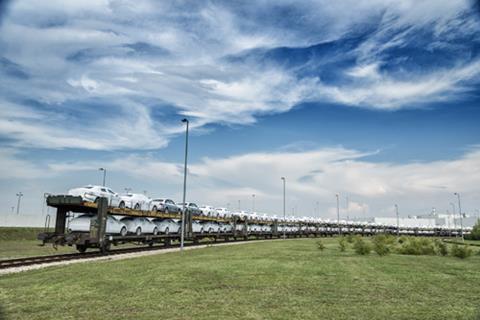 Audi is working on making processes more customer-orientated, particularly by improving links between production, logistics and sales. In some cases, educating other departments could make a big difference to the overall lead times. For example, Hauf points out that quality assurance teams tend to take cars at random from the end of the assembly line for audits. While such checks are important, they can result in extra waiting times for entire vehicle loads if quality teams pay no mind to a vehicle's delivery schedule.
"If a car is headed to Emden, where it will wait a week for a ship anyway, then this is not a problem," says Hauf. "But if it is being dispatched directly from a plant's delivery centre, then the delay could have a serious customer impact."
Setting ground rules would help: for example, any car can be audited, but there needs to be time limits – two or three hours, for example, rather than days – for a car that passes audits to be returned for delivery.
Holiday and down periods can also result in shipment delays and impact the Liefertreue. If German production is on holiday, but output in Hungary continues, a smaller volume may end up being sent for export to Emden. In this case, the group logistics team in Wolfsburg – which is responsible for vehicle exports across the group – can either send the ship with a reduced load (and pay more money per car) or it can postpone the sailing, saving money while possibly disappointing thousands of customers. Neither is an easy choice and the best decision could vary in different cases. However, a good integration between logistics and sales would help to explain or at least influence such decisions.
Hauf is trying to improve this understanding further, and one way will be to provide detailed reports on delivery adherence to other departments. Brand logistics will soon produce a 'Liefertreuetisch', or ETA-accuracy table, that shows results and causes over the previous weeks. Hauf and his team will present this regularly to sales, plant, purchasing and logistics executives in the hope that sharing this information will help change hearts and minds further across the company.
"Everyone talks easily about Liefertreue, but committing to it is another thing," he concludes.