North American vehicle production has been the worst affected by the shortage in the supply of semiconductors, including for its high-profit, low-inventory vehicles, according to the latest research from AutoForecast Solutions. It comes at a time of very high demand for vehicles in a market rebounding from the Covid lockdown. The question is, how will leading vehicle makers in the region position themselves so that this does not happen again?
Kicking off discussions at this week's Finished Vehicle Logistics North America Live conference, Joe McCabe, president and CEO, AutoForecast Solutions (AFS), said that the impact of the semiconductor shortage on production volumes globally was forecast to equal 4.57m units this year, with 285 plants impacted around the world (as of June 15).
In North America, the forecast for vehicle production before the semiconductor crisis came to light was around 15.9m, according to AFS data. That has been revised down to 15.25m by AFS, meaning a significant amount of production has been lost.
The production shortfall is being exacerbated by other issues at the moment, including airfreight under-capacity and vessel congestion at the West Coast ports in the US, all of which is impacting critical part supply for the Asian-based OEMs in North America.
Impact on segments
McCabe said the crossover vehicle (CUV) segment in North America was taking the brunt of the impact, with 48% of production affected by the semiconductor shortage. Crossovers are defined as those SUVs that share a platform with a passenger car rather than a pickup truck.
Around 16% of pick-up truck and large SUV production is also affected, which is hitting carmaker bottom lines quite hard as they are the highest profit vehicles, but these are all deemed recoverable in terms of production because vehicle makers do not want to lose such high value sales and will now find any means of getting them on the lots rather than sitting in storage waiting for microchips. That includes building the models with fewer chips.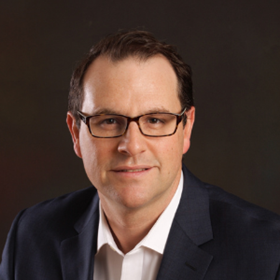 "They are building [pick-up] trucks without features like start/stop and are going to analogue for the speedometers," said McCabe. "They are [taking] out stuff that isn't life-saving and pulling the content out just to get them on the market. You will see much more of that – reconfiguring the product to make sure they have more on the lots because the biggest issue is the sparsity of product on the dealer lots."
That point was backed up with direct input from one of the dealerships in the US. Brion Stapp, dealer principal, at Stapp Interstate Toyota, said that inventory was at its lowest point in decades and that even though vehicle haulers were making multiple calls a week at his dealership, more than 40% of the dealership's supply for the next three months is presold.
"As those trucks roll in on a daily basis we unload them and put them right into the sold inventory for our customers to take delivery," he said.
Watch: AutoForecast Solutions' Joe McCabe analyses North American vehicle production trends
Whatever it takes, North American vehicle makers are will be getting those higher end vehicles on the lots and recovery in production and sales for this segment is expected by the third quarter of this year, according AFS, while recovery for other segments it not expected until 2022.
The passenger vehicles, or sedan, segment has been less affected, though a sizeable 28% of production is delayed. However, recovering passenger car production is not a priority for OEMs in North America. The profit margin is much lower and new sedan sales have been declining for some years. A lot of production in this segment has either been cut completely or moved offshore to markets where they are still selling slightly better.
READ OUR LATEST ANALYSIS OF HOW THE EUROPEAN AUTOMOTIVE INDUSTRY PLANS TO BUILD BACK SEMICONDUCTOR SUPPLY
Future proofing supply
Now the vehicle makers are looking at what they can do so that this shortage never affects them as badly again. According to McCabe there will be a lot more vertical integration, with carmakers setting up direct partnerships with the semiconductor manufacturers, as Ford did in the past with the aluminium industry to secure its supply base.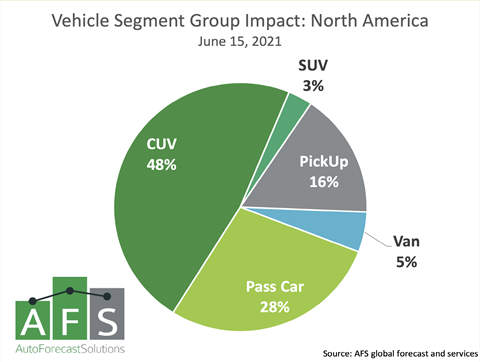 There will also be greater investment by smaller-scale semiconductor manufacturers, according to McCabe.
"More small-scale chip players will try to scale up and take advantage of government money because it is now an issue of national security," he said. "They will take the billions and build more plants."
As reported earlier, the Biden Administration in the US has signed in an executive order designed to fortify US supply chains, including those supporting the production of semiconductors. Currently only 12% of global semiconductor manufacturing is in the US. In March Biden said the new administration in the White House would work with industrial leaders to identify solutions to the current shortfall. It is going to cost $37 billion in the short term to install the required capacity to satisfy US demand for semiconductors onshore, something the president said the government would be pushing for through House and Senate.
Watch all sessions from Finished Vehicle Logistics North America Live 2021 on demand
Nissan working with Georgia Tech on improving vehicle deliveries and truck driver routes
1

2

3

4

5

Currently reading

Carmakers in North America worst hit by semiconductor shortage