Dealers will remain central to the way car manufacturers sell and distribute their vehicles though there may be fewer outlets. However, current difficulties in distribution mean the agency model, by which the OEM sells directly to the customer online for a fixed fee, is growing as an alternative to the normal way of doing business.
Volume shipments of finished vehicles in Europe are currently challenged by production volatility caused by the ongoing semiconductor shortage, as well as a critical shortage in capacity on both road and rail because of factors including the shortage of labour and a slow rebuild in assets following the pandemic. The global market has lost around 20-30% of logistics capacity. With energy price rises and inflation impacting the cost of rebuilding equipment for volume distribution, carmakers can expect prices for outbound logistics services to rise.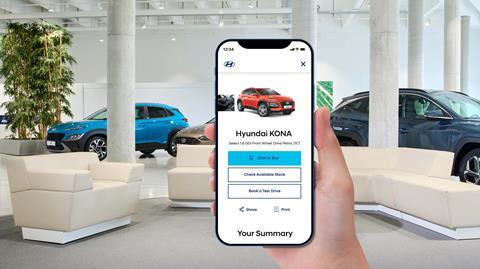 At the same time, the Covid pandemic pushed customers into a quicker adoption of online sales and services, including home delivery. It simultaneously pushed dealers into a faster adoption of online services when showrooms were forced to close because of the pandemic.
Combined, these factors are persuading carmakers who are looking to cut the cost of distribution to look at alternative methods of selling and delivering their products.
Virtual showrooms
At this year's annual conference of the Association of European Vehicle Logistics (ECG), Steve Young, managing director of automotive research firm ICDP, outlined the growing trend toward the agency model.
According to that model, rather than visit a showroom and negotiate a deal on a vehicle, the customer places an order via a virtual showroom directly with the OEM for a fixed price and names a preferred delivery location in the dealer network or opts for home delivery. The price and dealership mark-up or commission is set by the OEM.
Since Covid more carmakers in Europe have started to use the model, including Mercedes-Benz, which is using the agency model in Germany and the UK from 2023. In Germany, 50% of sales will be through the agency model by the end of next year, according to the carmaker.
VW Group will also adopt agency model agreements in Europe next year, though initially only for battery electric vehicle (BEV) sales.
Lotus also switched to an agency model agreement with 13 of its franchised retail sites in the UK at the beginning of this year.
Ford, Jaguar Land Rover, Mini and Stellantis are set to follow the trend in the next couple of years. Stellantis will end all current sales and service contracts with European dealers for all of its brands from June 2023.
However, Young maintained that dealers will remain at the core of the distribution network and that dealer visits were actually trending up.
It also remains for carmakers to better plan their agency strategy, which Young said in general remained poor. ICDP found that carmakers were unprepared for dynamic pricing or committed to manage supply. It also found that IT support was weak and network restructuring had been deferred.
Stellantis was the only carmaker Young cited that had set out a plan for future network restructuring ahead of its adoption of the agency model, part of its aim to reduce distribution costs by 50%. He said other carmakers were considering significant reductions in network size as customers changed the way the bought or used vehicles.
That cost of network restructuring is going to largely fall on the dealer, according to Young.
Dealer consolidation
Over at Hyundai, meanwhile, the thinking is that there is further scope to adapt the existing retail dealer model while exploring alternatives such as the agency model.
Michael Cole, president and CEO, Hyundai Motor Europe, said that rather than a wholesale adoption of agency sales and delivery, his company was looking at reducing cost through consolidating dealer outlets and assigning more locations to one operator.
"I think we all understand, with that scale there are greater synergies and economies of scale that means we can get cost savings and make reductions that benefit both the dealers and the OEM," he said.
Cole recognised the reality of omnichannel sales and the development of online tools, which Hyundai itself currently offers in Europe. The carmaker introduced its Hyundai Click to Buy online channel back 2016.
"The customer can conduct as much of the process as they like online or offline, they can go between the two," he said. "But the key thing about that is the contract and the delivery continues to be handled by a dealer that is chosen by the customer."
Cole also said the way its vehicles are delivered is going to stay the same, across a national network of dealers supported by regional hubs. However, he did reiterate that the consolidation in the number of regional outlets and an increase in hub locations providing pre-delivery inspection services (PDI) would provide more efficiency with fewer drop points.
"Even for those OEMs that buy into the agency model, there is similar logistics concept for drop offs," said Cole. "It is academic whether it is an agency or a dealer location, you are still going to need to drop off at a single point."
Cole said it would be inefficient for a volume vehicle manufacturer to attend to individual home deliveries and it was more likely that deliveries would continue to be handled through a dealer or agency location in a central location.
Cole also said that through its logistics arm Glovis, Hyundai was working with other manufacturers and logistics providers to better utilise existing capacity address the inefficiencies currently plaguing vehicle deliveries.
"We are working with Glovis on a comprehensive contingency to the challenges such as the driver shortage," he said. "Given the limited capacity we are faced with we have to focus on different initiatives, streamlining our operations to be more aligned at a European level."
There is scope for carmakers to be more efficient in vehicle deliveries and maximise the opportunities available through the existing dealer network supported by the latest digital online sales tools.
Coverage from this year's ECG conference in Austria
1

2

3

Currently reading

Carmakers look to restructure European dealer network

4