Uzbek carmaker UzAutoMotors (formerly GM Uzbekistan) is to start selling Chevrolet vehicles for the local market, as well as export markets including Russia, Belarus and Kazakhstan, following a new deal signed with GM. The carmaker already makes the vehicles under contract and sells them badged as Ravon brand cars but going forward will export the vehicles as Chevrolet Spark, Nexia and Cobalt.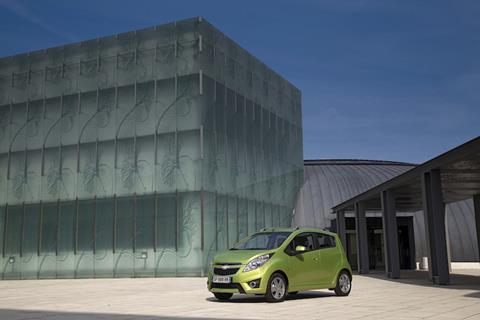 Under the new contract UzAutoMotors is going to take over a part of the dealership network of Chevrolet in Russia, merging it with the existing Ravon dealership network. In addition, Chevrolet will become the only automotive brand in Russia with two independent dealership networks. The first one will sell vehicles of Uzbek-origin, while the second will sell vehicles imported from the US. That second dealership network will remain under the GM's management, according to the contract.
Sales of the new Chevrolet models are slated to begin in March this year and UzAutoMotors should cease selling cars under the Ravon brand around the same time.
Currently Chevrolet only sells three models in Russia – the Traverse, Tahoe and Camaro. Their combined sales were limited to 1,500 units per month during the last two years, according to research conducted by the Russian Association of the European Businesses (AEB). This is drastically lower than sales before the economic downturn in Russia when they were closer to 20,000 per month (2012 figures), making Chevrolet the second most popular brand in Russia following Lada.
UzAutoMotors is aiming to use the entire strength of the Chevrolet brand to boost sales on export markets, said Shavkat Umurzakov, chairman of Uzavtosanoat, parent company of UzAutoMotors. The company hopes the new agreement will promote the further increase in production at the UzAutoMotors plant in Uzbekistan. It has set a target to increase that production from 271,000 finished vehicles in 2019 to 300,000 finished vehicles in 2020.
Expensive logistics, lost trust
However, it is unlikely that Chevrolet sales will reach former levels according to local analysts. UzAutoMotors is facing high costs for exporting finished vehicles to Russia, including paying the utilisation tax.
"Those models are not new and it is not fully clear at what prices they will be offered," Sergey Burgazliev, Russian automotive market analyst told the Russian newspaper Izvestia. "They will be imported, so would be subject to the utilisation fee and the excise tax. It is not likely they would be cheaper than Volkswagen Polo or Hyundai Solaris."
Additionally, Chevrolet might have lost trust of both distributors and customers on the Russian market.
"GM quit the Russian market leaving a large number of dealerships in tough situation. As a result, the trust to this brand was lost. During the past few years the market has changed, and people get accustomed to the brands with a proper attitude towards their partners and clients," Burgazliev added.