China's CIMC Group has won the tender to build an automated vehicle parking facility at the port of Lianyungang with capacity for 5,200 vehicles. The facility will use automated guided vehicles (AGVs) to park vehicles bound for export from the port.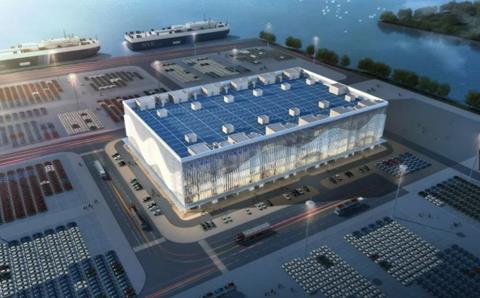 According to the transport equipment and real estate provider, the facility will be the world's largest robotic parking lot and the first facility of its kind at Lianyungang port. The port is the largest in Jiangsu province and last year exported 200,000 vehicles. It is expected to reach 350,000 by 2025.
However, the vehicle terminal at the port only has storage space for 9,000 units. With vehicle exports from China on the increase, finding additional capacity at the country's vehicle handling ports is a priority. According to market analyst Vessels Value, Chinese finished vehicle exports topped 3m units by December 2022, a 54% growth year-on-year. China wants Lianyungang port to play a key role in the development of what it is calling the New Asia-Europe Continental Bridge. Electric vehicles are going to be a major part of China's export plans.
CIMC IoT, a subsidiary of the main company will now develop a five storey parking lot on 7,400 sq.m of the terminal and install a completely automated parking system using AGVs. CIMC said the total number of parking spaces will be increased by nine times compared to normal ground parking. The facility will eventually be equipped with with 48 AGV robots, which running at full capacity will be able to serve up to 368 vehicles per hour. The company said that annual turnover capacity will be 180,000 vehicles.
The use of IoT technology at the parking includes a car park management system that receives inbound instructions from the port management system prior to the arrival of the vehicle. That system can generate an outbound plan and pre-allocate a parking space.
The multistorey car park is part of the Lianyungang International Automobile Green Intelligent Logistics Center Project (Lianyungang Project). The project aims to develop a national logistics hub in Lianyungang, playing a "pivotal role" in China's Belt and Road international trade and infrastructure plan to build new connections with global markets.
In November last year China's Ministry of Transport, along with the National Development and Reform Commission, issued a plan designed to boost the construction of smart ports and promote the digital transformation of key port areas. The aim is to better coordinate ship-to-shore operations and automate more terminal and yard operations.
CIMC said the facility will also be built on a sustainable design, including a roof using photovoltaic cells for integrated light storage and charging. The surplus power can support other port operations and the use of AGVs to park vehicles means a carbon reduction of 70% for each vehicle stored, equal to 9 tons of carbon savings a year.