During the first nine months of 2023, Russia imported 414,000 finished vehicles, 250% up compared with the previous year, with 97% of deliveries coming from China, according to estimates from the Federal Customs Service. That compares to 2022, when China exported 117,000 finished vehicles to Russia.
This rise in imports is strengthened by a rise in electric vehicle sales in Russia, supported by Russia's railway monopoly RZD, which is delivering electric vehicles (EVs) in 40-foot containers from China to the European part of Russia. China enjoys a dominant position in the Russian finished vehicle market and is the world's leading producer of EVs, making it likely that traffic on this route will increase in the coming months.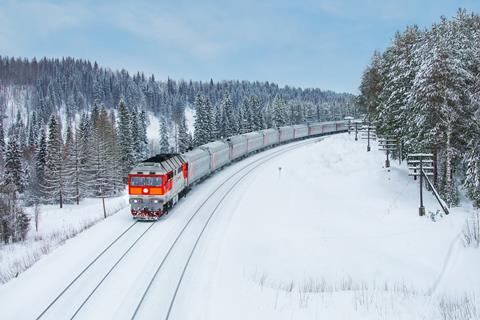 RZD Logistics, a subsidiary of the railway monopoly, has developed several ways of loading EVs into 40-foot containers, depending on their weight and dimensions, the company said.
So far, all shipments have been dispatched from the Chengdu terminal in China and received in the Selyatino station in Moscow oblast. However, Alexander Sivertsev, director of the container transport department at RZD Logistics, said the company was currently looking into expanding the list of departure points including Xi'an, Shanghai and several other Chinese regions.
Until September 2022, Chinese authorities prohibited the transport of EVs by rail because lithium batteries are recognised as a Class 9 dangerous good by the UN Recommendations on the Transport of Dangerous Goods. Lifting of this ban has paved the way to the beginning of regular deliveries, according to RZD.
China dominating vehicle moves in Russia
Last year, Russia saw a fourfold rise in the number of finished vehicles imported by rail, local news outlet Gudok reported, citing RZD data. For the first time ever, Russia imported almost as many finished vehicles by rail as by sea, the publication said, though it did not provide concrete figures.
In the meantime, RZD has calculated that the overall number of finished vehicles moved by rail in and through Russia last year dropped by 46% compared with 2021. Within Russian boundaries, the number of finished vehicle deliveries slumped by 54%, while export volumes from Russia plummeted by 81%. Finished vehicles transiting through Russia dropped by 75%.
China is playing a leading role in recovery of volumes from that decline. The slump in transit volumes is primarily attributed to the fact that transit railway deliveries of finished vehicles from China to Europe through Russia came to a halt in 2022. On the other hand, an expansion of the inbound railway logistics segment has happened because Chinese OEMs now occupy almost a dominant position in the Russian automotive market.
Route planning into Russia
There are several main routes for Chinese finished vehicles to enter the Russian market, according to Russian transport company Fesco. The first is by sea to Vladivostok Sea Port, where the vehicles are reloaded by rail and sent west to European Russia. The second involves the import of finished vehicles in containers or car carriers through existing Russia-China border crossings.
In January 2023, Fesco delivered finished vehicles from Guangzhou to Moscow in containers through China's Khorgos and Kazakhstan's Altynkol border crossing.
Container delivery has several advantages, compared with moving finished vehicles in car carries from China. There is no need to switch to a 1520-mm rail track gauge on the border, Fesco explained. Besides, the tariffs for finished vehicle delivery in containers in Russia are lower compared with car carriers and mesh wagons.
A new era of automotive logistics
The mass exodus of western carmakers from the Russian market in 2022 marked the beginning of a new era for the Russian finished vehicle logistics industry, according to Igor Smirnov, logistics department director with the Russian Center for Economy and Infrastructure.
In previous years, the northwest seaports in the St Peterburg and Leningrad regions served as the main gateways for finished vehicle imports to Russia. In the European part of the country, finished vehicles were transported primarily by automotive carriers, Smirnov said, adding that delivery by rail was not very popular.
However, last year, the tides changed, and now railway logistics plays a key role in the Russian finished vehicle logistics market, Smirnov said. Every second foreign finished vehicle is imported to Russia by rail, and 70% of that volume comes in containers.
The EV market is on the rise
In January-August 2023, sales in the Russian EV market jumped by 340% compared with the previous year, the Russian state statistical service Rosstate estimated. However, the absolute figures remain moderate, as Russian customers purchased only 7,000 EVs.
The Russian government has recently unveiled plans to allocate 30 billion roubles ($320m) in the next three years to support demand on the domestic EV market through soft loans and a discount on EVs of Russian origin up to 35%. In addition, the government has put a lot of effort into expanding the relevant infrastructure.
By 2030, Russia expects domestic EV sales to climb to 220,000 units per year. By 2035, EVs will account for 25% of vehicle sales on the market or 483,000 units, according to B1, a Moscow-based consultancy.