Given the pressures on capacity in the finished vehicle network in the US, which show no sign of getting easier any time soon, OEMs and their transport providers need to operate in tune with the shared network of which they are part and not be as protective of information as they have been in the past.
As speakers at last week's Automotive Logistics and Supply Chain Global conference discussed, trying to gain an advantage at the cost of sub-optimising the entire network is only going to prolong the pain currently afflicting the automotive industry in the region.
At the moment there is a lack of capacity coinciding with a massive deficit in vehicle inventory, caused by impact of the semiconductor shortage on vehicle production. At the same time, the drive to increase battery electric vehicle (EV) production is going to have its own effect on outbound capacity. Electric vehicles are heavier because of the lithium-ion battery and regulations in the US limit the loaded weight of normal haulage equipment to 80,000lbs or 36.2 tonne. That means fewer vehicles per piece of road carrying equipment (something also impacted by the trend to larger SUVs and pickups in the US).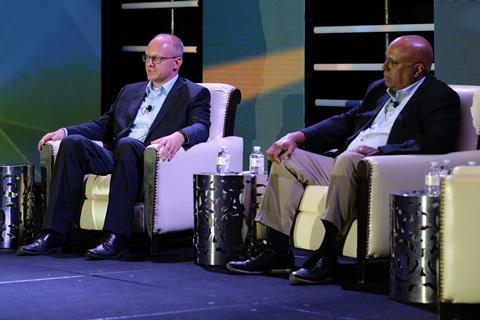 Tight inventory
According to figures from IHS, the US has lost light vehicle production equal to 2.2m and inventory has declined from 3.8m in March 2020 to 972,000 in September 2021, representing a 24-day supply rather than the typical average of 90 days.
"We not only have to replace 2.5m units of inventory, which we probably won't ever really do, we also have to fulfil the outstanding demand that is out there from the consumers, which is huge," noted Jeff Dzerbicki, director of Rubicon VLS, which organises finished vehicle movements in North America.
Dzerbicki said it was going to take years to recover that number even with plants running at full production.
Over the coming years, however, the automotive industry will also be ramping up the production of pure battery EVs. That affects capacity because there will likely be fewer vehicles per car carrier because of the weight restrictions. Though, as Charles Franklin, senior national manager of business development at Glovis America, revealed, there are advances being made in trailer design that could accommodate more.
"We have designed some new trailers that are lighter and have a low ground clearance that accommodate the EVs," he said. "Last week we successfully loaded out seven of these 52,000lbs [23 tonne] vehicles on one trailer, which is a feat to get that many EVs on one trailer and be legal."
However, there are other considerations related to the necessary charging infrastructure, according to Dzerbicki, not least who is paying for and maintaining it.
Network optimisation
Added to which, EVs are forecast to diversify the outbound model of distribution. Dzerbicki said it was likely that newer OEMs would distribute direct-to-consumer while others looked at building-to-stock and storing them at regional locations for ready delivery to the dealer according to demand.
The question is, how does that all tie into network optimisation?
"We are now going to need to optimise based on these different variables [to determine the best outcome] and the changes that are going to happen," said Dzerbicki. "You can run that model the same and get a different result on a day-to-day basis. That needs to be aligned with the capacity in the network."
The traditional modal split between road and rail according to a planned hub and spoke model with a 500-700 mile radius around a production plant has to be re-evaluated because there will be a shortage of railcars and trucks (something in the latter case exacerbated by the ongoing driver shortage).
Dzerbicki called for more coordination amongst the OEMs and their providers, with a view to secure backhauls and shared loads.
"Instead of heading back empty, there should be some coordination between a 3PL and the OEM… which says that 'I have an existing contract, I can eliminate empty miles if you give me traffic to haul back, and I think I can be competitive with other modes'," said Dzerbicki. "It's about win-win scenarios for everyone."
According to Franklin, Glovis America is in a good position to provide this given the visibility it has of the different networks its various OEM customers have.
"If these OEMs would agree to collaborate, then we could put the same brands on the trucks or trains and you get out of the factory faster; you are not waiting for loads because you can mix them," he said.
In addition, with full visibility of the networks, a transport provider can plan backhauls and reduce mileage, time and cost.
"You are also reducing the number of drivers required during this shortage because now you are maximising capacities with what is available," said Franklin.
Greater collaboration by the OEMs to address the capacity problem, and the associated costs on the final product which that entails, are crucial in ensuring finished product gets to the consumer and does so at an affordable end price. It is likely that price pressures will not be fixed overnight but were that to become a long-term problem more smaller providers could go out of business, exacerbating the capacity issue.
The next Ultima Media conference will be Finished Vehicle Logistics North America, which takes place next month between November 9-11 in California