Austrian trailer manufacturer Kässbohrer is developing a battery-powered car transporter with Swiss engineering firm Designwerk Technologies that promises to make vehicle deliveries by road a cleaner thing altogether. Namrita Chow talks to Tobias Wülser and Dr Markus Guggenbichler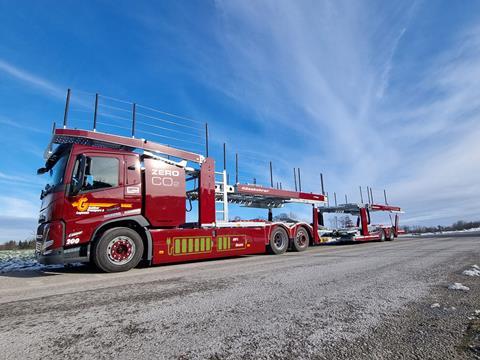 Automakers are under pressure to show their supply chains are as close to carbon neutral as possible. The transport of their brand new, fully built vehicles is now the subject of scrutiny.
Those logistics providers with facilities to help OEMs further offset their carbon footprints will gain traction in an industry embracing the transition to greener alternatives.
In Europe, the pressure is acute, as EU mandates call for a ban to fossil fuel heavy vehicles as soon as 2040. Those weighing under 26 tonnes are expected to meet the carbon-neutral mandate as early as 2035 in specific markets.
In a special spotlight interview, Automotive Logistics talked exclusively with German equipment manufacturer Kässbohrer Transport Technik and Designwerk Products, the companies behind a customised electric car carrier built in collaboration with Swiss finished vehicle logistics player, Galliker Transport.
The truck is the first fully electrified, full-size car transporter and is based on a Futuricum e-truck. Futuricum is a division of Designwerk that makes electric trucks, mobile rapid chargers, and modular battery systems for electric vehicles. The company says that electric trucks will be an important to the future of mid and long-distance road transport.
Designwerk, the mother company of Futuricum, is currently working on megawatt battery, buffered charging solutions with high-speed charging especially for e-trucks like the Kässbohrer car transporter.
Dr Markus Guggenbichler, head of sales and product development at Kässbohrer, and Tobias Wülser, founder at Designwerk Products, talk to Namrita Chow about the sustainable contribution the technology promises for the industry and whether this pilot is the gamechanger heralding the future of electric transporters for the finished vehicle logistics sector.
Truck and battery capacity
Namrita Chow: This electric full-size car transporter, which includes electric mechanisms for the loading and unloading of passenger cars, is now in use. Could you tell us a bit about its capacity? What is the total permissible load and how many cars is it able to carry?
Dr Markus Guggenbichler: With this first electric articulated vehicle transporter we can load eight cars. The loading possibilities correspond to a conventional car transporter, with the exception that the height above the driver's cab and at the first loading position behind the cab is somewhat limited due to the overall vehicle height.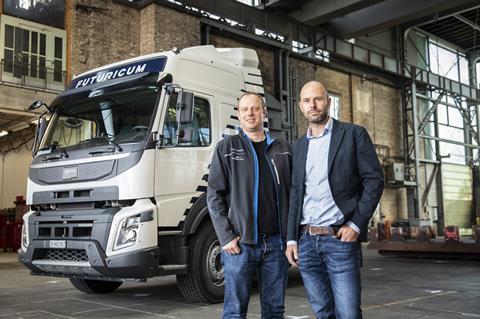 To design the world's first electric car transporter not in the laboratory but for normal logistics use was a key objective from the outset, and we have succeeded in doing so, with zero emissions and maximal loading capabilities for cars.
The electrified car transporter has a battery capacity of 900 kWh and 500kW (680HP) drive power. The storage capacity of the electric truck consists of four 225kWh lithium-ion batteries. In comparison, an average electric passenger car has a capacity of 40 to 60kWh net energy content.
Could you explain a little bit about the battery powering this electric car carrier? Is this such that the overall range is increased?
Tobias Wülser: The cumulative battery capacity increases the total range of the truck. The four Designwerk batteries systems sum up to a total installed battery capacity of 869.6kWh and a total range of approximately 500km with a full load.
Dr Markus Guggenbichler: The batteries work together in one pack. They can be recharged at all standard charging stations. Usually, 150 KW charging stations are already available today. With these high capacities, however, Designwerk offers coordinated charging options up to 350kW. This means that rapid recharging – 80% of capacity in less than two hours – is possible with this electric car transporter.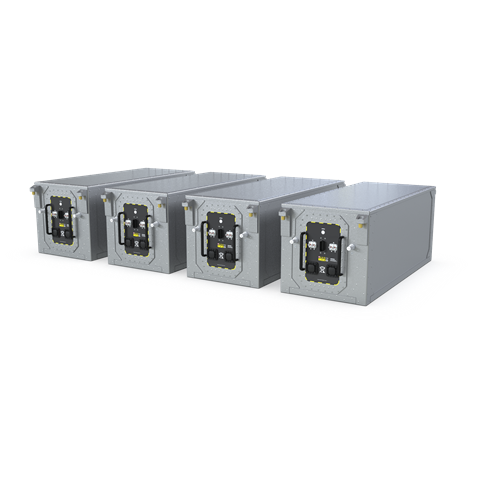 Why did you create such a large capacity battery?
Tobias Wülser: The answer is simple. We developed the 900kWh Futuricum e-trucks because no one else can do that right now. We are frontrunners in the field of electromobility for commercial vehicles.
We own the segments of niche e-trucks for special applications. These are electric trucks no OEM offers [and include] special electric vehicles with four or five axles, e-trucks with 900kWh battery systems for long range and heavy-duty transport, or vehicles with additional auxiliary drives, which we electrify as well.
Why this level of power is preferable for a car carrier?
Tobias Wülser: Our goal was to drive with an electric motor drivetrain that does not need to be shifted into different gears. This allows top speeds on motorways of 86 km/h and gradients of 18%. The gearbox is a complete in-house development by Designwerk.
My understanding is that the total weight of the four battery packs is about 5,440kg. Does this extra weight affect the range of the truck?
Tobias Wülser: The vehicle's weight plays a role in terms of rolling resistance. The far greater impact on such an electric truck is the air resistance.
From where are these battery modules sourced?
Tobias Wülser: In this arrangement we have resorted to a high-performance cell from the Asian region, which offers us better performance compared to price and weight.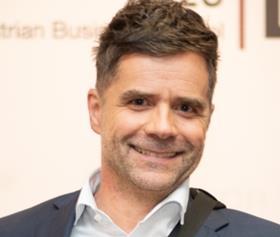 Charging infrastructure
Are charging points exclusively located at the company depot? What type of charger is this and how long does it take to charge 100%?
Dr Markus Guggenbichler: We can charge the vehicles during the set-up with the usual high-voltage network. There is a public charging station in the immediate vicinity. The vehicle has a CCS [combined charging system] Type 2 charging connection, so it can be charged at an external DC charging station or with AC Type 2.
Tobias Wülser: Depending on the local infrastructure the Futuricum electric truck is equipped to be charged at different speeds. With a 150kW CCS charger it will take approximately 4.1 hours up to 80% state of charge. With a 350kW CCS charger you can reduce the charging duration to 1.7 hours for an 80% state of charge. The Designwerk battery systems built in this truck are set up to charge up to 80% state of charge to prolong the battery life.
What about charging en route? Does the electric car carrier have to travel on predestined routes? Have you worked with local authorities to plan routes with the required charging facilities installed?
Dr Markus Guggenbichler: The deployment and route planning was carried out by the customer. In particular, the customer's own existing infrastructure was taken into account.
Public charging points usually represent a possible back-up scenario.
Wider application
What are Kässbohrer's plans for moving from pilot project stage to roll out of more such vehicles?
Dr Markus Guggenbichler: Based on the experience of the pilot projects to date, we would like to provide standardised body configurations suitable for battery-electric trucks for different key applications, such as shuttle transport or vehicle distribution, which can be assembled from a modular system. This should be possible in the near future. Just as Kässbohrer developed the first (fuel) car transporter almost a century ago, we are sure that, together with our partners, we will also be able to make important contributions to the zero-emission future of the industry.
What specific considerations did you have to make in building the transporter for Galliker Transport?
Tobias Wülser: With this project, our company wanted to move up into the champions' league of vehicle construction. On the one hand, we are the first to have tackled the problem of long ranges for car transporters. In addition, there were the battery positions as well as the axle loads and, of course, the length extensions of +1 metre.
Regulation driving change
The EU is pushing hard for our transport industry to become carbon neutral by 2050. The latest update to Regulation 2019/1242 for emissions from heavy-duty vehicles is due out in Q4 2022. Do you see these regulations as a major incentive to electrify the fleet at Kässbohrer?
Dr Markus Guggenbichler: Inspired by these legal objectives, we currently see a strong interest in projects where the battery-electric truck is to be tested in various specific uses. However, with the current costs of electrification, economic efficiency calculations naturally play a role, not only in these projects.
Each member state of the EU has a host of incentives to encourage the switch to zero and low-emission, heavy-duty vehicles. How do these incentives apply to you and your customers?
Dr Markus Guggenbichler: National funding opportunities are important for pilot projects, of course. However, these subsidies are handled by the customers and operators in each case, with their national authorities, and must also be applied for by the transport companies.
What does the production and trial of this transporter promise for the those tasked with delivering finished vehicles in more sustainable ways on the road?
Tobias Wülser: With the completion of this electric car transporter, we are making a clear statement. Electric passenger vehicles can now be delivered to dealerships with zero emissions. Making a further contribution towards sustainable mobility is important to both automotive manufacturers and us.
We are also developing a battery-backed DC charger. With the Designwerk MBDC-18-21 you can charge trucks, buses, ships and aircraft in record time. Its high-charging power and low operating costs make it ideal for use in fleet operations, the commercial vehicle industry, by vehicle manufacturers, in test centres or during events.
Dr Markus Guggenbichler: It is not measured in kilowatts but what is also crucial for the success of innovation in the traditional vehicle industry is entrepreneurship. Private-sector initiatives and visions o fthe future, such as we have developed in our joint project [here] is about tackling the future, in the truest sense of the word!