[Updated Nov 22] A pure car and truck carrier (PCTC) chartered by NYK Line en route to India has been seized by Houthi rebels in the Red Sea, off the coast of Yemen, near Hodeida.
The Galaxy Leader, which is owned by Galaxy Maritime and commercially managed by Ray Car Carriers, was sailing from Turkey when it was intercepted on November 19.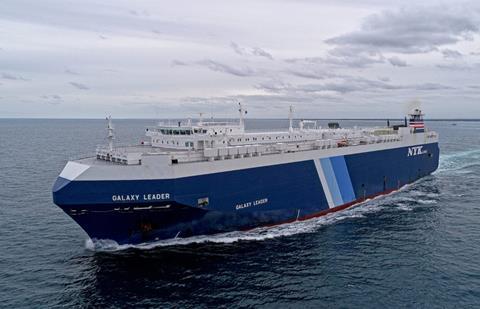 The Galaxy Leader vessel has capacity to carry more than 5,000 car equivalent units (CEUs) but NYK said that there was no cargo on board. The company said it had organised a crisis management centre at its head office in Tokyo, Japan to gather information and manage the incident. NYK said its priority is the safety of its 25 crew members.
The Houthi rebels released footage on social media channel X showing the hijacking and claimed the ship was linked to Israeli shipping. A spokesperson for the Yemeni armed forces, Yahya Sere'e, said the action was taken in solidarity with the Palestinian people in the wake of Israel's action in Gaza and that it would target further vessels that were linked to Israel. The Galaxy Leader vessel is British owned and NYK is Japanese, though commercial manager Ray Car Carriers is listed as a subsidiary of Abraham Rami Ungar, a company domiciled in Israel, according to maritime analyst Ambrey.
Reuters news agency said this week that Ray Car Carriers diverted two of its other vessels from the area this week as a precaution – the Glovis Star and Hermes Leader.
Japan's chief cabinet secretary, Hirokazu Matsuno, told a news conference the government strongly condemned such acts and was appealing to the Houthis while seeking the help of Saudi, Omani and Iranian authorities to work towards the swift release of the vessel and its crew.
NYK said it would report additional information as soon as it became available.