The Dutch coastguard is trying to control a fire on car carrier Fremantle Highway, which has killed one member of its crew and left several of the remaining 22 crew members injured. The vessel was reportedly carrying up to 500 EVs among the almost 3,000 vehicles on board, prompting questions about EV safety risks in FVL.
The K Line vessel, owned by Japanese ship leasing firm Shoei Kisen, had departed from the Bremerhaven Port and was headed for Port Said in Egypt and then to Singapore. It is unconfirmed which vehicles were on board, although the Bremerhaven Auto Terminal is used by OEMs such as Mercedes Benz and BMW. While original reports suggested only 25 EVs were onboard, it is now estimated to be closer to 500.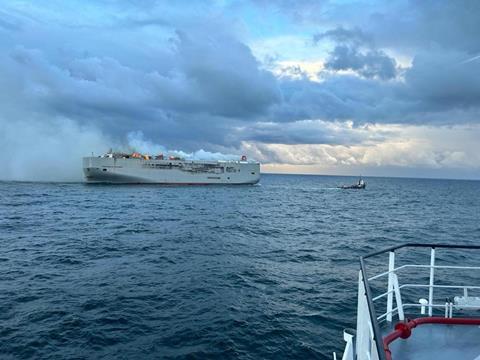 At the time of reporting, the Dutch coastguard said the fire is ongoing but the situation is stable and the cause of the fire on the Panama-flagged vessel is still unknown. Despite this, several media reports have speculated that the presence of lithium-ion batteries in the EVs may have contributed to the incident. K Line has been contacted for comment.
While it is unclear whether EVs present any greater risk than internal combustion engine (ICE) vehicles, logistics and insurance firms are taking extra care when it comes to the transport of EVs.
Last year, a Mitsui OSK Line (MOL) vessel, Felicity Ace, caught fire and sank in the mid-Atlantic with around 4,000 vehicles onboard, including a significant number of EVs. The cause of the fire is still undetermined.
How to prevent EV fire risks in logistics
Allianz Commercial's Safety and Shipping review 2023 found that fire was the second top cause of loss for shipping vessels last year, with eight vessels lost and more than 200 incidents reported. The insurance company's risk consultants, including Captain Rahul Khanna, global head of Marine Risk Consulting, and Captain Randall Lund and Captain Anastasios Leonburg, both senior Marine Risk consultants, said that logistics firms involved in the transport of EVs need to take proactive measures to avoid fire risks.
In their expert risk article, the consultants said that State of Charge (SOC) is particularly important with lithium-ion powered vehicles, which need to be partly charged to be moved on and off ro-ro carriers. The consultants said the ideal amount is at the lower end of 30-50%. "Both shipping lines and shippers should ensure this is the case," they said. "Shippers should also request proper certification like the test summary from the manufacturers before transporting them, as defective manufacturing is one of the leading causes of fires in such batteries."
Ensuring lithium-ion batteries are declared properly is another big factor in preventing fire risks. Allianz said logistics firms should ensure EVs display "clear and precise identification on the windshield detailing the battery type", whether battery EV, hybrid, or plug-in hybrid. The insurance firm added: "One potential idea being explored by some car carrier operators, as part of fire-preventative measures, is the use of fire-proof blankets manufactured specifically for EVs."
The consultants said: "The debate about EVs in the shipping industry is ongoing, with conversations about whether there is a need for dedicated ro-ro vessels for EVs. From an insurance perspective, this is something we would like to see – purpose-built vessels for transporting EVs, designed to substantially reduce the risk of fire. We have already seen shipping companies stop transporting EVs on their ships because of the potential fire risk."
Other recommendations made by Allianz for the EV logistics sector include making sure the vehicles are fully functional with no battery damage, having undergone impact and temperature tests, and ensuring that all EVs are secured properly to prevent any shifting during their transport.
Story updated July 28 with new information on EVs on board