Nissan North America is ten months into an 18-month pilot project that aims to tackle capacity pressures in finished vehicle road haulage, improve delivery times and make the job of delivering vehicles more attractive to freight drivers – three of the main challenges facing the vehicle logistics sector today in the US.
Working with Georgia Institute of Technology and two of its bigger vehicle haulage carriers – CAR Transport and Hansen and Adkins – Nissan is using the latest technology to develop a transit hub network in south-east region of the US (but including Texas). The project aims to break down the stages involved in the delivery of finished vehicles to make the process more efficient and manageable.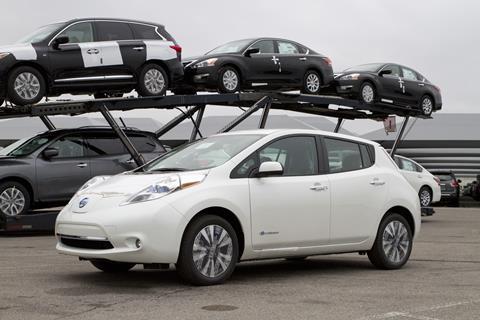 "We are using modelling data from both of our haulaway carriers and our other partners to model routes that will improve the work-life balance [for drivers] and improve capacity and delivery times," said Steven Jernigan, director of finished vehicle logistics for Nissan North America, at this week's Finished Vehicle Logistics North America conference.
As part of the project, Nissan and its partners have set up separate teams that are dedicated to shuttling, loading and driving.
Ryan Purman, senior manager for finished vehicle logistics, North America Operations and Exports at Nissan North America, explained further: "We are looking at whether you can decouple the traditional model where a driver picks up the [vehicles] and delivers to the dealer over 600-800 miles. [Instead] someone can load the truck for them, then they go to a relay point to change equipment or unload the vehicles for a last mile delivery," he said.
Watch: Nissan's Ryan Purman discusses turning to more digital tools to improve vehicle logistics
According to Purman, Nissan is beginning to see positive results from the project and is committed to continuing with it.
"The finished vehicle logistics network is an ecosystem and we need to treat the [transport equipment] in a way that gets the most amount efficiency out of each [unit] while reducing those empty miles. We are seeing that [and] we might end up with a model where there are multiple OEMs involved," he said.
Purman said that collaboration between OEMs on shared loads would make sense especially on calls to smaller locations where only two or three vehicles are being delivered.
"If there is another OEM dealership in the same area… we get the most impact out of that truck and that driver, and we are getting them turned around faster," he added.
The project, which may be extended beyond its original working life of 18 months following the disruption caused by Covid-19, is one of a number Nissan is looking at with its logistics providers to make its finished vehicle deliveries more efficient, timely and sustainable. That includes studying last mile logistics and estimated delivery times.
In terms of sustainability, Purman said it was a balancing act but one that paid dividends if the right balance was achieved.
"We have applications that make it attractive to the carrier and makes sure they have what they need to attract more drivers," said Purman. "Ultimately, there might be a cost saving there as well, by getting more efficiency out of the assets we have with the driver and the equipment. It is a balancing act, but it is also a good trade off."
WATCH ALL SESSIONS FROM FINISHED VEHICLE LOGISTICS NORTH AMERICA LIVE 2021 ON DEMAND
Nissan working with Georgia Tech on improving vehicle deliveries and truck driver routes
1

Currently reading

Nissan working with Georgia Tech on improving vehicle deliveries and truck driver routes

2

3

4

5