Toyota has been working to improve transparency in the delivery of its vehicles and provide its dealers with clear and concise information, but that is not all Project ETA promises says Kevin Austin, vice-president of demand and supply management at the carmaker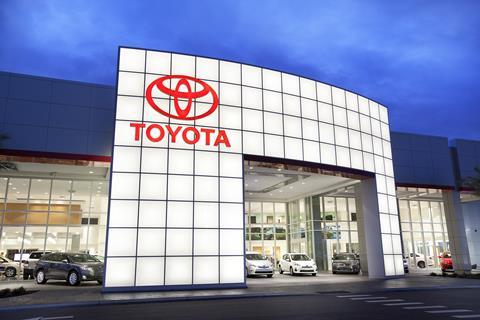 Toyota Motor North America is rolling out a new system called Project ETA, designed to more accurately trace the movement of its vehicles from the assembly plant to the dealer network, and importantly, share that information with its dealers.
The system is designed to improve visibility in the outbound delivery of vehicles by precisely locating a car using its vehicle identification number (VIN) and sending notifications every time that particular vehicle crosses a milestone in the delivery process.
"Essentially for every vehicle we produce in North America or built overseas for the North American market, we are able to track the specific lifecycle and logistics milestones from order-to-delivery in near real time," says Kevin Austin, vice-president of demand and supply management at Toyota Motors North America (TMNA), and head of Project ETA. "The visual pipeline tracker provides a view of each vehicle's identification number (VIN) through its end-to-end journey. It marks completed milestones and highlights its current status.
As of March 18 this year, Toyota has 12 of the 14 Toyota and Lexus regions rolled out on the pipeline tracker, with training and education support being provided for users, including dealers, during the rollout. By the end of June this year it will be active across the whole of the US.
Delivering on demand
Disruption to the production and delivery of vehicles over the last two years has led to historically low inventory rates at the dealerships in North America.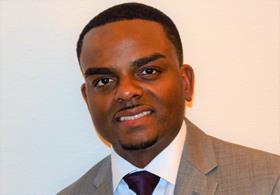 According to figures from Cox Automotive, the total US supply of available unsold new vehicles stood at 1.07m units at the start of March this year. That is down 59% from the same period in 2021. Latest figures from Cox also show an average of 34 days of supply. The total days' supply bottomed out at the end of September last year at 25. Even so, Cox reports that at the start of March it remained 50% below the end of February 2021 and it is well below the bloated days when inventory stood at anything between 90-120 days.
At the same time, Toyota and Lexus sales in the US are increasing. Last year the carmakers respective brands sold 2.3m vehicles, up 10.4% year-on-year.
Every car made now has a customer waiting for it. Equipping dealers with the tools to be able to tell that customer exactly where their car is in the delivery process, based on its vehicle identification number (VIN), garners trust in a tough environment in which delivery is struggling to keep up with demand, something that risks brand loyalty. That openness is important for a customer, especially one in the US, formerly used to exercising their choice from the available inventory on the lot.
"This post-Covid world and the supply disruptions that came with it changed our needs," says Kevin Austin,. "It created a platform for us to drive more transformative change into areas that are now required to help a customer navigate a sale that is not through on-the-ground stock. ETA is key and one big part of that puzzle."
The technology behind that platform has been designed in-house by Toyota. According to Austin it has involved a lot of collaboration and integration between the various supply chain organisations working closely with Toyota's IT organisation.
"Our IT organisation has been very supportive and provided a lot of thought leadership," says Austin. "We wanted to move with a sense of speed and urgency, and they were right beside us in achieving that goal."
Visibility, notification, accuracy
However, as Austin goes on to explain, better visibility of the vehicle being delivered is just one of three main goals for the system – goals that aim to transform finished vehicle handling at Toyota in the years to come.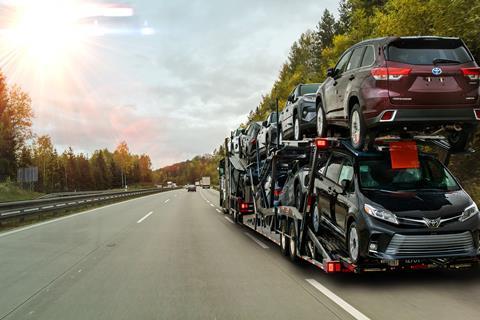 The second of those goals is more timely notification to the dealer if something goes wrong in the delivery process. Problems can occur, whether it be the need for a missing semiconductor, a body or paint repair en route, or an ocean-bound vessel catching fire and sinking. Many factors are out of Toyota's control, but Austin says the carmaker has a duty of care to make sure that any information about the delay gets to the dealer with speed and clarity. Moreover, that the customer is kept apprised of their vehicle's status. "Delay notification is a really important part of our effort," says Austin.
The third aim of Project ETA is greater accuracy in the movement of the outbound vehicles and greater precision in the information provided on each vehicle at each stage in its movement between factory and customer.
These three aims are all part of Toyota's overall goal of getting the right car to the right place at the right time. That is now more important than ever given the lack of compensating vehicle inventory in the network.
"Frankly, a lot of weak points were covered by having 300,000 units of inventory," says Austin. Those weak points included precision, transparency and traceability. The carmaker is now focused on bringing those areas up to the level of capability it has achieved in areas such as series mix optimisation and volume.
Kevin Austin will be talking more about Project ETA at the forthcoming Finished Vehicle Logistics North America conference being held in Huntingdon Beach, California between June 7-9 this year
Mission critical collaboration
As well as tighter collaboration within the Toyota organisation, the trial and use of the Project ETA system has involved close integration and data gathering with the carmaker's transport and logistics providers on land and ocean. That is a complex process, involving as it does handover points at ports, railheads and vehicle distribution yards.
"We get product [from overseas] arriving on both US coasts, we have rail providers and trucking providers that are partners," says Austin. "They have their own challenges, for example with labour at the moment, which they are respectively working through. There are a lot of complexities to help solve this puzzle."
Austin explains that Toyota is working with its logistics partners to break down and compartmentalise each issue and adds that their input is "mission critical" in improving the areas of notification and accuracy.
"Finding the main failure point, identifying solutions, doing experiments to help drive the improvement – there are many things that we can control but there are equally many things that we cannot. There is no one simple solution."
However, working with its partners on closer data integration provides a rich mine of information on which to dynamically plan for greater precision and solve the issue at hand.
"One aspect we are really leveraging now is the information that you can garner from distributing 2.5m units each year," says Austin. "There is a rich knowledge there and learning how we can leverage that to build our logic, and leveraging analytics and status, will help with that precision; it is a key piece of the puzzle for us."
Describing its development as an iterative process, Austin points out that the work Toyota is carrying out with its logistics and transport partners, and the gains made in enriching pipeline information, will only enhance the Project ETA tool and its accuracy of notification. Toyota has set up an internal cross-functional team to support that.
"This is not a one-off initiative but part of an ongoing effort to digitise our supply chain and be of more service to the customer and the dealer," says Austin, adding it would be subject to Toyota's principles of continuous improvement (or kaizen) on which it will build more expansive capabilities in the system as it goes on.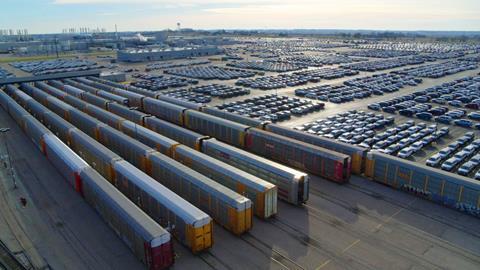 Project people
Project ETA is also based on a people principle, something Austin says is mandatory for a process of transformation. It is about building big processes with technology for those working in the supply teams. With that they can in turn support the end goal of providing greater transparency to the dealer and customer.
Given the pressures on the production and delivery of vehicles over the last couple of years, pressures that are not going away, those involved in supply chain planning and operations have been stretched to the limit.
"It has been extremely chaotic, so we're mindful of that in trying to design something empathetic that relieves the burden on our folks but also enables them with information to do what they do best and solve problems."
That includes the dealer, and providing a tool that gives information on vehicle status and location with clarity makes for a better customer-facing role. Austin says Toyota had in mind the challenges facing a dealer who may not have the accuracy of information they need to talk in a clear way with the consumer. He admits it is a tough environment, especially under current conditions where inventory is low and there are complex problems affecting the outbound supply chain. However, that challenge has been used by Toyota as an opportunity to solve a problem that has actually been around for decades and only disguised by high margins of inventory.
"This is the time to drive some big, audacious, transformative change and be of service to the dealer and customer," he says.
Part of that transformation is being able to present outbound supply chain data in an informative and uncomplicated way that is conducive to greater customer satisfaction.
"We negotiated with the dealers on a lot of different designs that could be valuable and got great feedback," says Austin. "This was truly an enterprise wide-design type of activity that included the dealer. Day-to-day we have the information but how to make it available and presentable has been the real trick."
Providing some near-term wins on the road to the broader aims of Project ETA helps prove to the dealer the efficacy of the change underway in the organisation.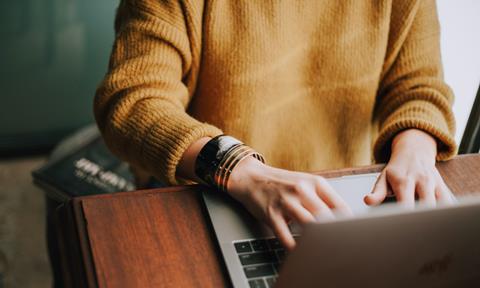 "We have been trying to deliver some effort to support the challenges they face in this current environment, but we are also designing for the future," says Austin.
Future focus
Future aims could include the expansion of the tool for end customer use, given the trend to online purchases and home delivery. It could also be used in the tracking of reconditioned vehicles. However, the focus right now is on the customer-dealer relationship because those two parties drive the business, according to Austin.
"There may be some use cases that touch other aspects as we build this out, scale over time and add value," he says.
What is unlikely looking ahead is that dealer inventory will get back to anything like what it was pre-Covid, with 90 days of supply as an industry average. Austin admits that right now the sector is at the opposite side of the spectrum by being too lean on the ground but says no has a desire to go back to the way things were. With greater transparency and a more customer-responsive system business will improve for the OEM and the dealer in his opinion. That makes for a better customer experience overall.
"If we can improve on transparency and precision, I think the industry as a whole improves. I personally don't see a return to a pre-Covid environment from an industry perspective," says Austin.
Kevin Austin biography
As vice-president of demand and supply management (DSM) at Toyota Motor North America, Kevin Austin is responsible for North American regional demand and supply planning, in coordination with Toyota and Lexus brands and the North American manufacturing companies that are directly or indirectly owned by Toyota.
Austin began his career at Toyota in 1999 as an analyst within the Production Control division at Toyota Motor Engineering and Manufacturing North America (Tema). He worked in this division until 2010 and was responsible for production planning efforts and helping lead Toyota's supply chain coordination in ensuring the company has the appropriate production capacity and output to meet all of its customers' needs and demand. Following Production Control, Austin worked in the Human Resources department, supporting company-wide initiatives on team member engagement and development.
In 2012, Austin took an international assignment in Japan where he worked for two years in the Toyota Motors America Japan (TMA-J) division. Upon completion of the TMC assignment in 2014, he rotated to Toyota Motor Sales (TMS) in California where he worked in the Distributions Operations department until his transition to the Toyota Motor North America headquarters in Plano, Texas in 2015.
In 2018, Austin took a rotational assignment within the Sales pillar in the Denver Regional Office, supporting and engaging the regional team and dealers in achieving mutual sales and fixed operations goals and objectives.
Austin was in this position until March of 2020, before rotating back to Plano HQ to work as the general manager within the Toyota Sales Operations team, prior to taking on his current assignment in DSM this past November.