As historically low dealer stocks need replenishing, and heavy SUVs and electric vehicles (EVs) take up more than their fair share of outbound transport capacity, carmakers and their logistics providers are looking at how that capacity can be maximised. Instead of investing in additional wagons, some are calling for the reduction of empty rail miles.
Frank Schnelle, director of the finished vehicle logistics business unit at Glovis Europe, suggested cooperation between OEMs as an important step at last week's Automotive Logistics and Supply Chain Live conference: "We should first focus on the utilisation of existing [rail] capacity," he said.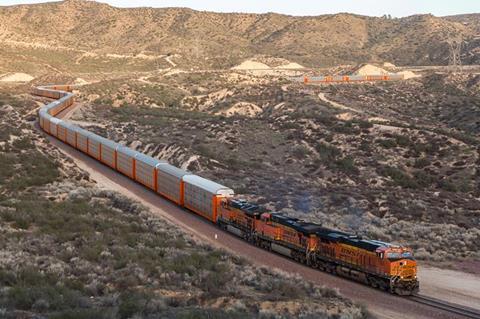 A lot of that existing capacity is going unused, as blocktrains tend to return empty, whereas carmakers are already sharing capacity and loads on the road. Sharing rail wagons would go some way towards offsetting the higher weight of modern vehicles by mixing loads, reduce the carbon footprint of the outbound logistics and offer a potential cost saving.
"You can always demand [transport providers] invest in capacity, but I would really like to see us share capacity and look at how we can align the network to make rail utilisation much better, because the empty loads on this equipment are pretty high."
He disagreed with the other panellists that this was something for the suppliers to work on, arguing that the OEMs were the ones that created the networks and should be looking for ways to align them and check what was feasible.
"I agree that it's the job of the suppliers to find the efficiency in the network and for trucks it works very well, but for rail we have a slightly different situation because the rail provider who provides the equipment can't really adjust the network," said Schelle.
One difficulty in implementing such cooperation is that carmakers usually have multi-year contracts that end at different times. Monica Schmickler, head of strategy, purchasing and quality for worldwide transport logistics at Daimler said: "We have found that in the past there are some anti-trust limits, so our creativity in combining our network and using common capacities has its limits. I'm also a fan of trying again and talking to other partners, but this needs to be done in a very structured and transparent way, [so as not] not to create more hassle than it's worth."
Tech as enabler
During a later session on rethinking and optimising network design, with a focus on the North American market, panellists there agreed that the sharing of railcars was some way off. However, there appears to be a willingness to employ technology to share the burden.
Mark Boucher, Volkswagen Group of America's director vehicle logistics, commented: "You have to be careful how you do that, but the more we know, the better. Taking the railroad as an example: we work together as an industry to get the maximum efficiency out of that equipment, and the question becomes: 'Where else can you do that?'. That comes with greater visibility as an industry…[.] The faster we go as an industry, the faster everybody goes."
Justin Newell, COO at software company Inform, said that technology would be the main driver of cooperation. Using digital technology to find the most most efficient way to transport vehicles often resulted in a model that maximised loads and put different vehicle types and manufacturers together.
"Certainly, on the rail side you're not going to have co-loading at this point within the railcar… but from a technology perspective, [cooperation] is a main driver," he said.
Newell added that optimisation was only limited by the refusal of the OEM to mix loads with a competitor's shipment. Using technology as part of a collaborative relationship on the other hand, one focused on load process optimisation, capacity planning and route optimisation, brought greater results.
Although sharing railcars appears to be some way off in Europe and North America, there is clearly a willingness to cooperate. That point was backed up by Steve Jernigan, FVL director of Nissan North America: "Looking at the outbound side, I see more cohesive working together across the OEMs for transportation on rail and co-loading. We're not competing in logistics, we're all looking to improve, getting our units in high quality to the dealers. For me, I've seen more co-work with other OEMs on the outbound side than anywhere else."