There are positive, albeit early signs, that vehicle production is recovering in North America. This year saw a loss in light vehicle production of 2.5m vehicles because of widespread shutdowns caused by semiconductor and parts shortages. While 2022 will be constrained, carmakers are reporting that plants will be running without shutdown over the coming months, even if they are under capacity for the time being.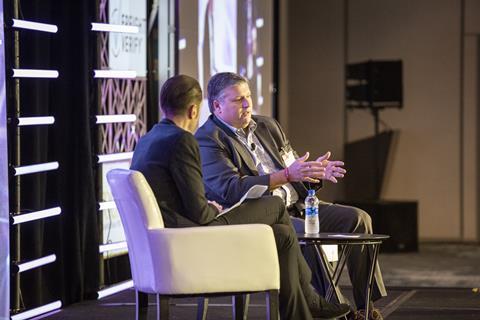 Unfortunately, there is unlikely to be sufficient capacity in the outbound sector to cope with even this gradual increase and deliveries at a time of record low inventory will continue to be disrupted. Without some radical and collaborative steps being taken to improve visibility, recruit truck drivers or find alternative delivery methods, carmakers risk losing sales in the long term.
In the opening session of this week's Finished Vehicle Logistics North America conference, which made a welcome return to Newport Beach in California, Steve Jernigan, director of finished vehicle logistics at Nissan North America, said that the current supply problems affecting the inbound supply of parts were likely to shift to the outbound sector; a sector suffering from a dramatic shortage of drivers.
"I've heard some statistics from the haulaway carriers that they have lost 25-30% of their drivers in some locations and it was already a constrained industry," said Jernigan. "Covid has pushed that forward even more."
In its latest Top Industry Issues report, the American Transportation Research Institute (Atri) reported that there is now a record shortfall of 80,000 professional drivers across the haulage sector. That shortage is being felt strongly in the finished vehicle sector as skilled but homesick long-distance drivers leave for alternative short-haul freight jobs for companies such as Amazon or leave the haulage industry completely.
In the Atri study, the driver shortage topped the list of industry concerns for the fifth year in a row. The shortage of drivers received more than four times as many first-place votes as the number two issue of driver retention.
"We are going to struggle," admitted Jernigan. "We've had a lot of conversations about what we can do and we will continue to focus on it but we will see really tight capacity."
In fact, Nissan got a taste of the constraints last month when it could not secure the right equipment or lift to move certain volumes from its plants (it has two vehicle assembly plants in the US at Smyrna and Canton).
The gradual increase in production at the same time as the sharp decrease in available drivers is made worse because there are yards of vehicles parked on hold awaiting parts. When those parts clear the congested ports, there is expected to be a surge in available inventory in certain areas, putting further pressure on available capacity. At the end of the day, this means vehicles are not getting to the customers who are now buying vehicles that are yet to be delivered or which may even be still in production, an unprecedented situation for a country in which the great majority of buyers prefer to walk into the dealership and make their purchase from the available stock.
Driving a wedge
Nissan is also looking at alternative equipment and delivery options, including wedge trailers for smaller volume deliveries. Wedge trailers typically have capacity for three vehicles and can be pulled by a conventional pick-up.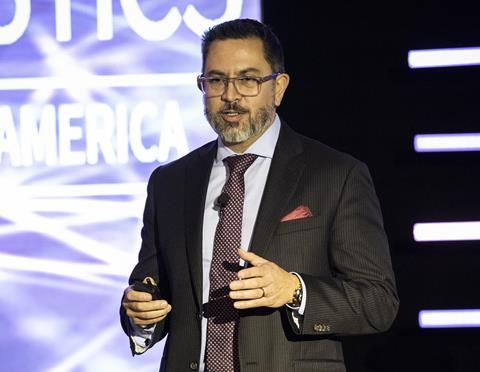 "At certain locations it makes sense," said Jernigan. It gives us additional capacity that we don't have now."
That point was picked up by Sergio Gutierrez, CEO of freight and finished vehicle logistics provider RPM, who said the wedge truck was part of a bigger need to maximise the available capacity out there and proved to be very efficient in certain moves.
"You may think by moving three vehicles you are not reaching your full potential, but the reality is that there are so many complex locations where, due to the congestion that exists, it is impossible to get there on time," he said. "So by adopting this new equipment we are able to get there rapidly and with the same quality."
That very much demands on standardising finished vehicle transport options in terms of quality and service with the drivers. Gutierrez said it was essential to create a business model that grew to encompass the different modes of transport; otherwise, the industry would fail because of a lack of quality and timely delivery. Quality had to be standardised, he said.
What is also needed is an improvement in the digital tools used to track vehicles through the delivery process and provide dealers with more accurate ETAs, which is sadly lacking because of the ongoing disruption both upstream and downstream in the supply chain.
Nissan's Jernigan said better visibility was a priority for Nissan, and it would be investing heavily in the technology required.
"We are working on developing better visibility that allows us to make decisions and understand where our inventories are and where the exceptions are," he said.