According to speakers at the Automotive Logistics and Supply Chain North America Live conference there was a silver lining to the disruption inflicted on the automotive industry by the coronavirus pandemic: it allowed companies to look at things afresh and identify where existing problems in the outbound supply chain lay hidden by day-to-day activity.
Howard Chang, senior manager of North American vehicle logistics and port operations, at Porsche Cars North America, said that the carmaker's volumes were healthy and distribution was running on automatic. However, the Covid-19 situation showed up certain areas in which disciplines needed to be addressed.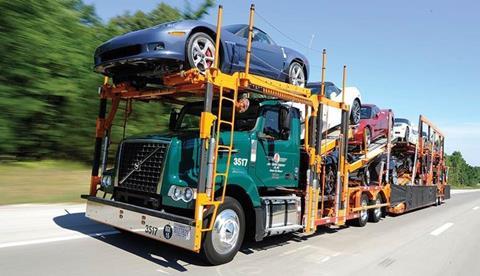 "It showed us where we could do better in certain areas," said Chang, speaking during the Automotive Logistics and Supply Chain North America Live conference. "Even though Covid was horrible and I hope we never go through it again, we are definitely stronger, leaner and more efficient now because of what we had to go through. Dealers appreciate us as an OEM that is flexible and doing what we can to help them, and keep them afloat."
One of the ways Porsche has worked to become more efficient is that the carmaker has started working with ICL Systems on new system to gather, collate and standardise carrier data, and use it to inform better distribution planning.
The view that lessons learned through Covid are beneficial to the future of the business is one shared by Patrick McGinn, business development manager, at logistics provider Glovis America.
"Covid, as challenging as it was, really was an exciting opportunity for us to look at things afresh," he said. "In a normal year there are parts of the network that run smoothly and you don't necessarily look at them as strongly as you do the areas that are not performing. The squeaking wheel gets the grease; this year everything squeaked."
Glovis America used the opportunity to re-evaluate processes adopt a more flexible strategy to one-off pressure points during the crisis. That included looking again at its network in North America and resulted in the adoption of last mile delivery strategies from the rail delivery ramps and the opening of new port locations.
"We looked at how big could make our final-mile shuttle radius [and asked] whether we could go out a 100 miles and drive cars from ramps to dealers, and free up some truck capacity for the longer hauls?" said McGinn.
Glovis has also responded to high volumes in Q4 last year by finding space at the port of Baltimore with its vendor AWC. "We added Baltimore to the mix and got AWC to bring up a location on the east coast where demand was incredibly high," said McGinn. "We put a couple of thousand on the wholesale that we would not have got any other way."
Those are the sort of unique solutions to expand capacity that McGinn's colleague Pat Foran, director of operations at Glovis America, also highlighted.
"Another [solution] is delivery hour flexibility," noted Foran. "[W]e are working with dealerships to expand the ability to receive cars. If we can make the carrier network more efficient then we end up being served better by it and get more product to market faster.
The key is, on the manufacturing side, making sure there is enough product, it arrives and we can move it to the dealers to begin with."
Digital tools by necessity
The provision of digital retail, delivery and aftersales services have certainly increased and improved during the pandemic and the finished vehicle sector could be looking at permanent change in this regard. The forced closure of showrooms because of the pandemic forced dealers to use digital tools to complete remote sales and changed the ratio of sales operatives per vehicle for the first time in 20 years. For the logistics providers that offers the potential for new services and new sources of revenue. Audi At Your Door, which provides personal delivery or pick up of a vehicle for a range of services, including test driving, purchasing and maintenance, took off during closure of dealerships, and that is just one example.
"A lot of great ideas that were in the offing [previously], Covid has accelerated," said Foran. Certainly, the whole concept of how you get cars to the end user is part of that."
Curtis Rhodes, executive vice-president of network planning, at Jack Cooper Transport, one of the US' biggest car carriers, said expanded finished vehicle delivery services were going to be critical to the future of the business. It is something Jack Cooper is looking at, including direct home delivery using smaller transport units.
"Change has happened on the consumer end and it has only been accelerated by Covid," said Rhodes. "Look at Carvana: their sales increased 100% in 2019. I can't imagine what they did in 2020."
Carvana's end of year results will be reported at the end of February but in the third quarter it increased unit sales by 39% year-on-year and revenue was increased by more than 40% to $1.54 billion. Carvana has an online used car sales platform and offers home delivery or pick-up from automated vehicle vending outlets.
"They are just one example," said Rhodes. "I would expect that to accelerate further and the supply chain is going to have to adapt."
Proactive means visible
Being proactive in the delivery of enhanced vehicle services that more closely resemble an Amazon model relies on better visibility of the assets being delivered. Finding the right vehicle and making sure it is in the right place can be used to optimise the process and that is another source of opportunity for the tracking technology providers.
"We've seen more adoption of real-time visibility products, optimisation solutions for improving inventory management to ensure that … when vehicles come out of the plant or leave VPC [vehicle processing centre] yards, that it is done in a very efficient manner," said Jethro Felton, vice-president of sales and business development at Cognosos, the real-time asset intelligence provider.
Importantly, visibility of the outbound supply chain is improved when carmakers and transport providers have the tools to proactively manage exceptions, such as damaged cars or bottlenecks caused by surges in unloading. Those tools enable them to react before the situation becomes a problem for the dealer.
"Visibility leads to the ability to manage by exception," said Felton, adding that having the ability to alert on those kinds of events so you can address enables you to answer two questions critical to delivery that have not changed despite the technology available or the pandemic: where is my car and when am I going to get it?