As people seek to save money and avoid public transport, they have increasingly been turning to used vehicles, pushing up demand and causing new challenges and some opportunities for the logistics sector, writes Illya Verpraet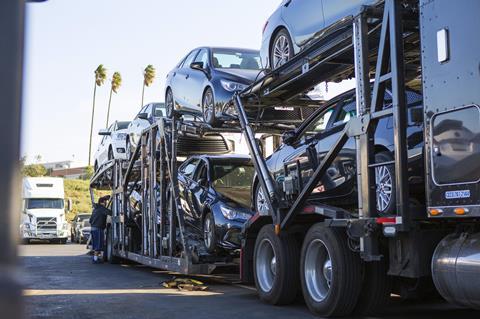 The used car sector is hot, with high demand from consumers and rising prices. However, as the supply of used cars is ultimately limited by the number of new cars entering the market and consumers trading in their old cars, actual volumes have not been significantly higher this year. What has changed, on both sides of the Atlantic, is where that volume is going.
"There has been a different shape to the volume flow this year, notably as a result of BCA's remarketing programme moving entirely online, giving our customers a wider choice of vehicles over a much greater geographical spread," says Nigel Glenn, managing director of BCA Automotive, one of the UK's main auction and remarketing companies. BCA also has its own logistics arm, with 900 transporters handling 2.5m vehicle movements annually.
Manheim, which has used car auction business in the US and UK, is seeing the same thing. Volumes are actually down a little there compared to last year, despite the hot market. That is because the government is holding back on repossessing cars and dealers are holding on to trade-ins to sell themselves, rather than sending them to a wholesale auction.
The social distancing required to control the spread of Covid-19 means crowded auctions have had to make way for online alternatives, with cars often not needing to be in one place.
Glenn says: "When the first lockdown was initiated, BCA adapted existing complementary online platforms – Live Online, Bid Now and Buy Now – into powerhouse digital sales channels managing the entire BCA remarketing inventory. This meant BCA could offer vehicles online with socially distanced auctioneers controlling competitive real-time bidding, as well as selling via fixed price and timed auctions."
Scattered collections
Although Manheim is restarting some physical auctions, most remarketing has been happening online since the pandemic started. It is this change that has had the biggest impact on the logistics of used cars. Where before, used car dealers would buy cars in bulk from one auction, they now buy online from further away.
The additional distance, combined with the lack of auctions as centralised pick-up points, has created what Joe Kichler, vice president of Manheim Logistics, calls 'onesie-twosie moves'.
"Before, a lot of the logistics in the wholesale space was centred around the auction," he explains. "When a dealer was buying cars, you had everything aggregated in one location in the major cities, so it was much easier to dispatch full truckloads or – from a carrier perspective – pick up the cars, all at one place."
As cars may now never make it to a physical auction, carriers have to be dispatched to individual locations, delivering to individual locations, creating a much more complicated logistics scenario and requiring more advanced technology and planning to achieve full loads.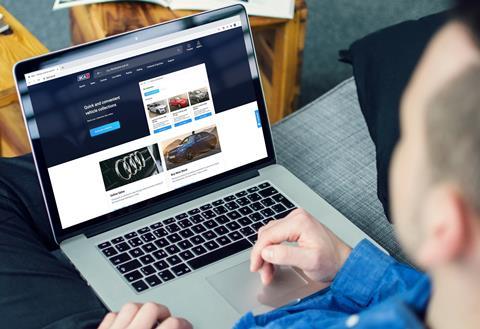 Although the future of remarketing will probably include more physical auctions again, this digital way of working is unlikely to go away, so Manheim has been making big investments in technology to assist with load optimisation, building full loads, scheduling and routing to ensure carriers get full loads. A big part of that investment includes a partnership with DHL, which has a lot of the technology needed to automate such processes.
That includes the issue that is equally hot in new car finished vehicle logistics, live reporting. "No one wants to call in anymore, no one wants to sit on the phone," says Kichler. Thanks to the DHL partnership, Manheim Logistics will have the ability for real-time reporting with automatic notifications to make sure the shipper has all the available information. Although Kichler says that having the full granular detail is still some way off, it is coming. At the same time, it has been making all its existing platform mobile-friendly.
The more fragmented nature of used car logistics post-Covid means that the used car dealers are increasingly looking to manage logistics themselves. Where previously, a lot of cars would be driven to the auctions, these days it is hard to find drivers willing to take on this work, partly because they tend to be an older demographic. As a result, Manheim is seeing a big uptick in its Central Dispatch service, which links smaller shippers such as dealers, with carriers.
"We are investing very heavily in our self-managed Central Dispatch platform," Kichler says.
New search capabilities that make it easier for carriers to find cars are currently being rolled out and the company is close to finishing a new feature that allows carriers, and shippers or brokers, to negotiate on price within the platform and get the car dispatched quicker.
"Today, a lot of that's handled by phone calls. And it's kind of a painful process on both sides," he adds.
Think local
An emerging area of used car sales where such detailed tracking is particularly important is the emerging online car sales business. Companies, such as Carvana in the US or Cazoo in the UK, bypass physical dealerships and keep the consumer experience purely online, delivering cars to people's doors.
This type of business has seen a big boost since Covid disrupted the used car sector. Ernie Garcia, chairman and CEO of Carvana, said at the recent Reuters Automotive Summit: "I think the biggest thing that's probably occurred as a result of the pandemic is an acceleration of [the shift] in underlying customer behaviour, where they are forced to do more online, and they're used to that in every walk of life, even more so than they used to be prior. So I think it's pushed things a bit more in that direction."
According to Kichler, these models offer a new opportunity and challenge for existing logistics players, leveraging the existing relationships, facilities and footprint. He reckons it is an opportunity for tremendous growth, but it will require some new capabilities.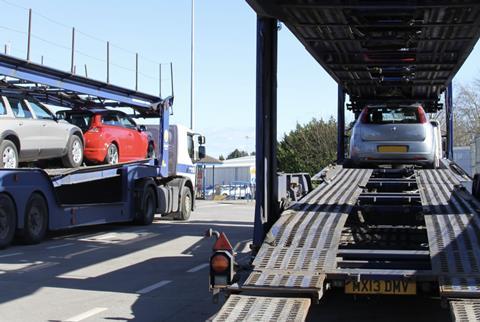 The first is the technology and real-time visibility, since working with consumers is very different to working with car dealers. Individual customers have to be home to accept a delivery, meaning the delivery window has to be a matter of hours rather than days, requiring much better visibility and scheduling.
"We're making investments to make sure we can provide that top-notch client and customer experience," adds Kichler. "It comes back to the DHL algorithms and technology. Local delivery can be more about the routing and scheduling, and how you continue to optimise where those trucks are going within the city, and it may change very dynamically."
The move to local, individual deliveries on a flatbed truck is a big change for outbound transport providers. The expertise and rolling stock of companies like Manheim Logistics are geared more towards fully loaded double-deck car carriers on long-haul trips. This shift will require a concerted effort to build new relationships for local logistics.
Added-value services
Where Kichler sees the advantage of established logistics companies is in their inspections and services. The company has access to auction facilities in major cities and can use its long-haul transport routes to drop those cars to the auction sites, do the reconditioning required and reload them for onward delivery.
"We think this is a big opportunity, not only for logistics, but for our reconditioning services and capabilities."
On the other hand, start-ups tend to be quite keen on vertical integration. Carvana CEO Garcia thinks that one of its key advantages during the pandemic is that it controls a lot of the logistics in-house. While OEMs struggle with complicated supply chains and just-in-time deliveries, he says Carvana controls its own problems.
"With us it's a little bit different…[.] We're buying cars, we're shipping them to our reconditioning centres, we're reconditioning them ourselves, we're shipping them around ourselves to customers' doors."
Not relying on a third-party shipping network is a challenge, but it also means Carvana wasn't subject to another shipper's capacity constraints. "In our business we've had to build that underlying supply chain ourselves, which I think is great from a business perspective because it's an additional and very meaningful competitive mode, a differentiator," added Garcia.
"To be able to give a customer the simple experience they want, you need to have that logistics network, but in terms of being able to rapidly scale down and scale back up it certainly made things difficult, but I think our team has done a great job adjusting to it."
Weighing the options
Although moving used cars around throws up a very specific set of challenges, the questions around digital technology and real-time visibility will sound familiar to anyone in finished vehicle logistics. Some of the other current issues in used-car logistics simply stem from them trickling down, as yesterday's new cars enter the second-hand market.
A trend that's been plaguing the industry for a while is that vehicles are getting bigger and heavier as consumer preference turns increasing from sedans to SUVs and, more recently, hybrid and electric vehicles, which have heavy batteries that push up the kerb weight. For a logistics provider whose mix of vehicles can vary from week to week, this requires some agility, including taking into account regional preferences such as the Texan love for pick-up trucks.
Kichler said that information on vehicle weight and dimensions is fed into Manheim's system, meaning the company can accurately allocate capacity.
As with the shift in volume flows since Covid, Kichler says that planning the right routes and load factors is something supported by the DHL technology partnership.
Electric vehicles (EVs) additionally require charging on their journey to the customer and Kichler says that offers opportunities for the auction centres to function as a hub for reconditioning in future.
Lea Malloy, head of research and development for Cox Automotive Mobility, adds: "Cox Automotive is working to ensure that both passenger and fleet EVs can be their best through new services in EV diagnostics (inspections), valuation, first-life battery optimisation and end-of-life treatment, all while installing charging infrastructure across Manheim locations and Pivet fleet mobility hubs."
Manheim and Pivet are part of Cox Automotive.
Aside from just observing new car trends and preparing for them to turn into used car trends, Kichler also sees room for some potential crossover activity. He believes there is an opportunity to reduce empty backhauls on new vehicle deliveries by loading them with used cars. "We think it creates an interesting value proposition for those carriers that are moving those vehicles," he says. "[How can] we make it easy for them to stay completely full going back and forth with whatever they're doing?"