The critical shortage of capacity for finished vehicle deliveries in Europe is making carmakers reassess their short-term contract arrangements with outbound logistics providers. At this autumn's annual conference of the Association of European Vehicle Logistics (ECG), Toyota and VW Group said the industry cannot survive without longer-term contracts and closer collaboration to improve outbound visibility.
"We need to lengthen our contracts and cooperate under long-term, even indefinite partnerships, with multiple-year visibility," said Steve Thomas, head of VLG planning and engineering at Toyota Motor Europe. "[Contracts] have to be systematically updated… to allow [logistics providers] to invest in people and equipment."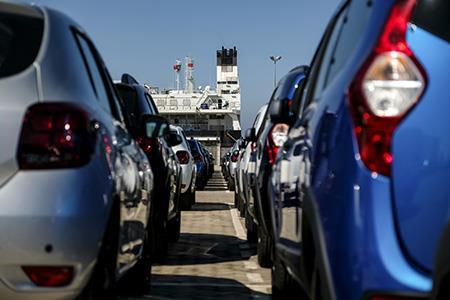 Toyota is building back volume and consistency in production in Europe, from its plants in Valenciennes (France) and Kolin (Czech Republic), but according to Thomas the company is aware that finished vehicle logistics providers are not ready to handle the returning volumes. In fact, the situation has become worse over the last six months and disruption in inbound supply has now switched to the outbound part of the business.
Multimodal malaise
European logistics providers are currently struggling with a plethora of problems. The driver shortage in car transport, a product of a demographic shift and diminishing wages, is one of the most serious issues affecting the industry. Investment in equipment across all transport modes has also diminished in recent years, and a lot of vessels and car transporter equipment was either scrapped or redeployed during the pandemic. Investment in renewing capacity is hampered by the decade-long legacy of renegotiated rates on services by the OEMs, according to speakers at this year's conference.
There are also now serious problems affecting rail freight in central Europe, largely because of years of underinvestment in track infrastructure in Germany that is going to take ten years and €100 billion (($98.3 billion) to fix. There is deficit of rail capacity in Germany equal to between 35-40% and carmakers in Europe are having rail services cancelled without the ability to resort to alternative transport by road.
Finished vehicle logistics providers need longer-term contracts and better volume forecasts to justify investment. That is now being recognised by carmakers.
"If we expect you to invest, we need to have long-term partnerships," recognised Thomas. "We also need [to provide] multi-year forecasts. We have provided updated information on what we expect to be moving."
Thomas said TME was aiming to issue to mid- and end-of-year forecasts showing its demand from one location to another. That information would be detailed at a model level and it would also indicate the planned requirement for vehicle moves over 36 months advance of expectation. In return, Toyota expects real-time notification from Europe's finished vehicle logistics providers of the issues they expect in the long term.
Partnerships for the future
VW Group is looking for the same thing, according to Benedict Bayer, product owner of the outbound order book at VW Group Logistics.
"We want to discuss the needs of the LSPs and discuss the way we work in the future," said Bayer, adding that enhancing collaboration and building stronger partnerships for the future was a priority. "If this means we need to think about the content of our contracts, we are willing to do this."
Bayer said VW Group Logistics was willing to talk about renegotiating contracts and pricing because without agreement no one will be able to deal with the current capacity crisis. In fact Bayer recognised the multiple stresses on vehicle delivery and how severe they were for VW's business. The only way to solve, he said, was with a new mentality when it came to communication with its logistics providers.
"What we need is more flexibility for the future, more efficiency in transport and, of course, more transparency," said Bayer.
To that end, VW has plans to collaborate on fixing a single access point for LSPs and yard managers to communicate forecasts and order data. "We need one communication channel for all brands within the group," said Bayer. "A single access point with transport providers and one standardised communication channel through the whole group."
VW Group is now working with ECG, Odette and the German VDA on implementing changes to that communication channel, and is planning to go live with it next year. It will also be making use of in-car telematics to improve visibility in vehicle location.
"We want to make use of this data to enhance transparency," said Bayer.
Day-to-day deliveries
Toyota is also planning to improve transparency through longer-term contracts and volume forecasts. However, Thomas also recognised that day-to-day issues would continue to challenge the delivery of vehicles. To deal with that it is developing its own logistics management system, organised according to two parts of the delivery process.
The first is through management of volumes from plant to hub and the second is from the hub to the retail location.
"Our short-term objective is to improve our management of plant to hub in 2023," said Thomas. "We want to use our competent plant [production] pattern to create vessel loads, and then even to predict the truck loads we need when our shipping company arrives at the port."
The efforts declared by the carmakers at this year's ECG conference promise to make real-time information accessible to carriers both in terms of short-term daily planning, and through three-month plan (and longer) forecasts, and importantly that will based on longer term contracts issue to the logistics partners. That information is based on the proviso that logistics providers reciprocate in sharing information on recovery plans and future capacity.
"We need to help you to you help us and our customers," said Thomas. "We need to provide you with the confidence to invest and help take care of your drivers. The only solution is close cooperation."
Finished vehicle logistics in Europe needs long-term strategies and not a short-term tactics to emerge from the disruption of the last two years. It also needs a more equitable understanding and closer collaboration between OEMs and logistics providers to emerge from the last ten years of diminishing returns and an opportunistic approach to logistics purchasing.
Coverage from this year's ECG conference in Austria
1

2

3

4

Currently reading

Shedding the legacy of short-term contracts