Carmakers in the US are currently fighting for space to get their cars to the dealerships on time. There are a number of reasons for the lack of capacity affecting the different modes of delivery, including a shortage of haulaway drivers and rail operatives, volatile production schedules caused by ongoing parts shortage, which is affecting road and rail, and the fact that EVs are heavier vehicles to move so fewer can be shipped at the same time.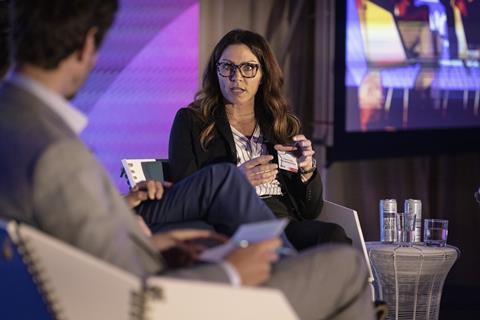 In response those carmakers are working with their transport and logistics providers to find ways of maximising the available capacity through greater efficiency.
However, at this year's Finished Vehicle Logistics North America conference in California, both parties talked about how forthcoming regulations aimed at cutting carbon from the movement of cargo looks set to cut capacity even further.
In January next year the International Maritime Organization (IMO) is introducing a Carbon Intensity Indicator (CII) that will rate cargo vessels that are above 5,000 gross tons (GT) and trade internationally according to their operational output of greenhouse gases. Individual vessels will be rated on a scale from A to E based on size, utilisation and speed. Until the industry finds the magic formula for zero-emission fuel and propulsion that simply means slower steaming.
"To cut a long story short, it means we will all have to slow down our ships," said Flavio Batista, senior vice-president of sales America at Wallenius Wilhelmsen, and that means artificially taking capacity out of the market.
"We don't have final numbers yet… but looking at the fleet we have now it could be as much as 20% of capacity that will be taken out just by reducing speed," he added.
According to Batista, this is simply adding to the capacity problems the finished vehicle sector is already feeling and the loss of an additional 20% capacity will put more stress on the outbound supply chain.
Further ahead, the IMO is regulating a target of zero emissions by 2050 and maritime transport companies are trying to weigh up which will be the best fuel and propulsion options in which to invest. There are a range of alternatives from biofuels, LNG and methanol, and companies are investing in trialling vessels that combine dual fuels with battery electric drives.
Choosing the right option is a more pressing problem when one realises that investing in a cargo vessel is a 25-30 year commitment, and one that has a price tag of around $80m.
Batista said the choice of fuel was the million-dollar question and there probably wasn't a 'silver bullet' answer. Wallenius Wilhelmsen is probably going to use all of them.
"We are having internal discussions based on the number of ships we order and the technology we want to use," said Batista.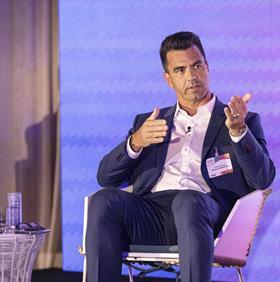 Risks for road transport
There are also tough regulatory restrictions ahead for those providers of road transport in the finished vehicle sector. Last year the US Environmental Protection Agency (EPA) proposed a Clean Trucks Plan that would set new, more stringent standards to reduce pollution from heavy-duty vehicles and engines starting in model year 2027. That move charts a path to advance zero-emission vehicles in heavy-duty fleets.
Meanwhile, the California Air Resources Board (Carb) has approved the Advanced Clean Trucks regulation, which requires heavy-duty vehicle manufacturers to sell an increasing proportion of zero-emission and near-zero emission vehicles in California, starting from the model year 2024.
Sharmin Dobbs, director of business development at vehicle hauler Accelerated Services, said the sustainability targets were steep.
"By 2030 we need a 40% [emissions] reduction in California and by 2050 it is 80%," she said. For Dobbs, that was an unrealistic goal given the disruption of the last two years. "I don't know how we are all going to focus on that because it is a huge risk and we are all going to have to share in that risk," she added.
As with ocean transport, the haulage sector is looking at a range of alternative fuels, including CNG, LNG, methanol and biofuels. There are also efforts being made with battery electric options, though this has some hurdles, according to Dobbs.
Even with incentives offered, the Class 8 trucks used for hauling vehicles are a lot more expensive than normal freight trucks. Maintenance of battery electric trucks is currently a mystery in terms of from where that will come and how much it will cost.
"They are [also] heavier by 10,000lbs [4.53 tonne], roughly equivalent to two cars, and the range is shorter," said Dobbs, a significant issue, given the existing weight regulations on loaded vehicle carriers (to 80,000lbs) and the fact that electric vehicles are heavier in themselves to haul.
Then there is the question of charging infrastructure. While there is a focus on getting this in place for passenger vehicle charging, the commercial vehicle infrastructure is almost non-existent.
"We have a project on mobile charging stations because the infrastructure will take 12-18 months to establish and it is a very expensive," said Dobbs.
Again, as with ocean, slowing down is an option to cut emission. Dobbs explained that, contrary to its name, Accelerated Services is training its drivers to slow down, which not only saves between 10-20% in fuel expenditure, but also promotes safety.
"If you calculate a 100 miles and slow down from 75mph to 65mph, it only costs you about 12 minutes," she said.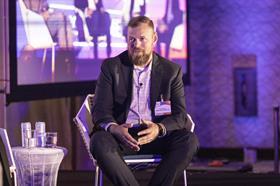 Rail ramp volatility
Using rail is the most sustainable form of transport on land and between 70-80% of the complete outbound delivery of finished vehicles in the US is carried out by rail. To move one ton of freight 480 miles takes one gallon of diesel fuel, according to figures from Trinity Rail. Nissan North America's Kurt Watson, senior manager of logistics purchasing, said rail is the carmaker's most fuel efficient, lowest carbon transport mode for finished vehicle deliveries and 50% of its output in the US leaves its assembly facilties by rail.
However, rail is plagued by some unique challenges at the moment related to supply volatility and a shortage of labour. It is also constrained by the same weight issues that road transport is when it comes to the growth in the movement of EVs.
"When the vehicles get heavier you go from a load factor of ten to nine or eight, so now you have lost 20% capacity" said Kevin Nower, director of sales and marketing for automotive at rail provider, Kansas City Southern. Where does that come from? You have to invest in more rail cars but you have to pay off that investment."
The more immediate problem, however, is related to volume fluctuations, something noted by Michael Arnold, operations supervisor, North America Vehicle Logistics, at Ford.
"We may not have product at a rail ramp for five days and then receive 500-600% of what we would normally," he said.
The upstream lack of production or the sudden release of several thousand vehicles floods the network, which in turn disrupts last mile road haulage. That can result in a vicious circle.
"We need the truck capacity to be abundant to keep destinations fluid, said Kevin Nowar. "It is not a competition but a collaboration. It is about making sure they can get trucks to dealers so we can continue to bring railcars in and unload, and keep that cycle going."
Watch the full session from FVL North America on driving away vehicle emissions
More consistent supply
Faced with the prospect of a capacity pain-point in the face of a strong regulatory framework around emissions and the continued volatility in vehicle production, what part can the carmakers play in mitigating the problem?
According to Kurt Watson, at Nissan, it begins with providing a more consistent supply of vehicles and taking out the volatility in the production schedules.
"We have to provide more consistent supply of vehicles, he said. "We have challenges with that right now but if you are talking about a 20% reduction in capacity we have to build consistently and we have to plan for that reduction in capacity."
A more stable production network will lead to a more stable outbound supply chain, according to Watson and that demanded an end to month-end or quarter-end pushes on output. Longer term, however, it means more localised assembly.
"Long term, you have to build vehicles where you sell them, that is the key," said Watson. "You have to build those cars in the US if you are going to sell them in the US."