An industry-wide initiative in Europe aims to set a standard for digital communication across all outbound delivery processes from factory to dealer. Joanne Perry talks to some of those involved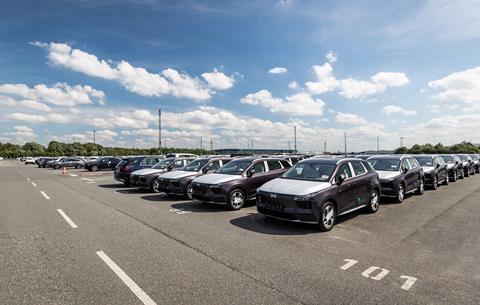 Over the last two years leading players in the European automotive industry have been collaborating on a standard for digital messaging that covers outbound logistics processes from the factory to the dealership.
Led by the Association of European Vehicle Logistics (ECG), Odette International and Germany's Automotive Industry Association (VDA), the aim of the Finished Vehicle Logistics Process has been to enable vehicle manufacturers and finished vehicle logistics service providers to communicate with each other in a more efficient way. The project has involved almost 30 other organisations, including carmakers, logistics providers, software companies, shortsea car carrier lines and terminal operators (see table below).
The cross-industry collaboration has led to the development of a set of recommended electronic messages covering digital communication across all outbound logistics processes, which are free to use and published online. Those e-messages cover everything from transport forecasts, orders and reports, to vehicle, inventory and damage reporting.
According to the VDA the process model is based on the development of a digital replica (or digital twin) of the physical processes involved in the entire outbound logistics chain. Experts in electronic data interfaces (EDI) have developed both EDIFact and XML messages to provide alternative electronic communication formats.
"One of the main benefits for both OEMs and LSPs [logistics service providers], will lie in a quicker implementation of a communication with new partners, and less effort and cost to establish and maintain interfaces with other business partners," says Stefan Kretzer, supply chain analyst at Volkswagen. "Additionally, the new guideline includes communication formats that do not require an EDI interface, which makes it a lot easier for parties, who do not have one, to exchange information."
Standards for transparency
Kretzer says that Volkswagen Group Logistics expects to communicate with more of its service partners in a standardised format, which will lead to a higher degree of data quality and transparency. That in turn promises to open up new possibilities to improve and change processes in VW's outbound distribution chain.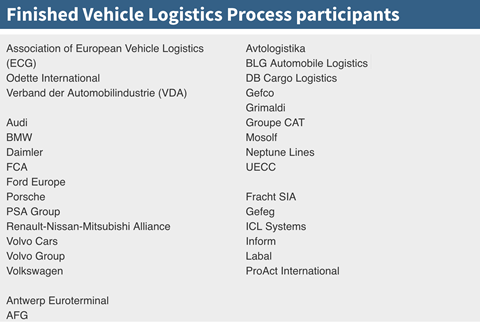 "At Volkswagen Group Logistics we are planning to implement the new communication format together with new software developments in the field of finished vehicle logistics," outlined Kretzer. "Along with those developments we will approach a change from the current communication format to the new standard format with our LSPs. And for those who we do not have an EDI-interface with, we will offer alternative solutions to exchange information with us in the new format, such as web-interfaces."
The benefits are the same at BMW, according to Ole Vollmers, distribution logistics specialist at the carmaker, which like VW is keen to develop greater standardisation on the outbound delivery process. According to Vollmers this is because technology such as GPS tracking and ETA calculation are now being adopted by more and more companies, and vehicle telematics is enabling completely new use cases, meaning that new standards for data exchange interfaces are becoming more important.
"The main objectives for the OEMs are to increase transparency of the vehicle distribution process and set a standard for communication formats to simplify and speed up the exchange of data to real time," says Vollmers. "The benefit for LSPs is a standardised and more efficient way of communicating with all the different customers and partners."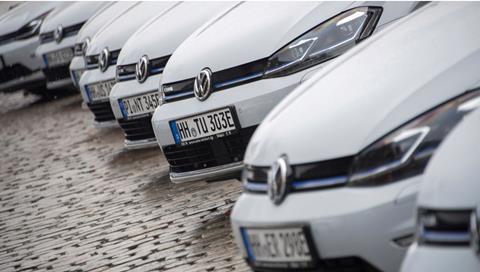 Similarly, at VW, increased digitalisation and new technologies have led to greater possibilities for improving ways of exchanging information between OEMs and LSPs.
"For example, we included more ways of exchanging information than only via EDI interface and we considered a wider connectivity of trucks, yards and finished vehicles," says Kretzer.
Vollmers adds that good cooperation will be essential to the success of the new system especially it involves business-related data and BMW will be monitoring the impact after implementation to gauge the stability, consistency and quality of that data.
Continuous standards
During the development of the project VW has been looking at new technological possibilities, such as connected car and GPS tracking of vehicles, as well as different ways to exchange information, including via the EDIFact and XML formats being used. However, he says that legacy systems or processes may not be able to support all possibilities and that adaptations could be necessary to realise the full potential of the system.
"We are focusing on continuously implementing the new standard along with new software developments, instead of adapting and changing our current systems," adds Kretzer.
In terms of verifying results VW sees a couple of possibilities: the ability to record how quickly it can implement a communication with new partners, with which it has not yet established an automatic communication, and the ability to record the number of LSPs with which it has communication in the new format.
"We expect that we will be able to implement a communication with more partners and implement this communication quicker than it was possible in the past," Kretzer believes, adding that it will lead to a positive result in terms of data quality.
VW Group Logistics has a number of different projects aimed at digitalising its distribution chain and gaining more transparency on vehicle location. Kretzer says the standards now established will help VW improve its delivery processes and network together with its partners and work towards a better cost-efficiency and sustainability.
"The format of this joint project with OEMs and LSPs proved to be very successful and our experience was throughout positive, which is why we hope, that we can continue this form of teamwork for future projects and challenges," he says.
That includes for improved communication in other regions outside of Europe, something that BMW is also keen to see adopted, as is the Renault-Nissan-Mitsubishi Alliance as you can read about in the following interview with Hervé Moulin, expert in vehicle logistics at the OEM.
The new Finished Vehicle Logistics Process will be under discussion in Session 5 of next week's Automotive Logistics & Supply Chain Live online global conference
FVL Connected Vehicle Work Group
In the US the Automotive Industry Action Group (AIAG) is also working with carmakers on a set of standards regarding what data should be collected from the connected vehicle, and how it can be shared between vehicle makers and their logistics service providers (LSPs) to improve the outbound delivery process.
The Finished Vehicle Logistics Connected Vehicle Work Group has been set up
to establish a shared network providing truck, rail and ports with electronic data from the vehicle that will improve supply chain management but that will not require interpreting multiple formats. Data gathered will include location and battery life and will be transmitted between partners as the vehicle moves through the supply chain to the dealer.
Honda, FCA, Ford, Glovis America, GM, Mercedes-Benz, Nissan and Volkswagen are all currently involved in the OEM workgroup, which is currently working to determine the hand-off requirements for OEMs and their transport providers as well as determining how the OEMs will interface with the connected vehicle.