Stanley Robotics is supplying Tramosa with mobile robots for the movement of vehicles at its outbound logistics compound in Creutzwald, France. Tramosa, which is the French subsidiary of Spanish logistics provider Tradisa, is aiming to deploy the robots at its other compounds in Europe following this first trial.
Tramosa provides outbound logistics services for carmakers including Ford, Mercedes-Benz, Porsche and Smart, alongside the car rental sector.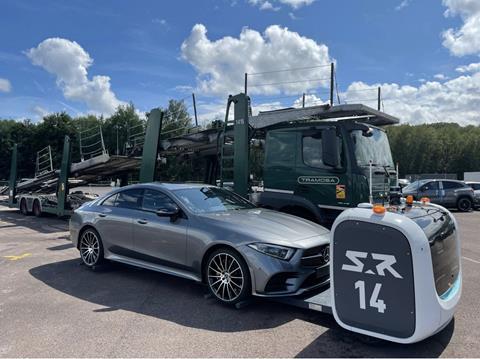 Stanley Robotics said that the use of robots to move cars to the shop for accessorisation or repair, and to move them to and from loading areas for receipt and onward haulage to dealerships, would free up staff to concentrate on value-added technical services, such as accessoriation, maintenance, repairs and pre-delivery inspection (PDI). The use of robots to move cars will also mean better space management within the compound and a reduction in damage. Tramosa moves around 200,000 vehicles through its Creutzwald compound every year.
"Optimising the space, increasing our flexibility and improving the level of quality of our services is key for Tramosa," said Antoine Redier, CEO of Tramosa. "With this solution, we are willing to improve our competitiveness and minimise the risk of damages by not opening the doors to move a car."
The lithium battery-powered robots will cut emissions, increase safety and make vehicle location and retrieval more efficient. They also promise a 24/7 management of the vehicle compound, ensuring that vehicles for early morning dispatch can be prepared overnight, according to Stanley Robotics.
"This new service will disrupt the finished vehicle logistics industry," said Clément Boussard, CEO of the deep tech company. "We are very happy to be working with Tramosa on its first deployment. The future of outdoor logistics hubs is not just the subject of storage, which we automate, but above all to raise productivity and meet tomorrow's challenges, thanks to our full-stack solution."
Stanley Robotics provides robots for lifting and moving cars autonomously using storage management software.