With a changing model mix and the perennial problem of driver shortages, the US car hauling industry is battling challenges on multiple fronts. But companies are now investing in technology and capacity to future-proof their fleets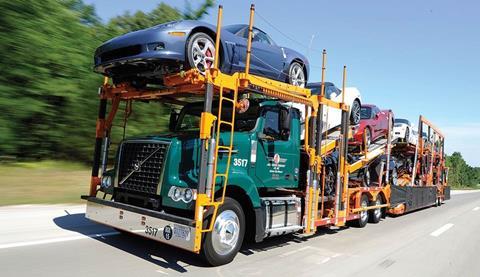 The US car hauling market including new and used car shipments and excluding any rail movements was estimated to be around $10 billion in 2019, according to third-party logistics company Acertus, which specialises in last-mile automotive delivery across the US and Canada. At that point, the main headwinds affecting the industry in the US included shortage of car-carrying capacity, electronic driver logbook (ELD) requirements, driver recruitment and predominantly, the trend towards SUVs and electric vehicles (EVs).
Regarding the changing model mix, MarketWatch recently predicted that the global SUV market would reach 53.2m units by 2027, up from 26.8m units registered in 2017. In the US, online statistics portal Statista predicted that revenue in the small SUV market segment would amount to $153 billion in 2020 while large SUV revenue would total $160 billion.
However, these predictions came before the coronavirus crisis which is currently sweeping the globe, causing markets to plummet and shutting down manufacturing and logistics operations across whole regions. According to Ultima Media's automotive analyst, Daniel Harrison, the industry is "realistically looking at volumes down by -12% in the US in 2020, and only slowly recovering over the following five years".
Dealing with bulkier vehicles
In an already flat market, the SUV trend has been gaining momentum over the past few years and the increasing need to transport these bigger, heavier vehicles has been creating challenges for logistics service providers.
80,000 pounds
Maximum weight limit of a car transporter, equivalent to 36,287kg. The ATA is campaigning for a weight tolerance of 5%
At the same time, although EV sales in the US are still relatively low – around 245,000 battery electric vehicles were sold in the US last year, according to Statista – the major carmakers are pushing in this direction. GM, for instance, has an ambition to sell 1m electric cars and trucks annually by 2025 in the United States and China. This too has implications for the car haulage industry, as EVs tend to be heavier because of their batteries.
"I don't think this trend toward bigger vehicles is going to slow down," Jack Cooper's Riggs says. "It's not just because energy prices are more stable and even shrinking, but because the trend toward electric is going to dramatically change the way things are done. My bet is – and we're really making this a fundamental thesis of our strategy – that cars, trucks and SUVs [will] get bigger and we expect them to get heavier as they convert to electric."
"The trend toward electric is going to dramatically change the way things are done… cars, trucks and SUVs [will] get bigger and we expect them to get heavier as they convert to electric" - Mike Riggs, Jack Cooper
"Moving greater numbers of large and heavy vehicles is always a challenge," says Bob Farrell, executive director, American Trucking Associations (ATA). "However, thanks to the Fixing America's Surface Transportation [FAST] highway legislation of a few years ago, carriers are enjoying the additional length of five feet [1.5 metres]. So, we now have 80-foot trucks and a generous overhang provision of four feet in the front and six feet in the rear."
"The extension of the legal length from 75 feet to 80 feet has certainly helped, but with no corresponding increase in weight limits, it doesn't help as much as it could" - Mark Anderson, United Road
While Farrell says that many carriers are purchasing new, longer equipment, he concedes that the industry is hindered by the maximum weight limit of 80,000 pounds. However, the ATA is working to achieve a weight tolerance for automotive hauliers of 5%, which equates to 4,000 pounds (1,814kg).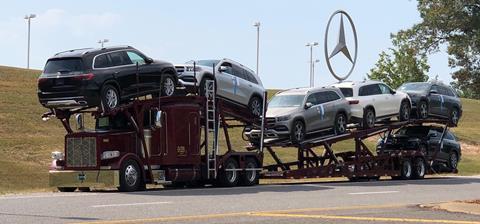 United Road's CEO, Mark Anderson, says that while overall volumes may be declining, the lower load factor quickly eats up any capacity that may result from moving fewer cars.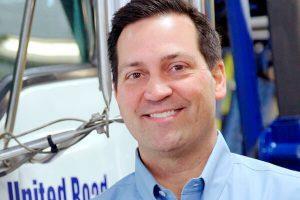 "Bigger is not always better," he says. "The extension of the legal length from 75 feet to 80 feet has certainly helped, but with no corresponding increase in weight limits, it doesn't help as much as it could. Vehicles are heavier than they have ever been, so it is a challenge."
Backing up this point, Jack Cooper's CEO, Michael Riggs, says that when companies first started building 80-foot trailers, car hauliers were actually losing load factor because of the weight.
"It's not just a question of them being bigger, they're heavier and so if you can only get five on a load and they make the trucks bigger, now you only get four, so you're essentially losing the revenue of 20%, but you have all the same expenses – the fuel, the truck, the driver – so that 20% is the equivalent of a 20% price decrease."
Riggs says that, to combat this, new trailer manufacturers are using different metals to make the whole trailer lighter, so carriers can not only accommodate the longer length, but still be under the 80,000-pound limit. "I'm really proud to say that now the 80-foot trailer is actually lighter than my 75-foot trailer," Riggs says. He adds that, in addition to the extra length, manufacturers have done a lot to improve fuel economy: "You can pay for the cost of a new truck just on fuel savings alone."
Riggs reveals that Jack Cooper is to replace its entire fleet within four to five years. "You can't use old equipment to haul new products. The biggest challenge for us is trying to get new equipment that's tailor-made. You're forced into buying all new," he says. "It's therefore truly our intent to replace a third of our trucks by next summer and over three to four years completely replace our fleet from scratch."
Riggs says it will all work out financially: "Everything that's on the fence will be sold off for parts and the steel scrapped. It will pay for itself. That's our new mission."
Data-driven technology
While new physical assets provide a means of coping with changes in the market, data and analytics are also coming to the rescue for US hauliers, enabling the forecasting of demand and optimisation of routes. For example, United Road is continuing to invest in technology to help its productivity and visibility, with Anderson suggesting that the latter is one of the industry's biggest challenges.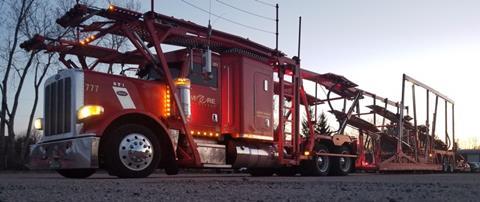 The company has launched a mobile-based technology, Haully, which is specifically designed for third-party carriers to have access to all of the company's inventory across its network, making it easier and faster for the carriers to find and book vehicle loads 24 hours per day. According to United Road, the app can self-assign loads as well as look for backhauls (return movement of a transportation vehicle). It can also provide payment status and tax information.
United Road is also using its LoadSolver tool, which is based on an algorithm that automatically builds loads with the latest inventory releases from across the organisation. "This technology has helped us increase our laden miles, which improves velocity and driver pay, which makes everybody happy," says Anderson.
Q&A: Mike Riggs, CEO, on technology at Jack Cooper
What is Jack Cooper's Da Vinci Tool technology?
The Da Vinci tool goes out and scans where all of our trucks are and calculates how many hours are left with the driver. It also addresses the type of truck and trailer so we can optimise load factor. It then compares the data against 150 drivers within a radius of 100 miles and tells us the top ten drivers that would make sense for that load.
It's making all the difference in the world as we watch our loaded miles go up from 50 to 70 in some cases. That's the biggest thing in terms of technology in running the business.
Have you changed the technology of the trailer at all?
If you envision old trailers being 13 feet by 6 inches high in the air and the only way you can load some of these is to climb up and try to hold onto the trailer with one hand and ratchet down the tyres to hold the thing in place, it's not easy. You're doing all this while you have a 99.8% damage-free guarantee with your customers. And remember, your team are doing this out in the elements, at the dealerships and in our lots at the railyards.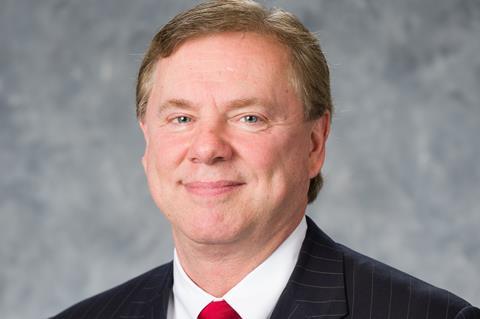 The trailer manufacturers have redesigned the technology of the trailer so that everything can be loaded from the ground. We recently bought in four units and a driver was saying he could finally load all the vehicles from the ground and that he didn't have to climb anymore. He was in his late 50s and was so excited. That engineering technology has made all the difference.
What about handheld technology?
This is fascinating stuff. I give Amazon the credit for a lot of it. We're in thousands of dealers and railroads a day. How do we know how we're doing? How do we get feedback from these dealers? You can now give a one- to five-star rating, using a handheld device.
We have apps when you have to use outside capacity that enable us to pay people on a smartphone. A lot of our technology revolves around what you can do on a laptop, iPad or smartphone.
However, it's not just about how we get paid or how we book invoices, or how customers rate us. It's about how we communicate with drivers, how we route them differently, how we tell them there's a special pricing offer at a certain gas station, so if they don't mind going an extra 20 miles, they can pick up 20 cents per gallon.
We even have geometric fencing, so it automatically alerts people when we're getting within a 500-mile radius of the dealer, so they can get some advanced notice that we're on route. I call it the handheld technology revolution; it's huge for us.
Recruiting and retaining drivers
According to the US Bureau of Labor Statistics, the trucking industry as a whole employs approximately 1.48m people and around 61% of those work specifically in car hauling.
In recent years, however, the US trucking sector has battled to recruit and retain enough drivers. The ATA has said that, taken as a whole, the industry was short by approximately 60,000 drivers by the beginning of 2019 and will need about 110,000 new drivers to enter the profession each year over the next decade to keep up with demand. According to the ATA's Farrell, the driver shortage problem is "the issue that seems to never go away."
Gary Moore, who owned multiple Ford dealerships in North Texas and Oklahoma before starting Texas-based Moore Transport, believes it is important for companies to work around their drivers' personal circumstances. He says his company has some drivers who prefer to stay out for multiple weeks and others who like to return home daily. "We focus on finding the best fit for each driver in regards to a home location, for that reason," he says.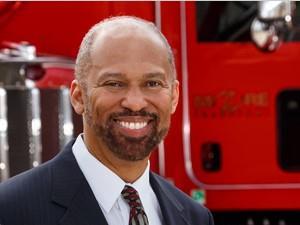 Moore Transport is using in-cab technology to monitor its trucks to provide greater safety for the drivers and the general public. "We use forward-facing cameras and real-time tracking. Our drivers have embraced this technology," states Moore.
The company says it has a strong training process. including continued mentorship. This is aimed at not only building the skills of the driver but also establishing a lasting relationship with the mentor.
Moore Transport is actively trying to recruit more women into the company and has also partnered with Stay Metrics for both their surveys and rewards programme. "It allows for us to have strong feedback so that we can make the necessary adjustments to remain consistent with our core culture components," Moore concludes.
Logging into a skilled trade
Since 2018, the trucking industry and its customers have been settling into compliance with a mandate from the Federal Motor Carrier Safety Administration that required ELDs on commercial vehicles with a gross weight of over 10,000 pounds. The ELDs automatically monitor driving time and hours of service, plus vehicle and journey data.
While Farrell asserts that ELDs have not had any substantial negative impact on carrier operations, he concedes that there will be cases where the driver is close to a delivery but runs out of time. "There are some operational issues to contend with and the US Department of Transportation is proposing some changes to the hours of service regulations. Those changes are currently under review at the White House and as such we do not know what they are proposing," he states.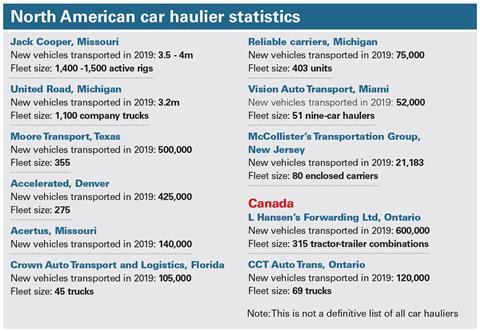 For Riggs, there is no question that hauliers have had a tougher time getting drivers since the introduction of ELDs, suggesting that it has more significance for car hauliers than regular truck companies because of the skill required in the former line of work. "When you get to car haul, you have to figure out if you can fit seven or ten on a load and you can't damage them," he says. "This is a skilled trade, so if we had the same 80-90% driver turnover that a lot of drive-in companies have, it would kill us."
However, Riggs claims that Jack Cooper has always been under 20% annual turnover and has a less difficult time attracting drivers. "We're still out there trying to get drivers – it's not easy – but because we're getting the new equipment, it's going to be a huge benefit for us," he says.
"People sometimes forget [that] out of our 2,500 employees, at least 1,500 are drivers, so they're our most important asset. They're the face of the company at the dealerships. We spend time trying to make the people in the corporate office realise that we're just support groups. The most important player on the team is the truck driver," he states.