North American finished-vehicle hauler, United Road, has extended its Guaranteed Pay Benefit scheme to all 900 of its company drivers in an effort to provide greater security for its employees.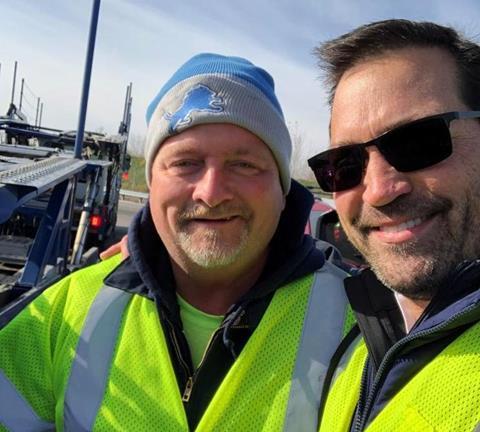 [Updated Nov 2] The move follows a pilot scheme earlier this year for first time drivers, which resulted in "a dramatic increase in driver satisfaction and retention," according to president and CEO Marc Anderson.
"It was a natural to take this pay stabilisation benefit company-wide with our tenured and returning drivers," Anderson continued. "Our goal is to be the employer of choice for professional drivers. These men and women are the 'front door' of our customers' experience with United Road."
The move comes at a time when the transport sector in North America is suffering from a drastic shortage of drivers. An already bad situation has been exacerbated by the Covid crisis, with many drivers leaving the industry for other sectors.
In its latest Top Industry Issues report, released last week, the American Transportation Research Institute (Atri) reported that there is now a record shortfall of 80,000 professional drivers across the haulage sector. Anderson said the shortage was being felt in the finished vehicle sector as strongly.
"All companies and independent contractors are putting forth their best efforts to retaining their base as well as trying to attract new recruits into our industry," he told Automotive Logistics. "This is not an overnight battle, but one that will be fought for the long term with incremental progress along the way."
In the Atri study the driver shortage topped the list of industry concerns for the fifth year in a row. The shortage of drivers received more than four times as many first-place votes as the number two issue of driver retention.
Next week's Finished Vehicle Logistics North America conference in California will include wide-ranging discussions on the road haulage sector and the driver shortage
"It really is no surprise that truck driver-related issues – notably the driver shortage and driver retention – ranked so high on the survey," said Atri president and COO, Rebecca Brewster. "Coming out of the pandemic, with the increased demand for goods and other pressures on the supply chain, getting and keeping drivers has been a real challenge industrywide," Brewster said. "We also see the impacts of the current supply chain crunch in how highly issues like driver compensation, truck parking, infrastructure and driver detention ranked on the list."
Mitigating pay volatility
The expansion of United Road's Guaranteed Pay Benefit scheme means first year, tenured and rehired drivers will all have greater financial security, according to the company.
"Our drivers haul in all kinds of weather including through and around hurricanes, construction zones, under challenging circumstances ⎯ from the pandemic to the chip shortage," said Anderson in a letter to company drivers. "We recognise that many elements of car hauling are out of a driver's control, including the variability of earnings. Guaranteed Pay is a mind-easing benefit, a safety net that can help mitigate the downswings of pay volatility."
The company said that drivers in their first year were guaranteed $2,300 per pay period, which, over the course of a year, equates to a payment of at least $60,000. Tenured drivers who have been working for United Road for more than a year will earn a minimum of $2,500 per pay period, equal to at least $65,000 annually. The company said that drivers typically earn more, with tenured drivers taking home an average of over $100,000 annually. United Road also offers a $15,000 welcome bonus for new drivers.
To qualify for the Guaranteed Pay Benefit scheme, a driver has to be an active employee and operate a car carrier capable of moving seven vehicles or more. They must also be available for and accept work within a current two-week pay period. Finally, they must work a minimum of 100 hours during that pay period.
United Road employs approximately 900 professional drivers directly to whom the scheme applies. It also has a network of nearly 1,000 independent contractors and 5,000 third-party carriers, who are reimbursed differently. The company moved 4m new and used vehicles in 2019.