Volvo Cars is rolling out a high-speed, automated vehicle-inspection system across its dealership network in the US, starting on the east coast.
The drive-through inspection system is supplied by UVEye and uses cameras, backed up with artificial intelligence (AI) and machine learning, to analyse the exterior and underside of a vehicle, including its tyres, for defects, missing parts and any other damage or safety-related issues. The aim of the system is to spot safety issues before potentially more serious problems can occur and even prevent accidents.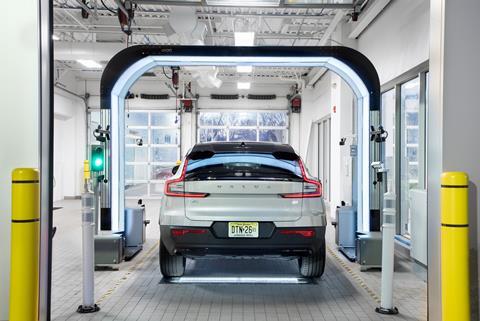 UVEye has been working with Volvo Cars since 2019 and uses its vehicle inspection technology to help Volvo on quality checks of cars leaving the assembly line.
"This is a home run for Volvo Cars and our retailers," said Rick Bryant, vice-president for sales operations at Volvo Car USA. "UVEye's automated systems will add a new level of credibility to the inspection process for us, for our retailers and for our customers."
There are three inspection systems available to dealerships: Helios, Artemis and Atlas (see box).
Each of the systems can create digital vehicle health reports with photos that can be shared with Volvo's end customers. These reports allow the dealer to include their customers in the inspection process.
The carmaker said it saw multiple applications for the technology, including for vehicle trade-in appraisals. According to Volvo, car owners often think their trade-ins are in better condition than they really are.
"An automated system can help resolve problems," Bryant said. "It shows the vehicle's actual condition. The result is that customers will be able to see flaws such as a rusty tailpipe that they didn't know about. And they'll also know the retailer is being upfront with them."
Volvo has 280 dealer outlets in the US and said it is aiming to install the new automated inspection system at the majority of those locations.
UVeye vehicle inspection system options
Helios – An underbody scanner that detects a wide range of problems from frame damage to oil leakage and corrosion
Artemis – A tyre system that quickly identifies tyre brand, basic specifications, air pressure, tread depth, sidewall damage and even whether a vehicle's tyres are mismatched
Atlas – A system that provides 360-degree scans of the exterior and detects damage such as dents, scratches and rust on critical components such as bumpers, mirrors, door locks, grilles and windows.