Volkswagen has been able to move more finished vehicles using rail than road in Spain thanks to services provided by Deutsche Bahn subsidiary, Transfesa Logistics. Results for 2020 show that 56% of finished vehicle shipments were made by rail, a record that simultaneously reduced annual carbon emissions by 4,820 tons, according to the logistics provider.
In total 110,116 vehicles were transported by rail with Transfesa from Volkswagen's plant in Navarra, which makes the Polo and T-Cross. The vehicles are distributed from the plant on 14 routes, with domestic services running to Barcelona, Santander, Tarragona and Zaragoza, and international routes running to Germany, Austria and Switzerland.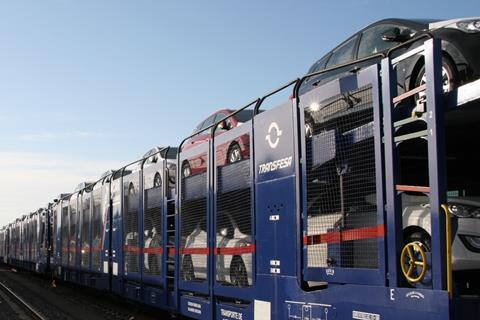 "This result has been possible thanks to the work and involvement of many people from both the Volkswagen Group and our own organisation, which has been very committed to the customer and this factory's needs specifically," said Igone Lecea Lacunza, VW group account manager at Transfesa Logistics. "Our goal for this year is to maintain this transport quota and work on new projects related to rail transport."
Promoting freight transport by rail is one of Transfesa Logistics' priorities, in line with its commitment to the United Nations 2030 Agenda for Sustainable Development, which includes 17 sustainable development goals. Transfesa said it was especially focused on the 13th goal of taking action to combat climate change and its impacts.
Transfesa has also completed the installation of GPS across its fleet of almost 900 rail wagons operating between Spain and wider Europe, making it the first company in Spain to have its international fleet digitalised. The increased location accuracy afforded by the GPS has cut rotation times and increased rail wagon availability said the company.
"We are very satisfied with the results, as they allow us to be at the forefront in terms of digitisation, improve the services provided to our clients and gain efficiency throughout the supply chain's management," said Fernando Palop, project manager of Transfesa's vehicle distribution logistics.
Palop went onto explain that each GPS device was fitted to the wagons without disrupting ongoing services.
"Nine installation points have had to be set up between Germany and Spain. Between the workshops that we have throughout Europe and the help of mobile equipment, we have been able to carry out the work without having to take the waggons out of circulation," said Palop.
Sustainability in European automotive logistics will be under discussion at the forthcoming Automotive Logistics and Supply Chain Europe Live conference, which takes place between April 20-21