Ford manufactured and exported more vehicles that any other carmaker in the US last year, according to the latest data from analyst S&P Global Mobility.
The carmaker assembled more than 1.8m vehicles in the US in 2022, which amounted to 130,000 more than the nearest rival carmaker, according to the data. Almost 80% of those vehicles are sold in the US.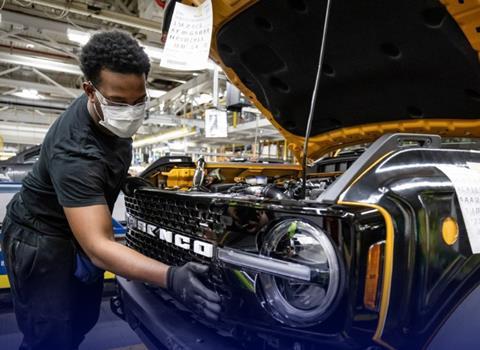 Ford also exported 260,000 vehicles, 65,000 more than its closest competitor. Popular Ford models that are exported include the F-150, Explorer and Mustang. The carmaker said that approximately one in every seven vehicles that Ford assembles in the US is now exported to other markets.
Based on the data gathered by S&P Global Mobility, the carmaker also reported that it employed 57,000 hourly manufacturing workers, which was more than other carmakers in the US. It said it planned to add a further 18,000 US manufacturing jobs over the next three years. That includes 6,000 workers at Blue Oval City in west Tennessee to build Ford's second-generation electric truck and to build EV batteries with partner SK On. It also includes 5,000 jobs with partner SK On at BlueOval SK Battery Park in Glendale, Kentucky for future Ford and Lincoln EV batteries.
Q1 momentum
Ford has also reported being the best-selling brand in the first quarter of 2023, with total vehicle sales around 457,000, up 10.7% on the same quarter last year. The increase came thanks again to the popularity of models such as the F-Series, Bronco and Mustang, as well as commercial vehicles and EVs, according to the carmaker (see box).
The carmaker said it was adding a third crew at its Kansas City Assembly Plant in April to increase production for Ford Pro of the best-selling Transit and E-Transit vans. It is also increasing production at manufacturing plants across North America to meet strong customer demand for vehicles, including Mustang Mach-E, F-150 Lightning, Bronco Sport and Maverick.
Ford production increases in Q1
Trucks +19.6%
Three-row SUVs +47.6%
Bronco brand +18.3%
Ford Pro Transit van +86%
Mustang +5.2%
Electric vehicles +41%