In Brazil, General Motors is exploring various alternatives to road as a means of exporting finished vehicles from its plants there to other countries in South America. Under consideration are rail, river and coastal shipping, but all will require partnering with logistics companies. There are various aims behind making the shift: reducing logistics costs, improving overall competitiveness, improving local productivity and reducing the tax burden.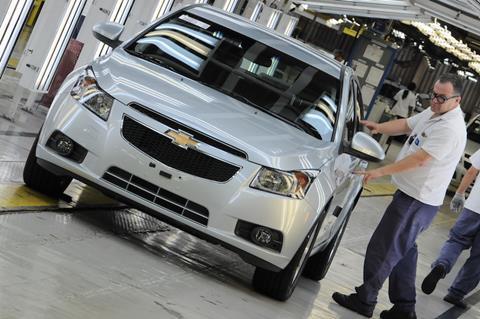 In terms of the latter, discussions are already under way with the government to increase the rate of the export incentive programme (Reintegra) from 0.1% to 5%.
Excluding Argentina, GM annually exports 30,000 finished vehicles to regional customers, which it thinks could grow to as much as 150,000-180,000 units. However, this can only be achieved through the creation of a multimodal transport network, since current logistics costs remain a barrier to boosting overseas sales.
Carlos Zarlenga, who is president of the company's South America interests, noted that Brazilian iron ore export company Vale has already successfully used rail in Brazil to increase its own overseas trade. Significantly, GM is studying Vale's approach, which sees various products carried by rail to ensure the overall profitability of the service.
There is also speculation that GM could enter into partnership with rail concessionaires or even short-sea shipping companies.
At present, only 17% of GM's sales to Bolivia, Chile, Colombia, Ecuador, Paraguay, Peru and Uruguay originate in Brazil, the majority being made in China, Mexico and South Korea, all of which have acknowledged cost advantages over Brazil.
GM Brazil plans to launch seven new models in 2020-2024 as part of a $10 billion investment programme, all of which will be export-oriented, with the forecast of 80% of regionally acquired GM cars eventually being built in Brazil.