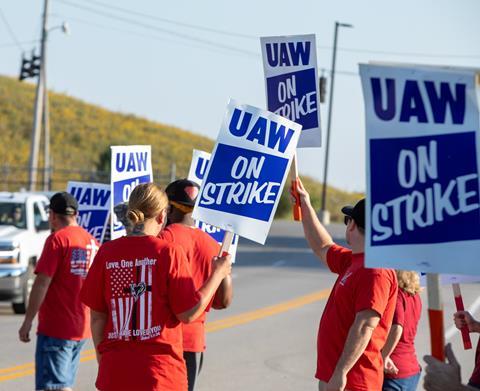 Large parts of the US automotive supply chain are at a standstill as strike action by GM workers affecting more than 30 plants in North America moves into its second month. The action is affecting everyone from parts suppliers, hauliers and car dealers to workers in Mexico.
"Here in the heart of America's car industry, car parts have nowhere to go," was how financial news service Bloomberg summed up the situation at Lansing (Michigan), where it found 85 unloaded tractor trailers full of bonnets, bumpers, exhaust systems, hinges, hubcaps and other assorted parts.
Around 46,000 hourly-paid GM workers are striking. But the stoppage is also affecting 25,000 of the company's salaried staff and an estimated 75,000 employees of companies in the supply chain, according to research consultancy Anderson Economic Group.
"What started as a concentrated event affecting a select group of workers has now ballooned in scope," Brian Peterson, director of public policy and economic analysis at Anderson was quoted as saying by the AFP.
Local consequences of the stoppage include 1,200 workers from supply and trucking companies serving GM's factory in Flint (Michigan) being laid off in addition to the OEM's 1,800 striking employees at the plant, according to the news agency.
Drivetrain supplier American Axle & Manufacturing has laid off workers at its largest driveline plant in the US, and Bloomberg quoted CEO David Dauch as saying the company may adjust its full-year earnings outlook if the strike continues for "an extended period of time."
Away from exhaust systems, drivetrains, bumpers and other core parts, the strike is also delivering a blow to companies that supply GM items as diverse as computer systems to steel.
The carmaker accounts for about 5% of US steel demand. "Each day GM isn't producing cars is one more step towards that roughly 5% of annual demand," UBS analyst Cleve Rueckert was quoted as saying by Bloomberg.
Cross-border bleed
The strike's effects have spread beyond the US border. About half of GM's 5,900 blue-collar workers at the Oshawa and St Catharine's plants in Ontario (Canada) have been temporarily laid off, while GM's plant in Ingersoll (Ontario) remains open but will be forced to curtail production if the strike continues because inventories will dwindle, Canada's Financial Post reported.
AFP quoted a spokesman for Canadian autopart maker Magna saying: "While we attempted to keep our employees at… impacted plants working as long as possible through training, maintenance, and inventory, a few of our GM-dedicated plants are now idle."
Linamar, which makes parts for drivetrains, was quoted as saying by Bloomberg the sudden drop in GM orders is costing it up to 1m Canadian dollars (US$750,000) a day in lost revenue.
Financial market analysts expect earnings of Magna, Linamar and other automotive part suppliers will suffer because of the GM stoppage.
In central Mexico, the carmaker has furloughed 6,000 workers at its Silao plant after parts from the US ran out. That has led to layoffs elsewhere in Mexico at part suppliers to the car assembly plant.
The General Motors' strike in the US also has Mexican business leaders worried industrial unrest could spread to the country, where President Andres Manuel Lopez Obrador has promised to help strengthen trade unions, news agency Reuters reported.
Aftermarket woes
While those in the supply chain and neighbouring countries suffer, so do car dealers in the US. Finding parts for repairs to the estimated 30m GM vehicles on the US' roads is becoming problematic.
"Main parts like oil filters and things of that nature, those we have in stock," broadcaster ABC quoted Jim Simms, a dealer in Clio (Michigan) as saying. "But if you come in with a special need or special repair and something the dealership normally doesn't stock, then that's going to be harder to get."
Shane Winslow, manager at McFall's Collision in Flint, said some customers have decided to delay work on their vehicles until it can be fixed.
The normally large volumes of vehicles stored awaiting delivery has so far muted the strike's impact on sales of new cars, say dealers.
The strike is coming with a cost to the OEM – a minimum of $1.1 billion in lost income and at least 165,000 fewer cars and trucks produced, according to estimates by the Anderson Economic Group. GM says it will provide guidance on the strike's financial impact when it releases its third-quarter earnings scheduled for October 29.
With GM normally producing 8,400 vehicles per day in the US, the strike is starting to impact on the country's gross domestic product (GDP). The company's daily production is worth roughly $100m to GDP, AFP reported senior Federal Reserve business economist Paul Traub as saying. That equates to around $3 billion to date and counting.
From 13 October, the United Auto Workers (UAW) union raised members' strike pay to $275 per week from $250 per week.
Management-union talks are continuing, but no tentative agreement has yet been reached. However, the UAW has called all local branch leaders to a national council meeting on October 17.
Among the issues involved in the dispute is GM's desire to reduce costs and invest the money saved in the production of electric vehicles. The UAW fears there will be fewer jobs as a result.
The union would also like to see higher pay rates for newer employees and a clearer path for temporary workers to become full-time employees. The issue of US car production being moved outside the country has also been raised while the strike has continued.