Russia's largest carmaker, Avtovaz, has said it will take over the former Nissan plant in St Petersburg and put it back into operation in 2023. Nissan pulled out of St Petersburg shortly after Russia's invasion of Ukraine last year.
The announcement comes at a time of particular production disruption for Avtovaz. The carmaker was recently affected by shortage in the supply of coatings, according to Russian newspaper Vedomosti, which cited several anonymous sources close to the automaker. Currently, Russian customers can purchase Ladas only in white, black or deep green. In a follow-up statement, Avtovaz promised to solve the problem within weeks, though the sources claimed the shortage was expected to last at least until March.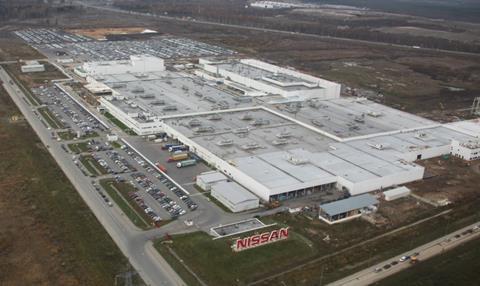 In early January, Avtovaz also announced plans to begin manufacturing Ladas without central locks because of another shortage, though it said it would be able to fix the problem in the near future.
Those are not isolated incidents and Avtovaz has been parking unfinished vehicles at a parking lot near its Togliatti plant, while it waits for missing parts to be delivered, according to local news source Avtograd.
In January 2023, Avtovaz reportedly stored around 7,600 unfinished vehicles, while it is currently producing around 18,000 finished vehicles per month.
Stripping away safety
To overcome the components shortage, Avtovaz is looking at further simplification of its Lada models. That includes making them without electric power steering. Since mid-2022, it has also been assembling finished vehicles without anti-lock braking (ABS).
Faced with supply problems, in May 2022 Russian lawmakers adopted new rules, allowing the sale of finished vehicles without ABS and airbags. Several non-governmental organisations warned that the absence of those features would lead to more road traffic accidents, adding that the death rate from such accidents in Russia was already one of the highest in Europe.
Despite the challenges, Avtovaz plans to produce 60,000 finishes at the St Petersburg plant in 2024, Maxim Sokolov, general director of Avtovaz, disclosed. He added that the plant's designed production capacity is close to 110,000 finished vehicles per year.
Avtovaz plans to use the new production capacity to expand its range of Lada models and Sokolov said the carmaker would "use this capacity very carefully to make ourself known in new car classes, expanding the brand's capabilities".
However, the company is known to be pinning its hopes on Chinese brands.
Several sources report that Avtovaz is urging the Chinese to begin production of three new Lada models, which should not compete with the existing Avtovaz product range. However, Sokolov is on record as saying that the "number of models will depend on the future number of partners".
In the wake of the mass exodus of Western automotive businesses from the country, Russian authorities and carmakers expect Chinese brands to move in and take the available production facilities, though so far, Chinese carmakers appear reluctant to expand their business in Russia and launch localised production.