A continuous deterioration in the accuracy of transit and arrival times in global container shipping means the sector is in the worst state it has been in for 50 years, according to Drewry Shipping Consultants.
The situation is not expected to start improving until the first half of 2023 and that is having an impact on the automotive industry at a time of wider supply chain uncertainty.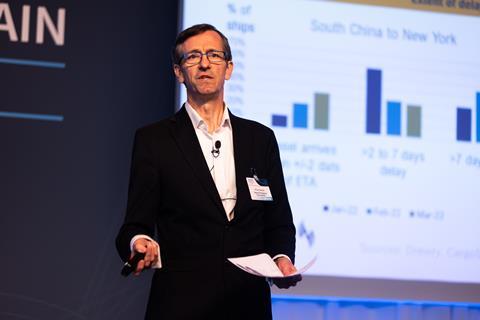 However, speaking at this month's Automotive Logistics and Supply Chain Europe conference, Philip Damas, Drewry's managing director, said there were contingency measures the automotive industry could take. Those include medium-term diversification of parts and material sourcing, using alternative ports and providers of maritime transport services, different delivery routes, as well as a closer attention to spot freight rates and weekly congestion indicators.
Port congestion is up across all regions of the world, with high volumes reported in North America, Asia, Europe and the Middle East.
"There has been no improvement globally in the past year and looking forward our review is that you should [not] expect an unwinding and resolving of port congestion… until the first half of 2023," said Damas.
That scenario depends on a slowdown in demand and a more disciplined deployment of additional ship capacity by the carriers. However, there still remain uncertainties relating to fuel prices, economic recession and the war in Ukraine, amongst others.
Transit times
Focusing in on the current situation in container shipping between China and the US, Damas said the average transit times for loading and unloading between China and both coasts of the US was in a dismal and unpredictable state, with huge variability, something causing headaches for supply chain planners.
Damas said an ocean container coming from South China can take anywhere between 20 and 60 days to get to New York. While the average is around 40 days the variability makes planning uncertain and it is guess work at best. The same goes from China to the US west coast, which, even though it is a shorter distance, can be anywhere between 17 days to a a maximum of between 50-60 days.
"If you are a supply chain planner what do you put in your lead time and safety stock planning – minimum or maximum, or the average? If you put the average you have to expect huge variation and build for uncertainty. It makes the planning extremely difficult," said Damas.
Damas said the safest way to look at the problem is through the extent of the delays at the port of arrival. Drewry compares the ETA at the port of destination with actual time of arrival and, according to the latest figures, the most common delay is between two and seven days but there is also a high proportion of delays beyond a week (30%). That comes on top of the potential maximum delay in transit of 50 days.
Damas also pointed to data from E2Open, the B2B supply chain software company, which indicates that lead times for maritime shipping have built up from already high averages over the last 12 months from 64 days to 73 days. Damas said the question of longer lead times combined with less predictable transit times meant OEMs had to maintain a lot of inventory in transit and a lot of buffer stock in the destination market, both of which has associated costs.
"It becomes a supply chain issue and an inventory stock-out risk," said Damas, reiterating the point that if there was one message at the moment it was that the service level in container shipping was "absolutely dismal".
Shanghai lockdown
The situation has been exacerbated by the lockdown in Shanghai, which has hit both port and inland truck capacity badly. The shortage of truck drivers and the shortage of container stacking areas in the ports combined with lower productivity is having a very serious impact on the port of Shanghai to function as a major export gateway.
In terms of full truckload (FTL) capacity for inland logistics, Drewry's data shows that volumes have dropped by 20% for China as a whole but by 80% in Shanghai, which by China's volume averages is a huge number.
"In Shanghai, FTL trucking sector has collapsed since the beginning of April," said Damas. "The Shanghai lockdown is both a supply shock and a demand shock."
He explained that it is a demand shock from a transport perspective because transport infrastructure is not coping in Shanghai: "The ports have fewer shifts and there is not enough truck capacity [so] the cargo gets clogged."
It is a demand shock because the manufacturing facilities cannot maintain output because of labour or materials shortages (as Tesla has found out). Even if the lockdowns ended tomorrow it is going to take some time to unblock the bottlenecks.
Another risk for OEMs and their transport providers is the backlash on the logistics infrastructure when Shanghai finally ends all lockdown restrictions and manufacturing returns to normal. Recalling the first Covid lockdown in 2020, Damas reminded delegates that Shanghai stopped for a few weeks and then surged with volumes on reopening. "At that point the transport system couldn't cope," he said. "It is either a demand or supply shock. Be prepared for a production catch up in Q3 and at that point there will be further pressure on available shipping capacity."
Contingency planning
Offering advice on managing this pressure and the current uncertainty in the market, Damas advised automotive OEMs to consider alternative vendors, ports and transport modes. He pointed to the increase in container traffic being handled by ro-ro operators and delivered to port my Mafi trucks as one alternative.
"Consider rail, consider airfreight… also try to encourage new entrants," said Damas. "There [have been] six or seven new entrants in the past two years in the container shipping sector, [against] eight dominant megacarriers. Strategically why not encourage some of the new entrants to make competition work harder."
Damas also advised the automotive sector to look at new routes and ports, noting that US west coast volumes could be rerouted to the east coast for intermodal shipment west or through Canada. This was of particular interest given that there was a high likelihood of unionised port worker strike action taking place at the west coast ports in a couple of months' time when the International Longshore and Warehouse Union (ILWU) and the Pacific Maritime Association renegotiate their collective bargaining agreement.

The full presentation and interview with Philip Damas from Drewry from Automotive Logistics and Supply Chain Europe is available to view on-demand.
Watch the full session here