PARTNER CONTENT
This content was paid for by Sallaum Lines and produced in partnership with Automotive Logistics
We explore how international ocean transportation company Sallaum Lines has carved a niche as a leading expert in roro cargo shipping services on a global scale.
Since its inception in 2010, the remarkable performance of Sallaum Lines has secured the company a coveted position among the top ten largest vehicle carriers globally, having successfully shipped over 4,000,000 CEUs.
With an owned and chartered fleet of nine modern pure-car-and-truck-carrier (PCTC) vessels, Sallaum Lines ensures efficient and reliable transportation solutions while seamlessly distributing cars, trucks, rolling projects and breakbulk to clients across globally. The company's commitment to quality service, innovation and sustainability drives its mission to create global prosperity in the shipping sector.
Pioneering sustainability and excellence
Sallaum Lines' vision transcends the conventional boundaries of ocean transportation and it strives to spearhead the shipping industry's transformation towards a sustainable future while keeping a steadfast focus on delivering unparalleled quality service and embracing continuous innovation. As it navigates the ever-changing seas of international logistics, the company remains committed to setting new benchmarks of excellence in ocean transportation, fostering prosperity for its customers and the global community alike.
Delivering reliable and sustainable solutions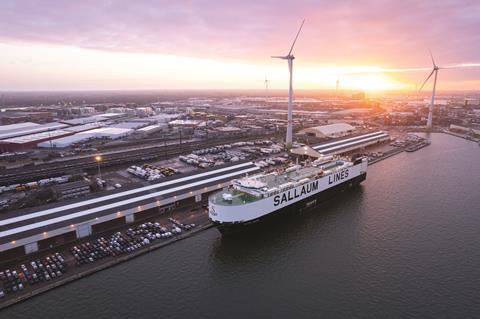 Sallaum Lines offers inland transportation as part of its comprehensive shipping solutions
Sallaum Lines is propelled by a dedication to providing reliable, cost-effective and sustainable shipping solutions tailored to meet the diverse needs of clients worldwide. This includes optimising global supply chains, where each operation is meticulously crafted with safety, efficiency and environmental responsibility at the forefront. As a leader in the industry, the company continuously explores novel avenues for innovation, fostering the growth and advancement of the shipping sector while exceeding expectations on every voyage.
Paving the way to a greener future
Sallaum Lines recognises the critical importance of environmental stewardship, which is why it has set forth an ambitious vision to achieve net-zero emissions by the year 2050. Embracing a forward-thinking approach, it harnesses cutting-edge technologies, integrating sustainable practices and adopting responsible operational strategies to lead the transformation toward a cleaner and greener shipping industry.
Comprehensive services to meet global shipping needs
Ocean transportation: With years of industry experience and unparalleled expertise, Sallaum Lines has emerged as a premier ro-ro shipping service provider. Its state-of-the-art PCTC vessels are meticulously designed to handle a diverse range of cargo, ensuring the safe and efficient transportation of goods such as passenger cars, trucks, heavy machinery, and project cargo.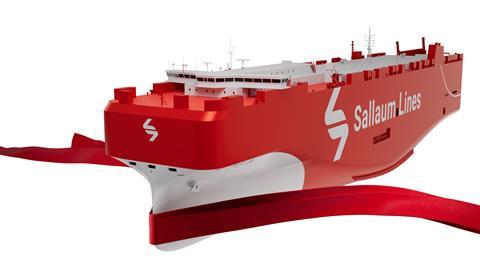 Anchored by a vast global network of ports and terminals, Sallaum Lines stands ready to embark on each voyage, seamlessly connecting businesses and customers across continents.
Inland transportation: As an integral part of its comprehensive shipping solutions, Sallaum Lines takes pride in its reliable and flexible inland transportation services. Whether the need arises for domestic or international distribution, it is equipped to provide the fastest and most cost-effective means of moving products inland.
From navigating the intricacies of transportation between ports and factories to managing the intricate web of rail and road logistics, a skilled team of professionals and trusted local partners ensures smooth operations and timely deliveries.
Supply chain management: Sallaum Lines excels as a specialised outbound logistics provider, adept at optimising supply chains with cost-effective, timely and sustainable solutions for product delivery. Armed with thorough analysis and strategic planning, it offers personalised services that directly impact its clients' business objectives, streamlining the journey from origin to destination with unparalleled efficiency. As trusted navigators of supply chain dynamics, Sallaum Lines steers businesses toward success and prosperity.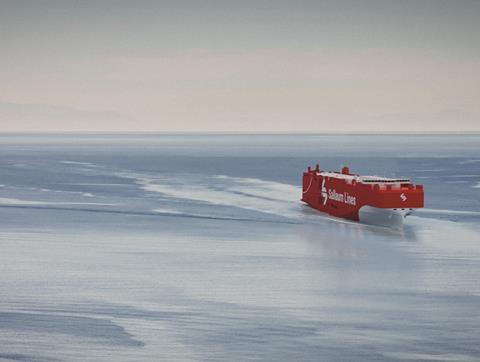 Vehicle processing: The company's commitment to safe and efficient handling extends to all aspects of vehicle processing. From newly manufactured passenger cars to heavy and specialised goods, such as trucks and project cargo, Sallaum Lines ensures meticulous care at every stage.
An experienced team and state-of-the-art facilities enable it to offer additional services, including pre-delivery inspection, accessory installations, and efficient repairs.
Sallaum Lines is a leading force in international ocean transportation, catering to global shipping needs with expertise, efficiency and environmental responsibility. With a cutting-edge fleet, reliable services and a visionary mission statement, it is committed to making a positive impact on the shipping industry while delivering excellence to esteemed customers worldwide. Dedicated to sustainability, the company strides boldly on a journey towards a cleaner, greener and more prosperous future for global shipping.