Uber and Airbnb have led the way in the sharing economy, but Ryder has now launched an asset-sharing platform for commercial vehicles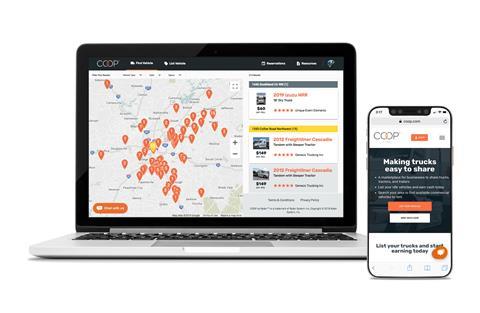 The 'sharing economy', based on peer-to-peer sharing in which assets are borrowed by users rather than bought or owned, can increase a company's revenue by making better use of underutilised resources and lowering transaction costs.
Trend-setting firms, such as accommodation-sharing site Airbnb and ride-sharing app Uber, have demonstrated the success of this business model in the marketplace to the extent that 'Uberisation' has become an alternative name for the asset-sharing phenomenon. However, the US vehicle sector is also starting to get a piece of the action, with companies like General Motors (GM) and car-sharing services Turo and Getaround launching their own versions.
GM subsidiary Maven unveiled its peer-to-peer car-sharing app, in which owners can make their vehicles available for others to rent, in July 2018, starting in south-east Michigan.
The Maven-owned fleet is spread across more than 20 cities worldwide and is expected to exceed 10,000 vehicles this year, while membership is set to increase from 200,000 to 300,000, according to the company. "Demand for peer-to-peer rentals has exceeded expectations, without [spending] $1 in marketing," said Julia Steyn, GM vice-president, Maven and urban mobility, speaking at a conference in November last year. "The car-sharing concept takes some getting used to, but so did Airbnb. People are not going to be buying cars that sit there 95% of the time idle."
When it comes to commercial vehicles, transport and logistics provider Ryder says that approximately 25% of those in the US regularly sit unused for more than one day per week, excluding weekends. This provides the opportunity to apply the shared economy concept to commercial fleets, with businesses leasing their vehicles to others when not using them.
"Given [that] our own customers have idle time, combined with so many commercial vehicles in the marketplace, the base of companies that could be monetised [by asset sharing] was evident" - Rich Mohr, Ryder
"When you look at the growth of the sharing economy over the last five years, it has really increased at a substantial rate in the B2B and B2C sectors," says Rich Mohr, vice-president and global product manager for Ryder truck rental. "When we analysed our own contractual fleet, we noticed our customers are some of the most optimised in the industry, yet they have idle time in their fleet, with trucks sometimes unused for one day a week."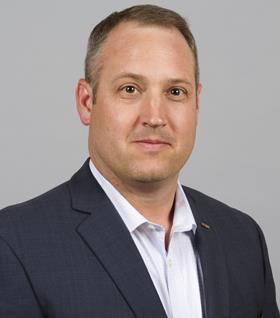 According to Ryder, a 26-foot [8-metre] rigid truck travelling 100 miles per day can generate up to $2,300 per month for lenders. "Given [that] our own customers – who are already very efficient in how they run their fleet – have idle time, combined with so many commercial vehicles in the marketplace, the base of companies that could be monetised was evident," explains Mohr.
In January 2018, Ryder launched digital platform Coop, which offers businesses the opportunity to list and rent underutilised commercial vehicles within a trusted network. Fleet owners list their vehicles on the platform, set vehicle availability for idle periods and receive automated payments from a vetted business owner. Meanwhile, businesses seeking vehicles search the platform by location for available units – including vans, rigid trucks, tractors and trailers – and pick them up from specified locations.
Nate Chenenko, director of Massachusetts-based automotive strategy consultant Carlisle and Company, believes that asset-sharing is a "clear win" for fleet owners. "Turo and Getaround don't have assets, but have expanded into hundreds of cities across the globe in a few years with minimal capital," he points out.
"Ryder has the assets and doesn't have to expand into a market where it isn't currently active. In my view, this is a Silicon Valley growth plan rather than a traditional rental company development, and if used effectively it's almost all profit for fleet or truck owners. They will have to pay minimally for accelerated depreciation, but taking in immediate revenue in exchange for a cost paid years down the road is optimal."
Driving the rental model
Mohr explains that there are three attributes driving the North American market when it comes to rental vehicles: availability, proximity and cost. "Ryder's knowledge of the rental market is more than 85 years old, so we understand what price a vehicle should yield in the marketplace," he says. "We can utilise customers' trucks that have capacity and expand Ryder's availability and proximity to our customer base without having to invest in hundreds of thousands of rental vehicles, which just isn't practical because of seasonality."
Rental periods on Coop range from one day up to several months and pricing is set by lenders at a fixed rate per day. The mileage rate is designed to go back to the owner of the vehicle and it covers the additional maintenance cost on the vehicles. "It's no different from what you would traditionally see in a lease," says Mohr. "The company is being compensated for all the miles that vehicles are running, so they can replace tyres and brakes or do an extra service or whatever it takes to compensate for their vehicles running extra miles."
Coop completed an initial market launch in the metropolitan area of Atlanta, Georgia, with a group of more than 100 fleet owners, and full rollout to the Atlanta market occurred in April last year. By the end of January 2019, the platform had also gone live in Florida and several other launches in North America were planned.
"When developing Coop, it was important to address 'frictions' that each individual market brings to a platform like this," explains Mohr. "Every state in the US is a bit different in terms of tax rates and rules around tolls. We chose Georgia to roll out the concept not only because it was one of our biggest markets in the US, but also because it's one of the friendliest states in terms of its fairly low 'frictions'."
"We can utilise customers' trucks that have capacity and expand Ryder's availability and proximity to our customer base without having to invest in hundreds of thousands of rental vehicles, which just isn't practical because of seasonality" - Rich Mohr, Ryder
Ryder has been able to test the platform and address potential stumbling blocks in other states, giving the company time to build solutions into the wider rollout.
"When a vehicle is out on rent and the borrower goes through a toll, we need to make sure the lender of the vehicle is aware that those charges are going to be incurred and to make sure they're compensated for it. We have a good feel for what we're going to run into when we roll out into other states because we have rental opportunities in every state in the US and Canada."
Only a small percentage of businesses currently using Coop are Ryder customers; the majority either own their vehicles or are using other sources to obtain vehicles.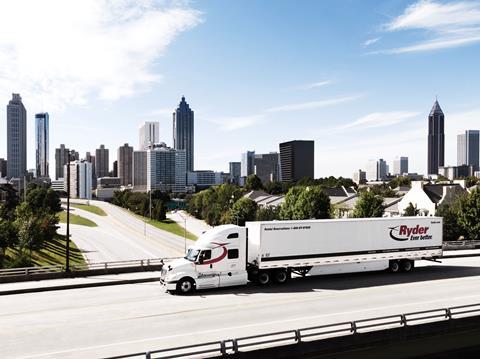 "It's good to have the Ryder customer base to leverage relationships and have customer insight into idle vehicles and pricing, but Coop is a tool for all business owners to be able to monetise their vehicles and get access when they need them," explains Mohr.
One early customer was Georgia-based Dixien, which provides metal stamped parts and moulded plastic components to vehicle-makers and tier one suppliers. The company has a traditional rental relationship with Ryder, leasing vehicles from time to time. "Dixien has a leased 26-foot truck [which] it uses to haul parts between facilities on Monday to Thursday, but it sits idle the rest of the time," explains Mohr.
"We have rented that truck out several times from Friday to Sunday, and if it can be can rented out every weekend it will make a huge dent in their leasing costs," he states.
Managing risk and monetising assets
Just as there are concerns for customers that are leasing property, sharing platforms for the automotive industry carry their own risk. "It is unlikely [that] you would rent your house to a stranger without protection," says Mohr. "You would probably use a platform like Airbnb because you have protections built into the platform and from the company that backs it."
Every lender on Coop is vetted by Ryder so that they meet insurance requirements. "All users are carefully vetted to ensure they comply with our required insurance and operating authority standards," says Mohr.
$2,300
Monthly revenue from a 26-foot rigid truck travelling 100 miles per day when rented out via Coop, according to Ryder
Payment is automated and immediate upon the return of the vehicle. Each transaction is covered by physical damage insurance and a $1m liability policy, and includes 24/7 roadside assistance, incorporating a maintenance protection plan for up to $500 per incident if a vehicle breaks down on the road. "Trucks break down – that's the industry we're in, whether it's something as simple as a tyre repair, a bad belt, or a customer hitting a deer," says Mohr. "It's about how you get the vehicle back on the road."
Ryder collects Department of Transport information and insurance certificates, and insurance is handled the same way as with Ryder rental vehicles. The company does offer additional extended physical insurance, but Mohr believes customers are likely to take good care of the vehicles they rent through the programme. "It's kind of like an Airbnb; you don't want to destroy someone else's house and not be able to use the system again," says Mohr.
He explains that Ryder is seeing customers making different buying decisions now that they feel sure they can safely monetise their unused vehicles. "They are willing to add a piece of equipment to their fleet because they have confidence they can monetise the vehicle when they don't need it," he states.
Coop is set up for any type of equipment and, so far, Ryder has seen flatbeds, dry freight box vans and refrigerated trucks all listed as available equipment. The platform is also accessible to agricultural companies that run their vehicles only during growing season. "You've got a little bit of everything on there right now," says Mohr. "I'm excited to see how diverse the equipment gets. Customers have even brought equipment into Georgia while it was sitting idle in other states."
With many of Coop's customers making more than $2,000 a month on vehicles that would otherwise be sitting idle, Mohr suggests that the sharing economy is "an avenue that allows businesses to build confidence in the way they shape their fleet in a competitive market".
More pressure for OEMs?
While the sharing economy provides "no downside" for fleet owners, Carlisle's Nate Chenenko suggests the disruption it will bring to traditional models of operation will create more pressure for OEMs to deliver uptime to truck owners.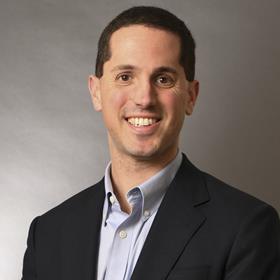 "Some fleets, particularly vocational fleets or medium-duty fleets, may have expected slow periods or down periods in their business," he says. "Currently, they use these slowdown periods to do maintenance or non-critical repair. This way, the truck's downtime doesn't affect the fleet's revenue. If that fleet suddenly has the option to use that truck to generate revenue during their typical slow period [by lending it to another operator], this shortens or closes the service window."
Chenenko adds that, while it is beneficial for OEMs to help customers in a downtime situation by loaning them a vehicle, Carlisle's research shows that this is not always the answer. "Many drivers live in their trucks," he explains. "The loaner vehicle may have a different transmission, brake pressure or maintenance requirement, [or even] be a different model."
"Currently, [fleets] use slowdown periods to do maintenance… If that fleet suddenly has the option to use that truck to generate revenue during their typical slow period, this shortens or closes the service window" - Nate Chenenko, Carlisle and Company
Chenenko believes that OEMs will have to work out how to better deliver uptime to these customers that are now "even more sensitive to downtime", with options including more certified uptime dealerships or service centres and predictive maintenance. "Companies should be pushing certified uptime dealerships," he says. "With dedicated diagnostics bays in the service areas, vehicles can be back on the road [in] between one and four hours."
As examples of effective predictive maintenance, Chenenko says Caterpillar and John Deere are both benefitting from bringing in vehicles for service before an unplanned failure.
However, he emphasises that predictive maintenance is insufficient. There must be the "right connection" between the software and the parts availability and service bays.
"We've largely solved the technical problem, but there are still organisational and communication issues," he states.
Keeping track of time and space
A mandate put into place by the Federal Motor Carrier Safety Administration at the end of 2017 dictates that each driver is responsible for keeping track of hours-of-service in the US and Canada, via an electronic logging device (ELD). This is the case unless the journey is under eight days, in which case drivers can still operate using paper logs under a rental exemption that was passed at the end of 2018.
If an ELD is required, it is up to the driver's company to supply its own device. In a Coop rental, Ryder's Richard Mohr explains, a driver can bring his device and plug it into the lender's vehicle "just like they do when they pick up a rental".
"If it's a long-term trip, the driver brings their ELD with them and plugs it into the on-board diagnosis port. To use the trucks on our platform, you need to be ELD-compliant, unless it's a couple of days, in which case you can operate under paper logs."
Ryder outfitted its entire North American rental fleet with telematics devices at the end of 2017. "By having a fully connected fleet, customers can take advantage of the ELDs in our rental vehicles free of charge," says Mohr. "If customers aren't familiar with the technology, they can rent vehicles for longer routes and take advantage of our ELDs."
All of Ryder's vehicles are equipped with Geotab telematics, enabling the company to know where its vehicles are in North America at any given time.