South Africa's automotive industry has been badly affected by heavy rains and disastrous flooding in the KwaZulu-Natal (KZN) region. Operations are expected be disrupted to some extent for the rest of this year, with Toyota's plant in Prospecton badly hit.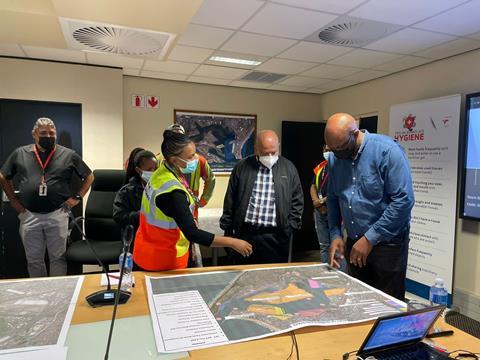 Thousands of people have been displaced by the heavy rains that fell in the third week of May. Infrastructure, roads, bridges and buildings have all been damaged by the hazardous weather conditions, primarily in the port city of Durban, the capital of KZN province and home to some 3.9m people. This follows previous torrential rain that affected the region in April.
The National Association of Automobile Manufacturers of South Africa (Naamsa) said automotive companies will have to operate on a stop-start production strategy until damage to plants and transport infrastructure, including at the port of Durban, is fixed.
"In addition to the renewed impact of Covid-19, in particular in China, the global shortages of semiconductors and the repercussions of the geopolitical conflict with Russia's invasion of the Ukraine, the added shock of the flooding disaster to domestic business conditions will be felt for some time to come," said a spokesperson for Naamsa.
Damage to infrastructure
The devastating floods have caused billions in damage in KZN's industrial areas. They have left a trail of destruction at Durban port, and across inland rail and road infrastructure. That has caused serious logistics problems for the inbound movement of automotive parts and the delivery of finished vehicles outbound via the port.
While normal port operations have resumed, export and import deliveries will remain strained for some time because of significant backlogs caused to the disruption to the multimodal transport network. OEMs based in Gauteng province, South Africa's main economic region, are implementing contingency plans and interventions to increase trucking capacity and utilise alternative roads.
"The Naamsa Supply Chain committee is currently collaborating closely with Transnet to accommodate the industry's logistics requirements for exports and imports via Durban and KZN," said Naamsa CEO, Mikel Mabasa. Transet is South Africa's largest rail, port and pipeline company.
Toyota plant shut down
"Toyota South Africa Motors (TSAM), in particular, suffered extensive damage to its plant at Prospecton, with damage to vehicles, production lines, as well as equipment and materials losses," said Mabasa.
Toyota makes cars according to a tight just-in-time delivery strategy and unprecedented disruption such as this most recent disaster can affect production quickly. Vehicle assembly was stopped because of the damage but according to Andrew Kirby, president and CEO of TSAM, the company is now implementing a careful and systematic phased plan to return the facility to working condition. TSAM has resumed production of catalytic convertors, as well as the Hino assembly line.
Kirby acknowledged the "tremendous setback" for the company and said it would take time to reopen assembly of the Hilux, Fortuner, Hiace, Corolla Cross and Corolla Quest but no date has been established for that.
TSAM is likely to lose around 45,000 units of production and has had to scrap hundreds of brand-new cars that were flooded at its plant in Prospecton. According to TSAM, the damaged vehicles will be scrapped and crushed so that none risk making it to market in a bad condition. About 12% of the (4,596) units on site had no damage at all and can be sold.
Kirby said Toyota had extensive insurance coverage. "We are also fortunate that our parent company Toyota Motor Corporation (TMC) is supporting with all the cashflow challenges that we are likely to encounter," he added. Some of that cashflow will be going into rebuilding and enhancing the facility's flood protection.
Humanitarian crisis
The fatal flooding, which has killed around 460 people, has caused a humanitarian crisis and TSAM is making efforts to ensure the safety and welfare of its employees is the key priority.
"As the company did during the lockdown, it is taking a series of initiatives to improve employee earnings," said TSAM's senior vice-president of sales and marketing, Leon Theron
TSAM has also partnered with a number of organisations to assist communities affected by the flooding.
It is also communicating with customers whose vehicle deliveries have been impacted by the floods.
Authorities have set up 82 reception centres and police, firefighters and rescue workers are on standby to respond to emergencies. The army has also been called in for reinforcement and officials have evacuated elderly people in several villages.
The weather service said more heavy rain was expected in parts of the province.
Road to recovery
The flooding has hit an automotive industry that is doing well in recovering from the impact of Covid and the
According to data from Naamsa, aggregate domestic new vehicle sales rose by 4.3% in April compared to the same month in 2021, equal to just more than 37,000 vehicles. Export sales were also up by 16% to nearly 30,800 units in April.
Naamsa said vehicle sales were continuing on a road to recovery amid supply chain disruptions in port, rail and road traffic, as well as the temporary closure of Toyota South Africa. Volume passenger cars continued to perform positively, supported by consistent demand in vehicle rental companies.