In the absence of a production hub, OEMs operating in the Middle East must import both vehicles and parts. GM's head of purchasing and supply chain for Africa and the Middle East tells Automotive Logistics about the challenges and opportunities in the region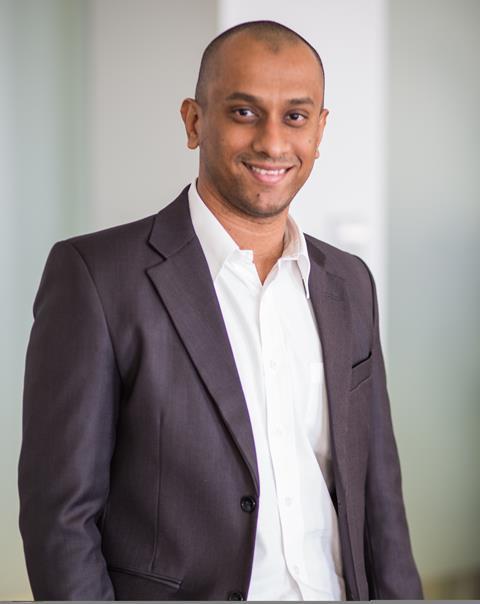 What does GM's footprint in the Middle East and North Africa (Mena) look like?
GM Africa and Middle East Operations has been in the region for over 90 years and our activities span ten Middle East markets, including Saudi Arabia, Kuwait and the UAE, along with Egypt and select African countries. Our headquarters is located in the World Trade Centre in Dubai, from which [we lead] our operations.
We work with our key dealer partners in the region, who support us on our vehicle and part imports. Because there's no manufacturing base in the Middle East for any OEM predominantly, the business model of GM and most other OEMs is based on an import model, both vehicles and parts.
We import the majority of our vehicle volumes from North American production platforms and the Asia Pacific [region]. We also have a regional parts distribution centre and a training centre in Dubai, with an assembly plant in Egypt, which currently produces various Chevrolet vehicles and trucks for the Egyptian and other international markets.
GM provides a range of vehicles across all segments to cater to shifting consumer needs in the region. Taking Chevrolet as an example, we've experienced strong growth in crossovers across some of our top-performing models like the Equinox and Traverse. The Chevrolet Tahoe and the GMC Yukon, however, are the biggest volume drivers. Models like the Chevrolet Malibu continue to be one of our top-selling passenger vehicles in the region. The new Cadillac XT4, the brand's first crossover has become one of the bestsellers in the luxury segment. We also see continued interest in the Cadillac Escalade.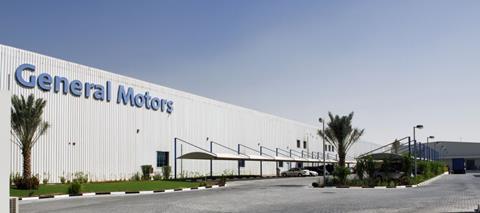 From where does GM Africa and Middle East import and distribute vehicle parts?
The Middle East Distribution Centre is our aftermarket facility from where we distribute parts from Dubai to the rest of the Middle East and African markets. We import most of our components and associated parts from our Detroit [Michigan] automotive belt, which contains suppliers that are clustered around our headquarters in the state.
We also import from Europe, Korea and Japan. These are significant markets, but there are close to 40 countries that we import from, including Brazil, India, Australia – wherever we have suppliers who are supporting our vehicle [programmes]. Our parts suppliers include Bosch, Continental and Denso, to name a few.
Which aspects of the supply chain need to be strengthened in the region?
The supply chain infrastructure here is already pretty robust in terms of how we need to plan our supply strategy in the region. There is strong port infrastructure and good road and rail infrastructure that allows us to bring our supplies to the region.
The area that probably would need strengthening is more to do with the manufacturing base where we need to supply parts. If we need urgent or immediate VIP parts, we need to import them all the way from Europe, North America or Korea.
There's no manufacturing base for these parts in the region at the moment, but there could be in the future. I'm aware that Saudi Arabia is developing a strategy as part of its Vision 2030 plan. Part of that is developing an automotive cluster, a zone where they will grow suppliers, who can manufacture certain components and products. This is something that is underway at the moment, so probably by 2030 we will have some form of supply base in Saudi Arabia.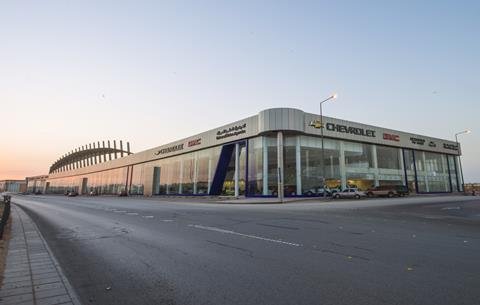 I think it might take a while to produce a fully- fledged manufacturing hub, although in Egypt we do complete knock-down vehicles where parts of vehicles are brought in and assembled in the country. Because we operate in both markets, we see that shift in manufacturing capabilities from the GCC countries to the North African countries.
When you look at the Middle East and North Africa, Egypt has manufacturing and assembly capabilities and North African countries such as Algeria and Morocco have a strong manufacturing base. When you look at the overall market and what is profitable for businesses, it's the Middle East countries that drive demand, the type of products that bring higher margins to companies like us.
Can you tell us more about the strategic supply council that you are leading?
At GM Africa and Middle East, we have a council of key strategic supply partners who have a high impact on our business and are core to our operations. The council consists of about 20 key suppliers, ranging from global logistics suppliers to shipping carriers, to marketing, contact centre and training operation suppliers, and they form our strategic partnership in terms of our supply base. They're involved in key decisions and they support us as we move forward in terms of how we develop our supply chain strategy.
The council works with GM to identify ways in which the suppliers can generate cost efficiencies and find greater efficiency in getting products to market. As head of the purchasing and supply chain division of Africa and the Middle East, I lead and chair the group in terms of how we run the strategy.
"North African countries such as Algeria and Morocco have a strong manufacturing base. When you look at the overall market and what is profitable forbusinesses, it's the Middle East countries that drive demand" - Sulaiman Pallak, GM
We are working with DHL Group, FedEx and ocean carriers Maersk and Hapag Lloyd to support our logistics needs. We also partner with Hyundai Glovis group, who support us regarding our global vehicle transportation business. It's really about best practice and collaboration. We have collaborated on improving our transportation network in the region with our key logistics partners who support us with our road and sea transportation from our facilities in the Middle East.
What are the challenges of operating in this region?
We rely a lot on an import model, which has long lead times. If we have to import our vehicles to the region, they need to be manufactured and produced in our home plants in Detroit or other North American states. After manufacturing they need to be transported and shipped to the region here. It takes three to four months to bring a vehicle to this region, and when you include production and shipping time, all that doesn't allow for a really fast response to customers.
That's a challenge and market dynamics change from the time we begin manufacturing. For example, if you take a Cadillac Escalade or Chevrolet Tahoe from our production plants in North America, by the time we get it to our dealer showrooms it could take months, and the volume and the demand changes during that time, so it doesn't allow us to react fast enough. This is a challenge not only for GM but also the rest of the automotive industry.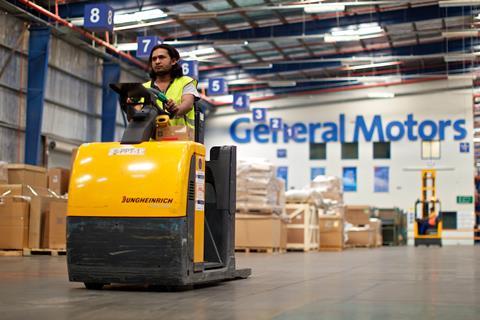 As a region there's also a lot of political volatility, which is sensitive and which we monitor closely. There is civil unrest in some of the countries – in Yemen, Iraq and Iran – so it's challenging for a Middle East unit like us to do business in those countries. That's the nature of the region.
Are there any government programmes which are helping OEMs?
Generally, governments in the region provide tax breaks for vehicles. They provide programmes for the free registration of vehicles for the customers. Right now, the UAE government is developing the infrastructure for EVs and has advanced in terms of its vision. When you look at Saudi Arabia and Kuwait, the government there is trying to build demand for electric and autonomous vehicles.
These initiatives definitely help GM in bringing those vehicles to the region. GM's vision is that of zero crashes, zero emissions and zero congestion. As such, GM is changing its strategy to move into the EV [electric vehicle] and autonomous technology space, and that means we have to work closer with our suppliers across our global network in order to deliver and support this direction. Supplying EVs here won't necessarily be a challenge because they're manufactured in the US or Korea. Storing them, however, may be a challenge because they operate on a battery lifecycle; they need appropriate charging. It also requires infrastructure that is built in different parts of the region here to support supply to the countries. If you're supplying to Saudi Arabian cities, they need to have the infrastructure built for the vehicles to be supplied and sold. If it's not there, no-one will buy the Bolt EV, for example.
While the demand for EVs is still some way off, it is growing in the region and it is not a question of if but when they become mainstream. We are looking at vessels that can transport EVs on a mass level and equipment that is set up in an asset structure that can support that. We have capabilities that can store battery inventories, but there are certain technical requirements to invest in. The region as a whole is still behind compared to China, and the US to some extent, but the UAE is progressing its infrastructure.
Battery technology on the whole is still in the early stages of production. Approximately 80% of full EV cost is on the battery. GM and LG Chem are establishing a new, equally owned joint venture to mass-produce battery cells in the US for future battery-electric vehicles. The battery is the most expensive component in the electric vehicle; by combining forces and our collective expertise in battery science, our goal is to reduce battery costs to industry-leading levels. We are also collaborating with Honda on advanced fuel-cell technology. We anticipate it will take three to five years to reduce the battery technology costs significantly, which eventually means the product price of a car will reduce significantly.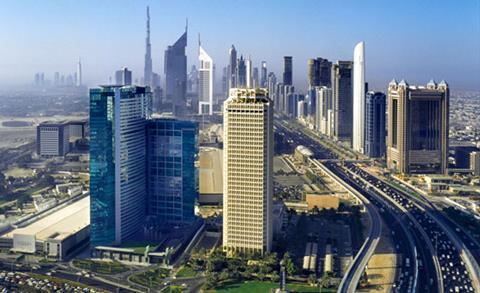 Is there more scope for valued-added services in the region?
I believe so. The value that is being added eventually becomes the differentiator in cost. We see some of the providers here using track-and-trace capabilities that allow us to lock in where the products are in the region. The e-commerce companies here have taken that to a new level. Whether we're transporting parts or vehicles across the region, that requires investment and eventually that's what makes the difference in terms of competing in the market. Track-and-trace is the key because when it comes to supply chain logistics, visibility is a primary factor for most of the OEMs here.
What is GM's experience of buying from technology providers that are new to the automotive industry?
I don't agree with the purchasing concept of teaching the supplier in terms of how modern technology needs to be provided. We can show a framework of the architecture that could be in the vehicle, but at the same time it is key that we rely on a supplier partner who has their own expertise in developing this kind of technology into our products. We both need to understand what kind of architecture the vehicle goes through.
Sometimes we work with our partners seven to eight years in advance in the global vehicle development process. A key part of that process is taking innovation from our supply base. Globally, we rely on suppliers to bring us innovation specifically related to EVs and the associated materials that go into them, so we rely on the expertise of our supplier partners to help us understand the technology and how we can incorporate that into our products.
90
Number of years GM has been operating in the Middle East and Africa region
Is there enough of a long-term partnership approach in the region or is there a struggle with short-term cost pressure?
It's a balancing act we need to take to ensure we are cost-competitive in the short term but also have a long-term horizon in mind when developing our partnerships. We usually structure our contracts on a long-term basis to allow for cost and other benefits to take place, and it usually depends on the type of commodity or material being purchased. Partnerships can sometimes be motivated by cost pressures, which lead to short contracts, but long-term partnerships help to evolve and help our partners to invest in equipment, assets and technology.
Where do you see GM Africa and Middle East in five years' time?
We want to have more engagement with our business and logistics partners, tier suppliers and OEMs themselves. We are looking to expand and enhance our sourcing footprint from China to the Mena region and so by 2025 we see a shift in our outsourcing strategies. From an EV perspective, we are working with the Dubai Roads and Transport Authority and the UAE's telecom network to enhance our future mobility infrastructure.
We are also seeing lots of developments around our vehicle safety and security system, OnStar, which will be arriving in the Middle East next year. The membership-based service will be one of the first of its kind in the region, offering integrated safety and assistance features. The system provides in-vehicle security, emergency services, hands-free calling, turn-by-turn navigation and remote diagnostics systems. The same GPS data can also be used for emergency services functionality, which allows OnStar to summon help in case of an accident. We are here for the long term and the investments we've made are proof of our commitment to the region and to supporting our customers; we keep customers at the heart of everything we do.