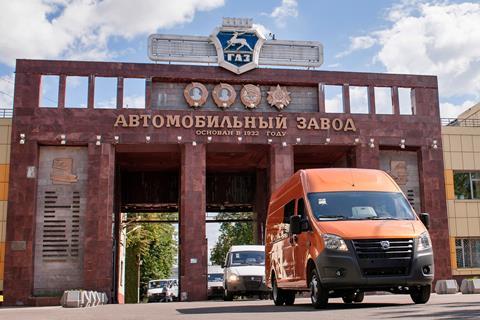 The Russian carmaker is desperately urging the US government to abandon sanctions against it before the company falls into bankruptcy. Oleg Deripaska, owner of Gaz, warned that July 4, when the existing sanctions are due to come into full effect, could be the last functional day of its production operations.
The US Office of Foreign Assets Control (OFAC), posted an evidentiary memorandum on May 28, explaining why the sanctions against Deripaska and some of his companies, including Gaz Group must be introduced. The main accusations were that the Russian billionaire had acted in support of Russian President Vladimir Putin and was involved in the energy industry.
Deripaska has already appealed to the US court, saying that although the sanctions have yet to come fully into force they have already been "unfairly destroying" his global businesses. Deripaska had earlier managed to urge OFAC to drop sanctions against his mining assets, En+ and Rusal, after he relinquished control of these companies, but the situation is different for Gaz Group.
For Gaz Group, these are particularly tough times, Deripaska explained at a press conference in Nizhniy Novgorod in May. Some non-Russian companies, including Daimler, have already started curtailing cooperation with the company. In addition, some automotive components suppliers have torn up their contracts with the carmaker and the company has found itself under some pressure from the Russian banks.
Exports growth set to fall away
Over the past few years, Gaz Group has been putting a lot of effort into developing international business. For example, in February the company started building a vehicle assembly plant in Azerbaijan that was expected to begin commercial operation in 2020 and to export light commercial vehicles (LCVs) to Turkey, Georgia and Iran. The designed production capacity of the plant is 1,000 LCVs per year.
Gaz Group had earlier set a target that the revenue generated from its export operations should equal the revenue generated from LCVs sales in Russia as soon as 2020. The company has been exporting LCVs to at least 39 countries and the share of export revenue was reportedly close to 25% in 2017. Last year, Gaz Group sold 60,600 finished vehicles on the Russian market, 4% up on 2017, the Russian Association of European Businesses estimated.
Since the beginning of the sanctions saga, Gaz Group has not revealed any operational or financial performance metrics, including export volumes. The company earlier said that the sanctions would make exports impossible. Gaz Group has not provided any comment on how the sanctions could impact its sales outside Russia, including from its new Azerbaijan plant.
Paralysed without imported parts
While the company would be able to survive without exports, it would most likely not be able to continue operating without imported components.
The biggest impact from the sanctions would hit Gaz Group's flagship model, Gazel Next, according to analysts from the Russian consulting agency Avtospetscenter. For these vehicles, Gaz Group purchases a broad range of components from Daimler and Volkswagen (VW), but in order to avoid secondary sanctions both companies would be forced to sever ties with Gaz Group from July 4. In addition, the Russian carmaker purchases some components from Cummins, Magna, Isri, Edag, Takata, Webasko, Delhi and other non-Russian suppliers.
The carmaker may find its assembly line paralysed even if it loses a single automotive components supplier, a spokesperson for the Russian Economy Development Ministry told local news outlet Gazeta.
Gaz Group has appealed to the Russian government for some assistance, Elena Matveeva, deputy general director of Gaz Group said. The main idea of its survival plan is to try to localise the automotive components that may soon be unavailable because of the sanctions, Matveeva said.
The carmaker is seeking some state aid and efforts aimed at replacing component imports Matveeva explained, adding that so far there was no targeted support for the Gaz Group from the Russian government.
The bottomline is that, by the time the sanctions come into full force, it will be too late to prepare for their impact, Matveeva said. She claimed that the possible bankruptcy of the company would affect not only 40,000 employees of the Gaz Group, but also numerous local components suppliers, logistics services providers, dealerships and other partners – a figure she put at 400,000 people.
Anyone to the rescue?
In March 2019, Gaz Group had appealed to the Russian government asking to allocate state aid of 29.5 billion rubles ($480m) in various forms in order to support the company.
But a source in the Russian automotive industry, who wished to not be named, said that it seemed the government had no real tools to save Gaz Group. He stressed that the replacement of imported components with Russian-made parts would be a matter of years, not months or weeks, and that for the carmaker it would be extremely hard to start sourcing components on the local market.
Over the past few months, differing opinions have been put forward as to what may happen to the company. Russian government officials have said that in order to avoid sanctions Gaz Group may be sold to VW, while Deripaska said has that the Russian government may take control of the company.
Neither seems about to happen, since Marcus Osegowitsch, general director of VW Group Rus has recently stated that all negotiations about the possible purchase of a stake in Gaz Group were halted because of the sanctions, while the Russian Industry and Trade Ministry Denis Manturov has said that the nationalisation of the company is very unlikely.
The localisation of Gaz Group's vehicles ranges between 50% and 70% depending on the model, Vadim Sorokin, general director of Gaz Group said in a letter to the Russian government in April. With some state aid and measures aimed to establish a local automotive components supply base, Gaz Group might cut production by 40%, as compared to previous years, and focus only on its most localised models – but that is an optimistic scenario, Sorokin said.