President Donald Trump has suspended a threatened 5% tariff on US imports of Mexican goods, including vehicles and automotive parts, which was to be imposed on Monday (June 10). Trump initially said at the beginning of June that the US would start with a 5% tariff and escalate the levies monthly up to 25% by October this year. Trump said the tariffs were to be imposed until Mexico put greater controls on illegal immigration into the US.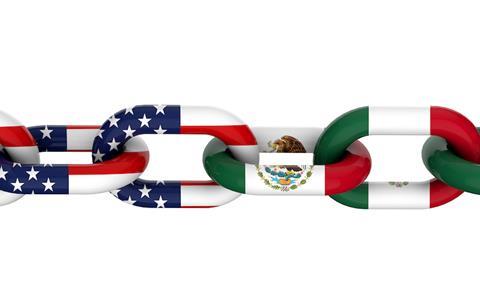 However, on Friday (June 6) he announced that the US had signed an agreement with Mexico that "indefinitely suspended" any tariffs in exchange for Mexico taking "strong measures to stem the tide of migration through Mexico" to the US border. The US Department of State then outlined the measures, including Mexico's deployment of the National Guard throughout its territory, but giving priority to its southern border.
"Mexico is also taking decisive action to dismantle human smuggling and trafficking organizations as well as their illicit financial and transportation networks," said the US statement.
US Customs and Border Protection authorities said on June 5 that they had stopped almost 133,000 people at the border between official entry points in May.
The lifting of the tariff threat was welcomed by the automotive industry in the US, which imports $200m worth of vehicle parts every day and last year imported $52.6 billion worth of vehicles
"We appreciate the Administration for its decision to not impose tariffs on Mexican products," said Governor Matt Blunt, president of the American Automotive Policy Council (AAPC), which represents the interests of FCA, Ford and GM. "Access to free and fair trade is what allows the US auto industry to continue to invest in its US operations. We strongly support the Administration's United States-Mexico-Canada Agreement and urge Congress to pass it without delay."
Meanwhile, David Schwietert, interim president and CEO at the Alliance of Automobile Manufacturers, said: "We are pleased to see that the president has decided against imposing tariffs on goods coming into the country from Mexico. Any barrier to the flow of commerce across the US-Mexico border would have a cascading effect – harming US consumers, threatening American jobs and investment and curtailing the economic progress that the administration is working to reignite."
Both the peso and the dollar recovered following the announcement, up 2% and 0.3%% respectively.
Prior to the announcement of the suspension, carmakers had ramped up deliveries over the border between Mexico and the US. The Washington Post reported that the tariff threat had "kicked the cross-border traffic into overdrive", with companies spending millions to hire freight carriers and secure warehouse space in the US, in what it described as "a massive shift of inventory".