The UK car industry has welcomed the new EU-UK Trade and Cooperation Agreement (TCA), which was finally announced on December 24. The agreement avoids a no-deal Brexit that would have added tariff charges to the import and export of parts and vehicles, but there are still hurdles to overcome in terms of new customs procedures.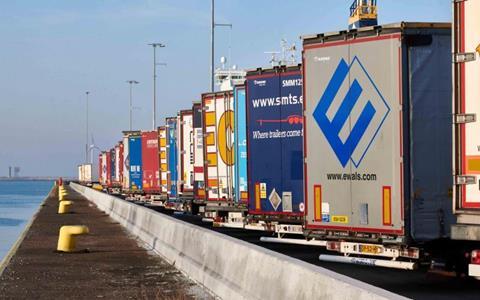 The TCA includes a number of sector-specific annexes, including for automotive, which seek to promote cooperation and tackle barriers to the trade in motor vehicles and parts. The annex on motor vehicles, equipment and parts confirms that trading parties will mutually recognise approvals based on UN regulations and establishes "dedicated cooperation mechanisms to address regulatory barriers".
The agreement also contains a rules of origin chapter that aims to ensure goods are able to benefit from the liberalised market access arrangements agreed, while reflecting the requirements of UK and EU industry. Industry sources indicate that UK-made vehicles will not attract tariffs if at least 40% of its components' value is British, with parts sourced from the EU counted as British. UK negotiators had hoped to be able to also count parts from Turkey and Japan, with which both the UK and the EU have a trade deal, as British. However, they failed to get the EU to agree on this.
Significantly, for the future of electric vehicle (EV) trade, it ensures that UK-made EVs are eligible for preferential tariff rates with lower thresholds for imported battery packs and battery cells, supporting the UK government's move to a net-zero emissions target by 2050.
Some of the finer details of the trade in vehicles and parts are yet to be worked out but the establishment of a deal finally puts to rest fears that imports and exports of vehicles and parts would be subject to higher tariffs based on WTO rules. Goods coming from the EU will be subject to controls phased in over a six-month period.
Platform for future trade
The announcement of the agreement has reassured the European Automobile Manufacturers' Association (ACEA).
"The impact of a no-deal Brexit on the EU auto industry would have been simply devastating, so we are first and foremost extremely relieved that an agreement was reached before the transition period expired," said ACEA director general Eric-Mark Huitema.
Likewise, the UK's Society of Motor Manufacturers and Traders (SMMT), welcomed the agreement as a platform for future trade. However, with just hours between the agreement being finalised and new rules of trading coming into effect, its chief executive Mike Hawes said a phase-in period was critical to help businesses on both sides adapt.
"For automotive, Brexit has always been about damage limitation, and the draft Trade Cooperation Agreement (TCA), while no substitute for the completely free and frictionless trade with Europe we formerly enjoyed, will address immediate concerns," he said. "The TCA provides the opportunity for tariff and quota-free trade, foundations on which the industry can build."
Hawes said all efforts had to be made to ensure the TCA's seamless implementation, with tariff-free trade fully accessible and effective for all from day one.
"Further ahead, we must pursue the wider trade opportunities that Brexit is supposed to deliver while accelerating the UK's transition to electrified vehicle manufacturing," he continued. "With the deal in place, government must double down on its commitment to a green industrial revolution, create an investment climate that delivers battery gigafactory capacity in the UK, supports supply chain transition and maintains free-flowing trade – all essential to the UK Automotive sector's future success."
Similarly, ACEA's Huitema recognised there were challenges to face given trade would be heavily impacted by barriers in the form of new customs procedures.
Every year, almost 3m vehicles worth €54 billion ($43.2 billion) are traded between the EU and the UK, while cross-Channel trade in automotive parts accounts for almost €14 billion ($17.3 billion), according to figures compiled by ACEA
Around one third of total EU27 vehicle exports are bound for the UK, equal to 2.2m in 2019, which amounts to more than 80% of total UK vehicle imports. The UK, meanwhile, exported almost 807,000 vehicles to the EU in the same year, which accounted for 18% of total EU vehicle imports but more than 50% of overall UK vehicle exports.
Automotive component trade EU-UK
80% of UK‐imported automotive components came from the EU27 in 2019, representing 16% of the export value of EU27 vehicle parts and accessories
62% of UK‐built parts and accessories were exported to the EU27 in 2019, accounting for 19% of the total value of EU27 component imports
[Figures from EuroStat]
Type approvals
Vehicles and components sold in Europe have to comply with type approvals to ensure products meet EU standards and are accepted throughout the 27 countries making up the union. European Commission type-approvals issued outside of the UK are no longer automatically accepted for registering vehicles in the UK and at the same time EC type-approvals issued by the UK will no longer be valid for sales or registrations in the EU27.
To help ensure the continued supply of automotive products into the UK, a provisional UK Type Approval Scheme has been put in place by the Department for Transport (DoT).
As outlined by the SMMT, the UK has issued provisional UK type-approvals to manufacturers that can prove they hold existing valid EC type-approvals. These provisional approvals will be valid for two years from the date of issue but will need to be converted into a full UK type-approval during this period or they will become invalid. Legislation to allow the conversion is expected to be in place during 2021.
Manufacturers wishing to place new products on the EU market after the UK leaves the EU will need to follow the existing procedure for obtaining a new EC type-approval. Full testing and certification must be done by an EU type-approval authority and a technical service designated by that authority.
Cautious optimism
Transport and logistics providers are also looking for leniency on implementation given the late signing of the agreement.
As with the carmaker representatives, the Road Haulage Industry welcomed the news of the deal and its avoidance of a 10% tariff on new trucks, but its chief executive Richard Burnett said there were still many details to be finalised and confirmed. One of the sticking points was that UK traders and hauliers, dependent upon trouble-free access to the Irish Republic and continental Europe were facing vast amounts of paperwork and border checks.
There was also cautious optimism from Logistics UK (formerly the Freight Transport Association), which said the deal was great news for the economy in its removal of tariffs on goods imported from the EU, which would have raised prices and slowed economic growth.
"We are still absorbing all the details, but it looks as though HGVs will continue to have access to the EU market, and aircraft will still be permitted to fly to and from the EU, which safeguards the UK's highly interconnected supply chains and protects the jobs of those charged with keeping the country stocked with the goods it needs," said Elizabeth de Jong, policy director at Logistics UK.
Logistics UK is urging traders to continue with preparations for the new trading conditions, not least the introduction of customs declarations.