Canadian Pacific Railway has made an offer for Kansas City Southern (KCS) railway worth $29 billion in a move that will create the first rail freight network connecting Canada, the US and Mexico.
In a joint statement the companies said the new single-line offerings will deliver expanded market reach for customers served by each existing rail network and cover 20,000 miles of rail. The deal is subject to final approvals.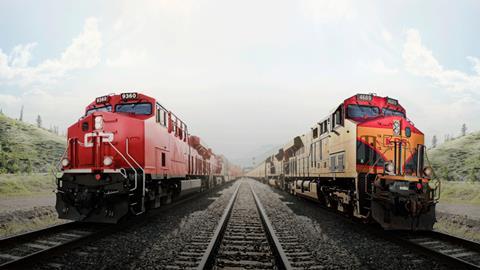 The combined network will connect customers between points on Canadian Pacific's system throughout Canada, the US Midwest, and the US north-east, with points on KCS' system throughout Mexico and the south-central US.
According to Canadian Pacific's president and CEO, Keith Creel, the Canadian Pacific and KCS have been the two best performing Class 1 railroads for the past three years on a revenue growth basis.
Combined revenue is expected to be $8.7 billion, based on 2020 figures, putting the merged operations sixth amongst the US Class 1 railroads (see box).
"The new competition we will inject into the North American transportation market cannot happen soon enough, as the new USMCA Trade Agreement among these three countries makes the efficient integration of the continent's supply chains more important than ever before," said Creel. "Over the coming months, we look forward to speaking with customers of all sizes, and communities across the combined network, to outline the compelling case for this combination and reinforce our steadfast commitment to service and safety as we bring these two iconic companies together."
Those customers include shippers in the automotive parts, finished vehicle, energy, grain and intermodal sectors amongst others. The two companies said that those sectors would benefit from the increased efficiency and simplicity of the combined network.
According to the Association of American Railroads (AAR), rail moves nearly 75% of the new cars and light trucks purchased in the US and serves most of the 70-plus vehicle manufacturing plants across North America, including in Georgia, Illinois, Indiana, Ohio and Texas.
Canadian Pacific and KCS operate an existing shared facility in Kansas City, Missouri, which is the one point where their existing rail lines connect. This interchange removes the need to build a new one, while improving efficiency and reducing transit times and costs. The combination also will allow some traffic between KCS-served points and the upper Midwest and western Canada to bypass Chicago via Canadian Pacific's route through Iowa.
In addition to providing new competition against other railroads, the new single-line routes made possible by the new deal are expected to reduce truck journeys and the associated emissions. Canadian Pacific claims one train can keep more than 300 trucks off public roads and produce 75 percent less greenhouse gas emissions.
Top North American railroads by operating revenue (2019)

BNSF

$23.5 bn

Union Pacific

$21.7 bn

CSX

$11.9 bn

Canadian National Railway

$11.4 bn

Norfolk Southern

$11.3 bn

Canadian Pacific Railway

$5.97 bn

Kansas City Southern

$2.87 bn

Source: Statista